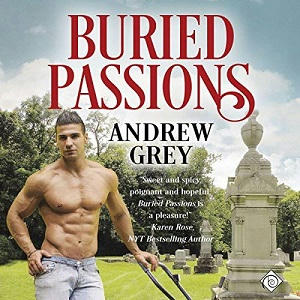 Title: Buried Passions
Author: Andrew Grey
Narrator: Joel Lesley
Genre: Contemporary
Length: 6 hrs, 52 mins
Publisher: Dreamspinner Press (14th May 2018)
Heat Level: Moderate
Heart Rating: 💖💖💖💖 3.5 Hearts
Blurb: When Broadway actor Jonah receives word that his uncle has passed away and named him the heir to a property in Carlisle, Pennsylvania, Jonah's plan is to settle the estate as quickly as possible and return to his life in New York City. Much to Jonah's surprise, the inheritance includes the Ashford Cemetery—and its hunky groundskeeper, recent Bosnian immigrant Luka Pavelka.
Jonah soon discovers Luka is more than easy on the eyes. He sees into Jonah's heart like no man ever before, and his job at the cemetery is all he has. If Jonah sells, Luka is left with nothing. Luka is there for Jonah when Jonah needs someone most, and there's no denying the chemistry and connection between them. But Jonah has a successful career back in New York. Now he must decide if it's still the life he wants….
Product Link: Audible US | Audible UK | Amazon US | Amazon UK
Reviewer: Prime
Review: Buried Passions by Andrew Grey is something of a sweet diversion. One of the sugary sweet type stories, which I have to say is something different to what I'm used to from Grey. Still, this book has the same flow and use of language that I associate with Grey's writing and something that I really connect to.
The story starts off with Jonah, a Broadway actor who has dreams of stardom. However, he is stuck when the show he is in ends and there doesn't appear to be anything on the horizon for him. Yet, when the uncle he never knew dies, Jonah leaves the bright lights of New York for the small town where his uncle had loved and had been loved by the entire community. Jonah had a complicated relationship with his parents which plays into the uncle story line. As we get to know Jonah, we find out more about his family and the wonderful uncle that he missed out on knowing. However, Jonah doesn't expect to discover that part of his inheritance is also the old town cemetery which is how he meets Luka.
Luka is a kind soul and he had no choice but to leave his homeland of Bosnia. Luka was in trouble when Jonah's uncle befriended and helped him. Luka mourns the death of his friend, but he is on a road to self-discovery as he opens his heart to Jonah. With Jonah probably needing to go back to New York at any moment, as soon as his agent can get him an audition, neither men fight their growing attraction and the love that is starting to form.
The only real criticism that I have for this audio is the narration. While in general I enjoyed Joel Lesley's narration, I had a little bit of trouble with the accent used for Luka throughout the book. It sometimes felt a little disjointed. I'm not too sure how to explain it but suffice to say that it didn't really gel with me too much.
However, despite my thoughts on the narration of Luka's accent this was a sweet romance. I liked the chemistry of Jonah and Luka. They were sweet together but there was a lot of hidden depths to both guys that I really appreciated.