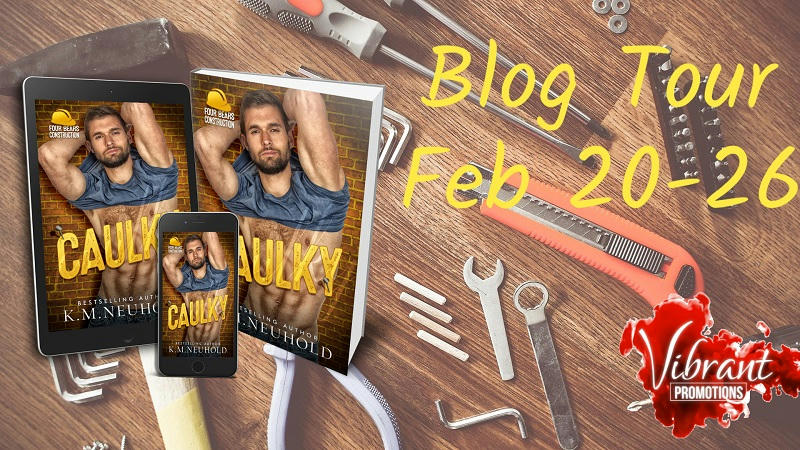 Hi guys! We have K.M. Neuhold stopping by today with the tour for their new release Caulky, we have a great new excerpt so check out the post and enjoy! ❤️ ~Pixie~
Caulky
(Four Bears Construction 01)
by
K.M. Neuhold
Ren is in desperate need of a rebound fling. Lucky for him the smoking hot contractor he hired has just the tool for the job.
The last thing I want is another relationship, or another broken heart.
All I need are my bees and the occasional hookup to scratch the itch.
Okay, maybe meeting up with my hot contractor weekly is a little more than occasional. And maybe the way I'm starting to feel about the guy I've been anonymously chatting with online should concern me.
But CaulkyAF doesn't want to meet, and Cole doesn't want anything serious, so what's the worst that could happen?
** Caulky is book 1 in the Four Bears Construction Series and can be read as a stand-alone. This is a funny, steamy MM story guaranteed to make you laugh and swoon. Absolutely NO cheating and NO love triangle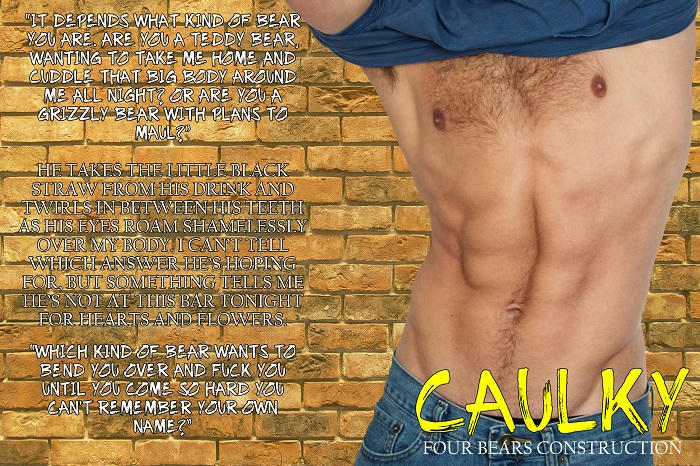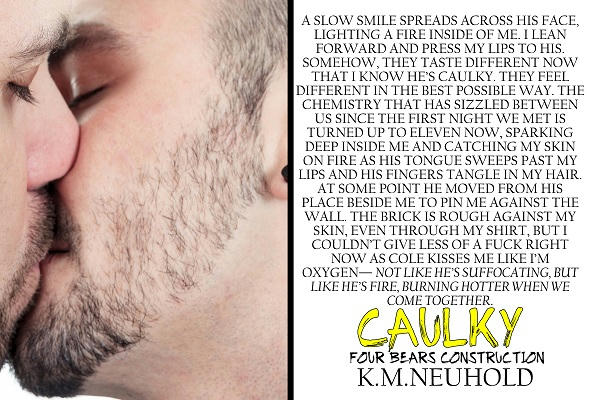 Excerpt!
Dan: He lives! So, is the contractor there?
Ren: Yeah, and I DID oversleep. I answered the door practically naked, and  you'll NEVER guess who the contractor was
Dan: Who??
Ren: The bar hookup from last month! There he was all tall and gorgeous just standing on my front porch like he owned the place, and I had clearly just rolled out of bed like an idiot.
He sends the laughing gif again, and I respond with one of someone giving the finger.
Dan: Oh my god, that's too funny. That's the same dude you kissed months ago, right?! You did say he was incredible in bed, maybe this is like a sign from god or something that you should let him fuck you again.
Ren: Sounds legit
Dan: He's a contractor; if porn has taught me anything, it's that if you ask him to check your pipes, you'll end up getting gang banged by him and like three other hot dudes.
Ren: You're thinking of plumbers
It's best to pretend that exact same thought didn't cross my mind less than five minutes ago.
Ren: Anyway, he looked kind of weirded out, so I'm thinking a repeat is NOT in the cards
Dan: Bummer
Dan: Well, there are plenty more cocks in the sea
I sigh and take a sip of my coffee, enjoying the way it scalds my tongue, bitterness filling my mouth. Henry hated that I took my coffee black. I could never figure out why he gave a shit how I took my coffee. After five years together, there were so many little things I let slide or chalked up to living with another person. But now that he's gone, I have to admit, my life is a hell of a lot more peaceful.
Ren: Yeah but my dildo is—OH FUCK! I just realized my dildo is in the bathroom!!!!!
All the blood drains from my face. I didn't just leave it sitting on the counter either, that motherfucker is suction cupped to the wall, right at the perfect height to fuck myself. Which is exactly what I used it for around three in the morning before collapsing into bed and falling asleep, trusting my damned alarm to wake me up in the morning.
Daniel sends that god damned laughing gif again, and I want to reach through the phone and strangle him.
Ren: This really isn't as funny as you think it is. So much for getting my bathroom done. Between our hookup, my state of undress, and the dildo, there's no way he's coming back
Dan: I am literally crying I'm laughing so hard. People on the train are giving me the stink eye, but I don't even care. I am actually dead right now.
Ren: I hate you
Dan: Ok, I'm sorry. Unless you want to go in there and grab your dildo and make it even more weird, there's nothing you can do about it at this point. So, finish what you were telling me. You're looking for someone to bend you over and rail you…
Ren: I don't think that's what I said, although…
Dan: *high five*
Ren: After Henry, I can't see getting serious with someone again. I was so miserable with him, and I never even realized it. I don't want to go back into that situation
Dan: Stick to casual. Sign up for M4M and get your single on.
Ren: Yeah, I think I might
The heavy clomp of boots has me looking up, my face flaming at the thought of Construction Man (that's his superhero name, by the way) seeing my dildo.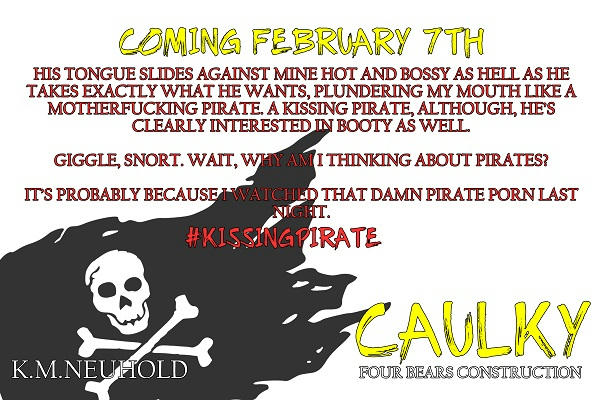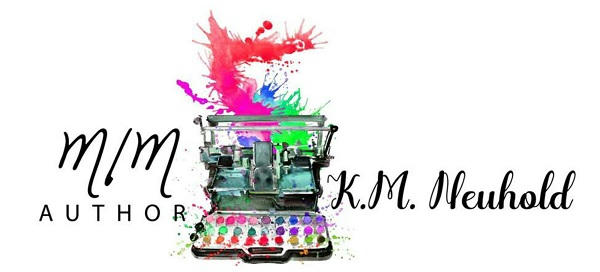 About K.M.!
Author K.M.Neuhold is a complete romance junkie, a total sap in every way. She started her journey as an author in new adult, MF romance, but after a chance reading of an MM book she was completely hooked on everything about lovely- and sometimes damaged- men finding their Happily Ever After together. She has a strong passion for writing characters with a lot of heart and soul, and a bit of humor as well. And she fully admits that her OCD tendencies of making sure every side character has a full backstory will likely always lead to every book having a spin-off or series. When she's not writing she's a lion tamer, an astronaut, and a superhero…just kidding, she's likely watching Netflix and snuggling with her husky while her amazing husband brings her coffee.

FACEBOOK | NEUHOLD'S NERDS (FAN GROUP) | TWITTER | WEBSITE | NEWSLETTER