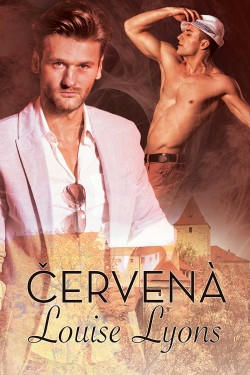 Title: Červenà
Author: Louise Lyons
Genre: Contemporary
Length: Novel (200 Pages)
Publisher: Dreamspinner Press (July 22, 2016)
Heat Level: Moderate
Heart Rating: ♥♥♥♥♥ 5 Hearts
Blurb: When Joel Jones finds homeless Russian Sasha outside his gay nightclub in Prague, he cannot find it in his heart to turn him away, so he offers him a home and a job as a dancer and stripper.
Despite a fifteen-year age gap, romance develops between them but is interrupted when Joel has to return to England for many weeks to deal with a death in the family.
Upon Joel's return, he is horrified to discover his business partner, Karel, has gambled away the club's money and put them all at risk. Joel buys him out of the club, but when Karel continues to gamble, the people he owes pursue Joel for the debt instead—and they'll stop at nothing to get paid.
Suddenly Joel and those he cares about—especially Sasha—are in danger, and Joel finds himself with no choice but to seek the help of known criminal, Vincenc Jankovic. Ensuring a happy future for himself and Sasha will mean a struggle and some difficult decisions, but Joel is determined to protect what they've built together.  
ISBN: 978-1-63477-396-6
Product Link: https://www.dreamspinnerpress.com/books/cervena-by-louise-lyons-7281-b
Reviewer: Lisa
Review: Sasha was a gay teenager in Russia, when he was attacked and ran.  He knew he had to go somewhere safe.  Two years later, here he was homeless and broke.  He was behind a nightclub taking something out of the trash, when Joel found him.  
Joel and his partner owned a really sweet nightclub that was considered the best.  When he found Sasha, he figured he was just too old for the kid.  But he did offer him a job as a dancer, and it turned out he was one of the best.  Then all hell breaks when Joel's mother passes, and his business partner started his life of crime, so to speak.  If you really want to know more about this juicy story, read the book.
Now I have to admit, the story was given away by the blurb.  Which was to bad but the story itself was still pretty good.  It was just bad that I already knew what was going to happen.  Other than that problem, the story was pretty good.  The characters were perfect for each other and let's face it Sasha is just a cutie.  Joel was a strong but caring man who loved his employees, but thought the age difference between him and Sasha was a bad thing.  Glad to see he changed his mind.  What was surprising was the fact that Sasha really wasn't in the story too much, but he was there in a different way.  
I found that even though at first I wasn't really sure if I wanted to give this book a chance, and I was glad in the end that I did.  I loved the fact that it wasn't just a super sweet little love story, that it had action, suspense, danger and some hot sex.  I enjoyed reading it and would definitely recommend it to all.