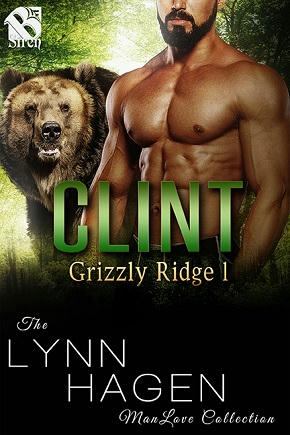 Title: Clint
Series: Grizzly Ridge 01
Author: Lynn Hagen
Genre: Paranormal, shape-shifters, M/MPreg
Length: Novella (100pgs)
Publisher: Siren-Bookstrand Inc.
Heat Level: Moderate
Heart Rating: ♥♥♥♥ 4 Hearts
Blurb: The Rising men are pure myth, or so Dane thinks. Everyone in the town of Grizzly Ridge whispers about how either the Rising men can control the wild bears that roam the mountains, or that they are the wild bears themselves.
On his way home from work one night, a stranger nearly hits Dane on the backroad. When the guy gets out of his truck, Dane is kidnapped and taken high into the mountains.
Clint grew up in the mountains, his bear clan hidden from humans. Out on an errand one night, Clint decides to take a shortcut and nearly runs a man over. Pissed at the guy's carelessness, he gets out and discovers the human is his mate. His bear takes over and Clint bites him, starting the process that will enable Dane to carry his child.
But Clint's life is filled with dangers, and the biggest danger of all is his father.
ISBN: 9781640104006 
Product Link: http://www.bookstrand.com/book/clint
Reviewer: Veronica
Review: Dane is living in a small town and hears all the tales about the occupants of the mountains, especially the Rising men, and he thinks that there're just myths. One night after work, Dane is walking home and is nearly hit by a driver. When the person gets out of the truck and asks him if he's ok, within a blink of the eye, the guy bites Dane and takes him up further into the mountains.
Clint is on his way home when he finds his mate on the side of the road. With one whiff of his scent, he bites him and takes him to his home. Clint is the eldest of his siblings and he's ecstatic yet scared that he found his mate. Dane sees himself as imperfect, but all Clint sees is a handsome man. There are dangers in the mountains, and the biggest one is his father, when he decides that he wants Clint's mate. Clint will go to any length to make sure that never happens, even if he has to kill his own father.
I love this author's work and would recommend to anyone interested in reading about paranormals.