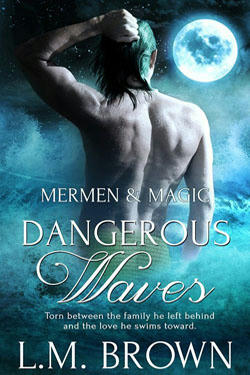 Title: Dangerous Waves
Series: Mermen & Magic # 3 
Author: L.M. Brown
Genre: Erotic Romance, Fantasy, Paranormal
Length: Novel (224 pages)
Publisher: Pride Publishing (October 4, 2016)
Heat Level: Moderate
Heart Rating: ♥♥♥♥ 4 Hearts
Blurb: A blind merman fleeing the sunken city of Atlantis is torn between the family he left behind and the love he swims toward.
When Dax lost his family to a shark attack he swam away from everything he had ever known. Now he has come to Atlantis, hoping to reconnect with those he left behind. When he finds his birth clan torn apart, he realizes his journey is just beginning.
Kai is an Oracle, a blind merman, who only has sight when he has a vision. Atlantis, a sanctuary for so many merpeople, is his prison. Desperation drives him to beg the Atlantean Goddess of Love for help.
With the goddess's promise of love to tempt him, Kai persuades Dax to take him along when he leaves the sunken city.
Although Dax has some reservations about traveling through the ocean with a blind merman in tow, he quickly discovers Kai isn't as helpless as he appears. Attraction comes easy, but Kai doesn't seem to feel the same way.
Kai knows he must seduce Dax if he hopes to win his heart, but his inexperience may be his downfall. With Dax's former lover waiting at the end of their journey, he knows time is running out.
A goddess can only help so much, especially when another immortal would see them part. If the two stubborn mermen want a life together, they will have to learn to communicate and fight for their love.
ISBN: 978-1-78651-463-9
Product Link: https://www.pride-publishing.com/book/dangerous-waves
Reviewer: Shorty 
Review: This is book three in the mermen and magic story. Kai and Dax are decreed to be together which I did not completely understand as I thought, from the previous books, that oracles were meant to be alone since they cannot go up on land.
However, I did find the struggles these two men faced head on almost as a set up for them to fail. But they conquered them and won out to a point. I truly felt sorry for them as the restrictions and rules in Atlantis seem out of date to me. But such is the law in Atlantis. 
Dax and Kai faced many obstacles in their quest. A lot happens in this book that made it worth the read. It was a great addition to the series that enjoyed reading to the end.
Great book.