Hi guys! We have Andrew Grey popping in today with his upcoming release Don't Let Go, we have a short guest post from Andrew, and a great excerpt so check out the post and enjoy! ❤ ~Pixie~
Don't Let Go
by
Andrew Grey
Avery Rivers is a country music sensation, selling records by the millions and playing to sold-out crowds. But behind that persona is Robert, a burned-out musician cracking under the pressure. He's unable to write any new songs, and he wants out of the business—at least for a while. He changes his appearance and finds honest, hard work in Jackson, Wyoming. Maybe getting to be a regular guy for a while will get him past his block.
Hy Whitely was a championship bull rider until he watched his best friend thrown in the arena and decided the rodeo circuit was no longer the place for him. He wants to be plain old Zeke for a while, and when he returns to his family ranch, he bumps right into Robert—a one-night stand from his last rodeo appearance who is now working there as a ranch hand.
The heat between the men could sear the grass off the range, but each one is hiding a secret. Robert and Zeke, the men behind the public images, fall in love, but can they hold on when Avery and Hy are pulled back into the spotlight?

Andrew Grey!
I wrote this story at Christmas time and they have all those holiday movies on television. The book of a friend of mine, Karen Rose Smith, who wrote for Harlequin for years, was chosen to be made into one of those movies. She had a party for the premiere and a group of us went down to celebrate with her. It was during that movie that the idea for Don't Let Go took hold. I decided on a country singer and a bull rider, both of them with a part f their lives that they want to leave behind. Plenty of secrets, professional names, hiding, and falling in love. Avery is bone tired and wants a chance to rest and get away form the music industry which is sapping his sole. Hy realizes his time in the ring and on this earth could be cut off at any minute Both men are coming to grips with who they are and what they want. They both need some anonymity in their lives and take the chance to hide certain parts of who they are. A chance to get to know the real person. But almost as soon as they do, the world interferes in a big way, pulling them both back.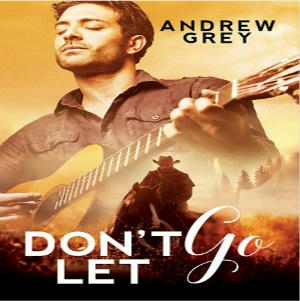 Excerpt!
"Good, we're all here," Barry Stroheim said from his seat as Robert walked in.
Robert strode past the single empty seat halfway down the table and stopped at the head of the table where some guy he didn't know sat, leaning back in the chair like a bored toddler. He tapped him on the shoulder, and the man turned to look at him.
"Yeah?" the guy asked.
"Avery, this is my nephew, Lindon," Barry said.
"Nice to meet you, Lindon. Now get your ass out of my seat." Robert pointed to the other chair, and Lindon slowly stood, his perfect dark blue suit falling into place on his tall frame. Nepotism was never a good idea as far as Robert was concerned. He took the now-empty chair and smiled as Barry glared at his nephew. Glenn sat next to him, and Robert nodded to Barry, folding his hands together. "Can we get started?" he asked quietly.
"Of course," Barry said, and turned to Ray.
"The tour has been a huge success. There have been sellout crowds in every city for every concert. In some places we made adjustments to the ticket prices for the first eight to ten rows, nearly doubling them for later dates, and they sold out completely." Ray grinned, and the others looked pleased.
"You price-gouged the fans?" Robert said, scowling at him.
"These tours are expensive, and we need to recoup all of the costs. Which we've done…," Ray explained.
"And the tour has driven CD sales and downloads through the roof, even on older material," one of the label guys said. They seemed to change all the damn time, and Robert was barely able to keep up with who they were. "Avery Rivers is the hottest thing with a guitar." They all sat back smugly as though that was their doing.
"Yes, and we'd like to keep that going," Ray said. "So the tour organizers and sponsors want to exercise the option in the contract for six additional stops, with two concerts in each location." He passed out papers, and Robert took one that explained the proposed tour additions. "We'll use the next two weeks to get the word out and sell tickets, which we're sure will burn up the internet. The venues are thrilled to have us and will go into publicity mode just as soon as we give the okay."
Barry looked things over and then turned to Glenn. They both nodded as though the decision was theirs and Robert wasn't even in the room.
"Robert can rest up over the next two weeks, and then he'll be ready to go," Barry said.
At least Glenn had the courtesy to look worried, but he nodded as well. They weren't the ones who were too damn worn out to think straight half the time. Robert held his breath, his hands shaking, as they all talked around him.
"Then we're all on board, and I'll get the wheels in motion." Ray sat back as one of the record label guys cleared his throat.
"We need some—"
Robert had had enough. He smacked his hand on the table, the sound filling the room. Everyone except him jumped and all talking ceased. "That's better. Now…." Robert turned to Ray. "The tour contract states that additional dates can be added by mutual agreement."
"Yes," Ray said. "We want to exercise the option, and your people have agreed."
Robert switched his gaze to Barry. "I'm tired and running on empty. I haven't been able to write anything new in months. My throat hurts and my head aches. I'm living on Red Bull and whatever I can get to eat after the concerts."
Barry turned to him. "You'll have two weeks to rest." Then he looked away.
"Look here, you self-absorbed pain in the ass," Robert said without raising his voice. He needed to get everyone's attention, and more importantly, he needed to get his manager's head back where it belonged. "I know you don't know this, but I read my contracts too. The concert schedule can only be extended by mutual consent, and I will not agree." He turned to Ray. "You've done a great job managing this entire process, but I'm worn out. So last night was the end of this tour. It's time."
About Andrew!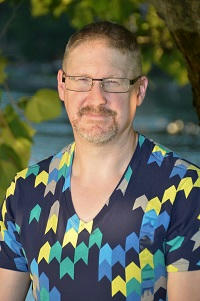 Andrew grew up in western Michigan with a father who loved to tell stories and a mother who loved to read them. Since then he has lived throughout the country and traveled throughout the world. He has a master's degree from the University of Wisconsin-Milwaukee and works in information systems for a large corporation.
Andrew's hobbies include collecting antiques, gardening, and leaving his dirty dishes anywhere but in the sink (particularly when writing)  He considers himself blessed with an accepting family, fantastic friends, and the world's most supportive and loving partner. Andrew currently lives in beautiful, historic Carlisle, Pennsylvania.
.
Author Links
Amazon Author Page | Barnes and Noble Page | Dreamspinner Press | Facebook | Facebook Group All the Way with Andrew Grey | Goodreads | Twitter  | Website