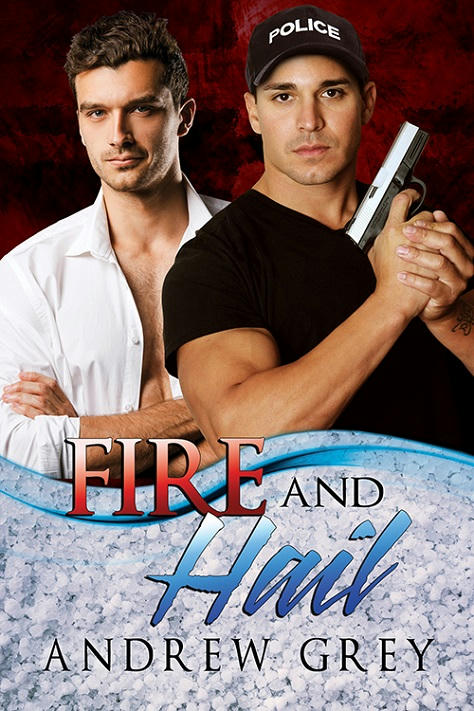 Title: Fire and Hail
Series: Carlisle Cops 05
Author: Andrew Grey   
Genre:  Contemporary
Length: Novel (200 Pages)
Publisher: Dreamspinner Press (January 16, 2017)
Heat Level: Low
Heart Rating: ♥♥♥♥♥ 5 Hearts
Blurb: Brock Ferguson knew he might run into his ex-boyfriend, Vincent Geraldini, when he took his first job as a police officer in Carlisle. Vincent's attitude during a routine traffic stop reminds Brock why their relationship didn't last.
What Brock doesn't expect is finding two scared children in the trunk of a Corvette. He's also surprised to learn the kids' mother is Vincent's sister. But his immediate concern is the safety of the two children, Abey and Penny, and he offers to comfort and care for them when their mother is taken into custody.
Vincent is also shocked to learn what his sister has done. For the sake of the kids, he and Brock bury the hatchet—and soon find they have much more in common than they realized. With Abey and Penny's help, they grow closer, until the four of them start to feel like a family. But Vincent's sister and her boyfriend—an equal-opportunity jerk—could tear down everything they're trying to build.   
ISBN: 978-1-63533-318-3
Product Link: https://www.dreamspinnerpress.com/books/fire-and-hail-by-andrew-grey-8051-b
Reviewer: Lisa
Review:  I cannot believe that I have not been reading this author's work before.  Damn, not only was this perfection in my eyes, but the characters just rocked it.  Now I admit that I started with this book but as soon as I finish this review I am going to start with the very first book in this series.
Brock had two boyfriends that he had been serious about, but both had ended badly in his eyes.  The first one was in college and it was because Vinny hadn't been out to anyone. The other was to Clive, who was more into pain than anything else.  Now in my eyes Clive could fall off the planet.  Now here he was in the job he wanted and things were going good.  He just hadn't expected his first traffic stop to be Vinny.  Then another stop found him two small children in the trunk of a sports car.  Guess who their uncle is, yes you guess it right our very own Vinny.
Vincent was shocked to learn he had a niece right along with his nephew.  However not as shocked as he was when he found out what his sister had done.  It is up to him, with some help from our sexy cop to show these kids what a good home is.  Abey and Penny are going to need to help our two sexy men also.  However if you want to know more about these amazing people, well pick up the book.
I always did love a man with a gun, but Brock is one amazing man.  He is all cop but he has one of the biggest hearts around.  He is tender, sweet and very caring towards all.  His heart also breaks when those around him are hurt.  You can see this when he first meets the kids, and it will bring a tear to your eyes.  At first Vincent came off as a punk in away, but then the further in you get you can see that he is a very sweet young man whose heart is just as big.  I had a lot of fun reading this and can definitely tell you that this is going to be one of those books you read more than once. 
I loved this story and would definitely recommend it to all.  Way to go Andrew, keep them coming.