Hi guys! We have Julia Talbot popping in today with her upcoming release Fox and Wolf, we have a great guest post from Julia and a brilliant excerpt, so check out the post and enjoy! ❤ ~Pixie~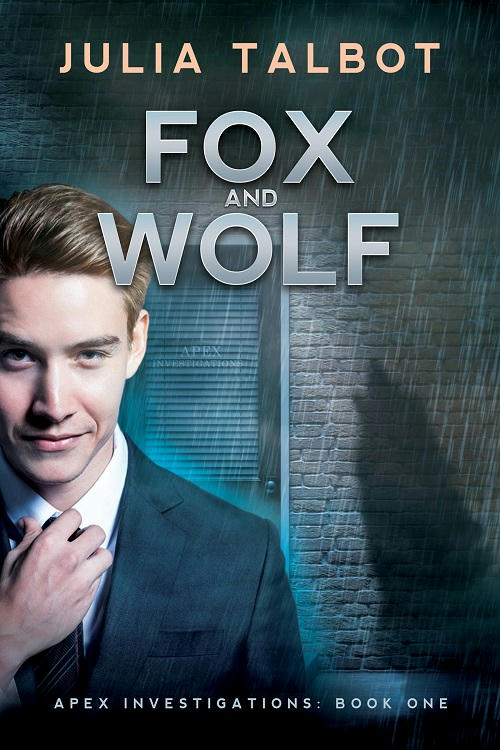 Fox and Wolf
by
Julia Talbot
Werewolf PI Dylan Weems is a hired to solve the murder of a client's customer. As an ex-cop, Dylan is the perfect man for the job, but he doesn't expect the complication of alluring fox shifter Rey.
Ever since finding the dead body of one of his clients, Rey Mercier's life is a mess, and he needs help desperately. He has no idea why he's the target of some ruthless people or what he did to anger them. Hopefully Dylan and his motley crew of shifters at Apex Investigations can help him find out, but first Dylan and Rey have to deal with literal corporate tigers and dire crocodiles shifters… all while deciding what to do about the mate bond that's becoming undeniable. And is that even possible between fox and wolf?
Julia Talbot!

Hey y'all!
I'm Julia Talbot, and I'm here to talk about my new novella Fox and Wolf, which is book one in the Apex Investigations series.
I love this series so much! I've always wanted to do a paranormal PI agency. Just like, hard-boiled, kinda noir.
I have to tell you the story of this story, though. I wrote it fast, and man, I thought it was brilliant. Brill! OMG yay!
Then it got rejected.
Y'all. I have never been rejected like this. Like, a three-page epic rejection. It was devastating. I cried. I ranted. I skyped with the publisher…
Then I did what writers do. I sat down and re-wrote the parts that really needed re-writing. I added three thousand words. I made the characters more distinct and got to know them better. To make a long story short, I made the story far better than it had been.
Rejection is never easy. In fact, it's really the toughest thing we experience as authors. Still, none of us are Mozart, doing a perfect first draft, and rejection has the possibility of making us strive, of creating an atmosphere of improvement.
Anyway, I hope y'all love the story of Dylan (who was Alan originally, which is a name I default to, oddly) and Rey.
XXOO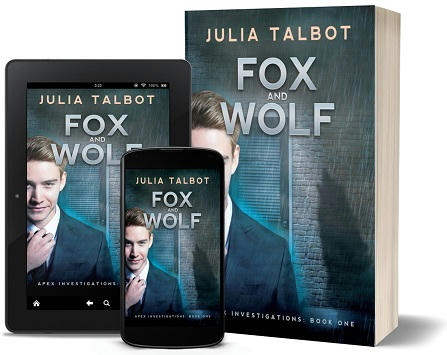 Excerpt!
THE MINUTE the fox walked in his door, Mick Hartness knew he was going to be trouble. The guy was a ginger, after all, and they were always, always full of surprises, and not the good kind. This client wasn't going to be a "here's chocolates and flowers" kind of shocker. No, he was going to be "hey, I'm a serial killer." That was the way of things for a private investigator, though. When you worked for other shifters, you never knew what you'd get.
Mick stood, holding out a hand to shake. "Mr. Mercier. Pleasure. Please, have a seat and tell me what I can do for you." He had an idea, because his assistant, Carrie, usually got a few details, but Apex Investigations Inc. was ever discreet. He only got detail in person.
The shake was firm, but the little man's hand was sweaty, and the look in the copper eyes was worried. "Nice to meet you, Mr. Hartness. You come highly recommended."
"Thank you." They settled, and Mick waited for the knock on the door. Carrie always offered drinks and snacks, so there was no sense in starting before she did.
The tap was gentle; then his favorite she-wolf on the face of the earth came in. "Can I get anyone anything? Coffee? Water?"
"Can I please have a cup of coffee, ma'am?" Oh, Mercier was polite and jittery. Nice.
"Of course. Cream or sugar?" She smiled gently. Carrie was all maternal instinct.
"Black is fine. Thank you, ma'am."
"Mick?"
"The usual." He took his with cream and half a dozen sugars. And with cookies. Peanut butter. He needed his energy.
"I'm on it." She let herself out, closing the door behind her.
Mercier stared at him, so Mick cleared his throat. "So, I understand you're under some sort of threat? Can you give me some idea what we're dealing with?"
"I'm an information broker. I sell what I know. It's weirdly like what you all do, right?"
"Right. I guess that can be a hazardous profession, just like mine." Mick smiled, humoring the guy.
"Exactly. I was hired to retrieve a file from a corporation for an individual and, somehow, I've fallen into a bit of trouble." Mr. Mercier's face took on a strained expression.
"What kind of trouble? A vague description here is no one's friend."
"To be honest, I'm not exactly sure. After the file—a quite physical one, mind you—was delivered, I began to receive emails begging me to come pick it up from my client. I agreed, and when I went to get the papers to replace them?" Mercier shuddered. "She was dead. Drowned in her pool."
"So, someone killed your client for, what? The files you got for her?"
"No. No, the files she'd requested were her own HR record. What could have been in those files worth killing for?"
"Huh." Mick sat back, steepling his fingers under his chin. "You found her?"
"Yes." The fox went pale as milk. "She was frantic. I read those files. There was nothing in there. Nothing of importance."
"Okay. So what happened then?" He didn't have to take notes. He had a great memory. Really great. Anything Rey Mercier told him would be stored away in his very own hard drive.
"I ran. I went home. Then the phone calls started, the texts, the emails, threatening me if I didn't return the files. I don't have them."
"You had returned them from your client's house, yes?" Something wasn't adding up here. What would be so important in an HR file to kill someone over?
"No. No, I returned them to the corporation, by the way."
Mick shook his head, confused. "Okay. Let me see if I have this straight. Your client asked you to get her HR files from a company she had previously or did now work for. You gave them to her, and she began getting calls and threats. So she called, asked you to take them back to the company. When you came to do that, she was dead?"
"I returned the files as soon as I could. I didn't really know what to do, since she was dead."
"Why paper?" Mick asked. No one was solely paper anymore. It was foolish, ridiculous. Utterly silly.
"The company didn't give me an option. I think they were manipulating data but didn't want any trail. I don't know why they couldn't send a PDF or something, but this was a weird legal situation, which was why I was called in as a secure courier, which is also a service I provide."
"Like handcuffing a briefcase to your wrist?"
"Exactly so."
Mick wasn't sure why someone would hire this little man for something that required security. He didn't seem the type.
"And you're sure you didn't take anything else from the company HR office?" He knew exactly who he would be turning this case over to, but he needed to have all the t's crossed and i's dotted in the interview first.
Carrie tapped on the door, returning with coffees and sweets.
"Thank you." He smiled at her, and she winked. She loved playing like she wasn't half the brains of their operation. Mick would be lost without her.
"Of course. I brought extra cookies. They're delicious."
"Thank you, ma'am," Mercier muttered.
"They really are good cookies," Mick said when Carrie left. "Peanut butter. Looks like oatmeal raisin too."
"I love raisins." Mercier's nose twitched, scenting the food.
"Well, here. I'm a peanut butter fiend." Mick turned the plate so oatmeal raisin was on the fox's side of the desk.
"Thank you."
Mick heard the snarl of Mercier's stomach. Hmm. Someone was a little desperate. Maybe Rey Mercier had been on the run, and that was why his chickens seemed so scattered.
"Would you like something more substantial? I can have Carrie order in sandwiches while we wait for Dylan. That's your investigator."
"No. No, this is lovely. Thank you." Hunger gleamed in Mercier's eyes for a moment, though.
Mick grabbed his phone under the desk, texting Carrie quickly. "Subs and chips."
"Yes, boss."
"Can you help me?"
"Of course. We'll help look into it." Mick tilted his head, scenting a tiny hint of fear. "Do you have a place to stay?" He would need to put someone on safe-house duty if the guy was in a hotel or something.
"I've been driving. My apartment isn't safe."
Rey meant sleeping in his car. "Okay. Well, as much as I hate to, I need to talk budget." Hourly billing added up. People didn't think about it, but it was so true.
"Of course. I'm willing to pay to find out who's doing this."
"Here's a listing of our rates." Mick found it easier to hand over a piece of paper. Boom, all in writing and set in stone so his clients could read it.
"Do what you need to." Rey set the paper aside with no more than a cursory glance.
Damn. Carte blanche. He hoped the guy meant it, because this job could be expensive.
"Okay." Mick sat back in his chair again, grabbing his coffee so he could contemplate. "I want to call in Dylan, get him digging. Do you mind meeting with us both?"
"No, of course not." Mercier nibbled a cookie, watching him closely.
"Thanks. That helps, all of us being on one page." Mick tugged out his phone again, this time obviously, so he could text Dylan. He fucking hated trying to figure out the unbelievably complicated desk phone Carrie had forced on him. Honestly, what did they need those things for?
Dylan knocked on the door only a few moments later, and damn, Mick was relieved. Time to turn this interview over to the investigator, and he couldn't think of anyone better to take it on than his resident ex-cop.

About Julia!
Stories that leave a mark. Julia Talbot loves romance across all the genders and genres, and loves to write about people working to see past the skin they're in to love what lies beneath. Julia Talbot lives in the great mountain and high desert Southwest, where there is hot and cold running rodeo, cowboys, and everything from meat and potatoes to the best Tex-Mex. A full time author, Julia has been published by Dreamspinner and Changeling Press among many others. She believes that everyone deserves a happy ending, so she writes about love without limits, where boys love boys, girls love girls, and boys and girls get together to get wild, especially when her crazy paranormal characters are involved. She also writes BDSM and erotic romance as Minerva Howe. Find Julia at @juliatalbot on Twitter, or at www.juliatalbot.com 
Website | Twitter | Facebook | Facebook page | Instagram