Hi guys! We have Richard May popping in today with the cover to his upcoming release Gay All Year. so check out the post and enjoy! ❤️ ~Pixie~
Gay All Year
by
Richard May
Twelve optimistic MM stories, one for every month of the year.
How do men meet? Each story is connected to a holiday or event—Epiphany, Valentine's Day, Pi Day, Arbor Day, Mothers' Day, Fathers' Day, summer vacation, a rodeo, Labor Day, Columbus Day, Thanksgiving, and Hanukkah—but may not be quite the celebration you're expecting.
Neither may the men, and when these men meet, attraction does not always equal love—at least immediately—but chemistry finds a way.
Warning: racial prejudice, infidelity, puppy play, death of a partner, racist language and stereotypes
Release date: 17th August 2020
Preorder:
.•.•.**❣️ NineStar ❣️

**.•.•.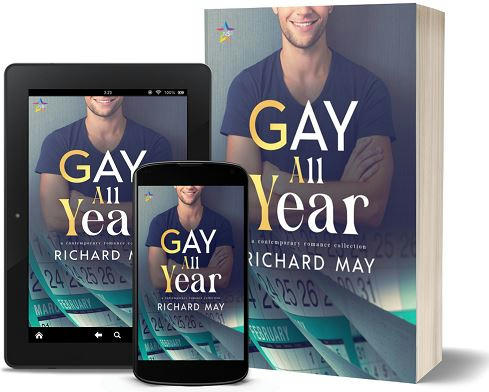 About Richard!
Richard May's short fiction has been published in his collections Inhuman Beings: Monsters, Myths, and Science Fiction and Ginger Snaps: Photos & Stories (with photographer David Sweet) and numerous anthologies and literary periodicals. Rick also organizes two book readings at San Francisco bookstores, the Word Week annual literary festival, and the online book club Reading Queer Authors Lost to AIDS. He lives in San Francisco.