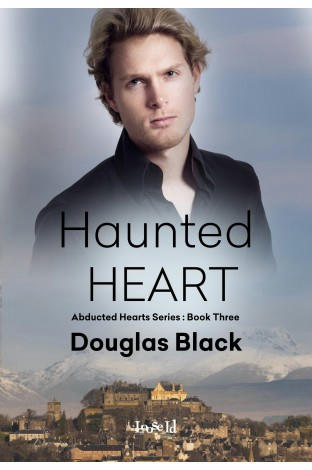 Title: Haunted Hearts 
Series: Abducted Hearts #3
Author: Douglas Black
Genre: Fantasy 
Publisher: Loose ID (February 14, 2016)
Length: Novella 
Heat Level: Low
Heart Rating: ♥♥♥ 3 Hearts
Blurb: Widower Stewart Robertson hasn't known Gary James long, but he doesn't want to let the man out of his sight. Gary wants to be with Stewart, but he knows Stewart is going to find it hard to accept entering into a new relationship so soon after the death of his husband, Archie. With Valentine's Day approaching, Gary wants to make things official, but life is never easy.
Even if Gary can convince Stewart a new relationship isn't going to tarnish Archie's memory, he also needs the man to accept his beliefs and his job investigating everything from aliens to the paranormal. On top of that there's the stress of selling Stewart's house and the weird phone calls Stewart has started receiving that are verging on harassment.
In the end, the question seems to be not do they want to be in a relationship, but will they be able to overcome all the obstacles in their path, and leave behind Stewart's past so they can have a future together.  
ISBN: 978-1-68252-245-5
Product Link: http://www.loose-id.com/abducted-hearts-3-haunted-heart.html
Reviewer: Lisa
Review: With this type of story you must always start with the first book.  Otherwise you will be lost in most of it.   
Well we have finally concluded why Elani is plain nuts and nasty.  You will be surprised by this little twist, but I have to admit that I kind of figured it out earlier.  She knew too much about Stewart and Havana.  Things are progressing quite nicely between Stewart and Gary but paranormal not so much.  Selling his home, weird phone calls, strange feelings are just a bit of what he is going through, suppose it could explain his kooky attitude.  
This is the strangest story I have ever came across, better than the first two but not by much.  At least there is some humor in it that balanced it out.  Gary is still a bit worried about how Stewart will take things and afraid that he still might call an end to it.  However he is holding on just like Stewart.  Havana is a little girl with a big girl sight I suppose.  She definitely doesn't act her age, but then again neither does Phoenix. 
It is a very strange story but still a good read.  I can't say that I like it, because I really don't but it is still a fun read. All though there is still that next cliff hanger and ghost to find.  You would think that by now they would have proven to Stewart about ghosts and spirits, but nope.  That part of the story just seems a bit dull.  They are doing all the talking but still haven't proven that they are not crazy to me nor to Stewart. I can tell from the ending that there will be another book in this series but I am not really sure I want to read it.  I will though because I want to see what happens next.  Guess I might just be as crazy as them.