Hi guys! I'm pleased to welcome J.C. Long and the lovely cover for his upcoming release Hearts In Ireland, we have a short intro from J.C. and a great excerpt so check out the beautiful cover and enjoy the post! <3 ~Pixie~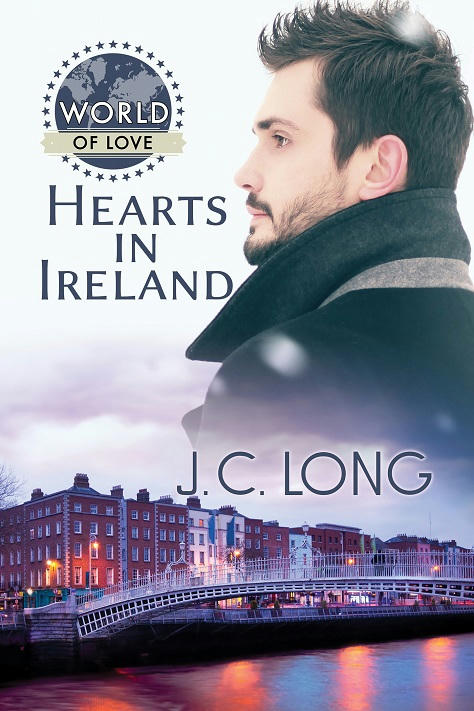 Hearts In Ireland
(World of Love 09: Ireland)
(Cover Artist: Marie Fanning)
by
J.C. Long
When the future is shrouded and it's hard to find direction, maybe it's time to let the heart lead the way….
Ronan Walker stands at a crossroads, unsure how to pursue his education… unsure if he even wants to. Now that his mother is gone, all he has left are the wonderful stories of her youth in Ireland, and he's drawn to the land of his ancestors. There, he seeks out his mother's family and meets Fergal Walsh, who works at Ronan's aunt's bookstore. A love of literature facilitates a fast friendship between the two men, and even though Ronan cannot deny the potential—and his desire—for more, he cannot see a future for the two of them when he leaves Ireland. Fergal must persuade Ronan to give school in Dublin a chance—and convince Ronan that his heart has already found its home.
Release date: 10th May 2017

J.C. Long!
Hello, everyone! I'm J. C. Long, author of Hearts in Ireland. First and foremost I'm super grateful to MM Good Book Reviews for hosting my cover reveal! I'm excited to bring this story to you. It's a really personal one for me. My family hails from the beautiful country of Ireland, and telling a story that captures the essence of the beautiful place my family's told me stories about my entire life was really important to me.
The cover provided by Maria Fanning is beautiful. I think it captures the mystique of the country and also the heart of the story. The model also pretty much perfectly fits my idea of what leading man Ronan would look like! I hope you enjoy the beautiful cover and run out and pre-order Hearts in Ireland today!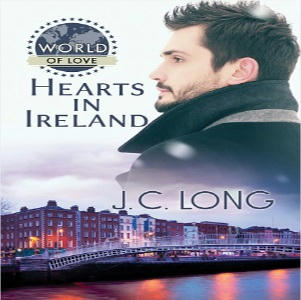 Excerpt!
KNOWING IT'S coming isn't much comfort when it actually comes, I'd learned. The doctors told us for weeks that the end was drawing nearer, and we did our best to prepare for it. We had family from overseas on standby, ready to come at a moment's notice. Mom was weak, but she was able to tell us exactly what she wanted done for the funeral. Even tired and sick, her voice, with its lyrical Irish accent, was still beautiful and soothing.
She'd made peace with it all.
I hadn't.
I put on a brave face for her, but in the darkness of night, when I was alone, I cried. At twenty-seven, I cried like a baby. There aren't words to explain the difficulty of watching someone you love slowly wither away, like an unwatered potted plant. It seemed to be just yesterday that she was strong and vibrant, painting and talking to me about her village outside of Dublin, where she hoped to take me one day.
You need to see where you come from, she'd say. You've seen America, and now you should see Ireland. And then her eyes would take on this dreamy, far-away glow as she thought about her homeland.
She'd fallen in love with my father in a rather whirlwind romance while he was stationed with the Air Force in the UK at RAF Alconbury. He'd made a trip into Dublin during some downtime, met my mother, and it was almost like a fairytale after that. When he returned to America some six months after their meeting, she followed suit as his bride.
I knew Mom missed Ireland terribly. She would talk to me about it near constantly when I was a child, and at bedtime she would always sing me good night songs in Irish, the beautiful foreign words rolling over me and lulling me to sleep.
After the diagnosis, she talked a lot about getting back to Ireland, clinging to that thought as if it were a life vest, as if it could get her through the storm of treatment and pain. I would sit with her, looking at the beautiful pictures found in the various Ireland coffee table books Mom obsessively bought. She would see a place she'd been to and point to it, telling me about its magic and how much better it was in person, all while Celtic Woman played in the background.
The day it happened, Dad and I both knew it was time. Neither of us could explain it if asked, but we knew, and so did she.
Mom beckoned me over to her bedside. I sat in the chair beside her, taking her clammy, weak hand in my own and squeezing it tightly, as if I could give her my own strength. If it were possible, I would have, then and there, no questions asked.
"I want you to promise me something." Her voice coming out raspy but surprisingly strong. "Will you do that, Rónán?" She used the Irish pronunciation of my name, Ronan, and I knew what she was about to ask of me was serious.
"Of course, Mam," I said, looking deep into her eyes. They were filmy now, but once they'd been the fiercest green I'd ever seen. As green as Éire, she'd once said. As green as Ireland.
"I want you to go—don't put it off too long, like I did."
"I will, Mam, I will." I had no doubt about what she meant. She'd been wanting to take me to Ireland since I was seven but always put it off till next year, or until we had the money to go. She'd delayed and delayed so much, and now she would never get to see her homeland again.
"You promise me," she insisted, clenching my hand tight with what must have been her last bit of strength. "Promise me, a stór."
Tears came to my eyes and a lump, hot and burning, formed in my throat. A stór—my treasure. She hadn't called me that in a long time. It was her childhood nickname for me. "I promise."
The rest of that day was a blur for me. Mom passed back into the hazy cloud of delirium, occasionally talking in Irish, to no one in particular, though I did distinctly catch dadaí, the word for daddy. From what I knew, my grandfather on my mother's side passed when she was eighteen.
She became calmer after that. A few hours passed and she was gone.
No amount of preparation we had done readied my father and me for that moment. I fell apart, face buried in the blankets of her bed next to her form, while my father stood there, one hand on either of my shoulders, head bent, tears falling freely onto my back.
My next clear memory was of doctors talking, though their voices were just a background droning, not piercing the veil of my grief. I sat there as they talked to Dad, holding her hand as it slowly became cool. Her eyes were still open, but they were vacant. The beautiful spirit that was my mother was no longer there. She'd left us forever.
Phone calls were made, a flurry of different activities engaged. Arrangements would be delayed as long as possible to give as many relatives as could come a chance to get in from Ireland. Dad must have told me a hundred different details about who was arriving when, and how airport pickups would have to go, and what the sleeping arrangements would be.
I processed none of it. I have massive gaps in my memory after that. Allanah Murphy-Walker died at 3:17 p.m. Tuesday afternoon. By Friday, every relative that could make it had, and the funeral was planned for Sunday.
Saturday evening the family gathered at Dad's, and we had a big family dinner. There were a total of seventeen Irishmen joining us in the house. Grandma Murphy and Mom's sisters, Gwendolyn and Maris, did the cooking, making my favorite dish, shepherd's pie.
While aunts and uncles and cousins chatted inside about old memories, I sat on the back porch, staring out at the lush garden that was Mom's pride and joy. She called it her little piece of Ireland in America. I'm pretty sure the happiest smiles I ever saw on my mom's face were when she was in the garden.
Most of the Irish family was quite a bit older than me, at least amongst the members who made it. The exception was my cousin Hannah, Aunt Gwendolyn's thirty-year-old daughter, only a few years older than me. As I sat there in the twilight, Hannah came out and joined me, taking in the garden. She was silent, and I appreciated it immensely. Everyone else seemed to think they needed to fill any silence with meaningless words, and that doing so might keep the grief at bay.
"Do you remember my first visit here?" Hannah asked after a few minutes.
"When I was six? Yeah, I remember."
"I was only nine years old, and it was my first time away from home—and in a foreign country. I cried every night for the first few days. Do you remember why I finally stopped crying?"
I thought for a moment, forcing my mind through the haze of sorrow that had settled over me since Mom's passing. I shook my head, unable to recall clearly.
"One night you came into the guest room and sat down on the bed. You took my hand and asked why I was crying, and I said because I was so far away from my family. You told me, 'You're not far away—you're right here. We're family too.'" She smiled wistfully. "I felt silly for crying after that."
She reached over, took my hand, and squeezed it tightly. "You were there for me when I felt completely alone. I'm here for you too. Aunt Allanah was an amazing woman. I know I can't understand the depth of your pain—but you're not alone. You've got a house full of family. You reminded me of that twenty years ago, and I'm returning the favor."
My mind couldn't form words to express the gratitude I felt then. I had indeed been feeling alone in that moment. How strange that Hannah, a cousin I'd seen maybe a grand total of six times in my entire life, knew exactly what I needed to hear at that moment. Perhaps that was the power of family.
With Hannah's encouragement I was able to go back inside and surround myself with family. I didn't actively participate in the stories being told—neither did Dad, I noticed. He sat there, a small, nostalgic smile on his face as he listened to the voices in their heavy Irish accents, like he was lost in another world.

About J.C.
J. C. Long has had a long love affair with words, writing stories from a very early age. When not writing J. C.'s time is spent teaching English as a foreign language. J. C.'s second longest love affair has been with theater, a passion that comes through and shows in his first published story, Broadway Babe.  He is also quite passionate about Welsh corgis and is convinced that anyone who does not like them is evil incarnate. J. C. currently lives in Japan, but has also lived in various parts of the United States and also South Korea.
Website | Twitter | Facebook | Facebook Author Page