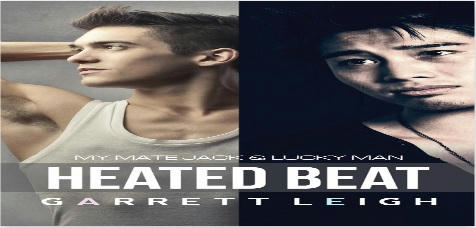 Hi guys, we have Garrett Leigh popping in today with her new release the Heated Beat Collection, we have some great excerpts and a brilliant giveaway, so check out the post and click that giveaway link! <3 ~Pixie~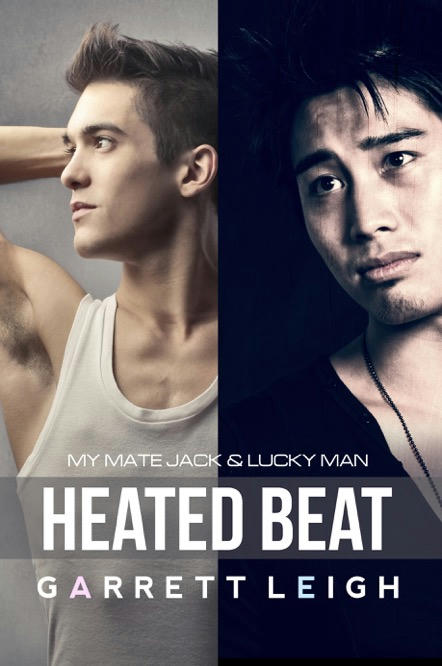 Heated Beat Collection
by
Garrett Leigh
My Mate Jack
Will Barter's been in love with his best mate Jack for as long as he can remember. They've shared everything: love, life, laughs, even Will's first kiss. But Jack's straight, and Will's long-buried infatuation means nothing until their last summer together draws to a close.
Then one night, everything changes, but with Will bound for university in Leeds, and Jack for his dream DJ job in Ibiza, there's no time to explore their blurred lines. Before long all that's left are secrets, lies, and misunderstandings.
In the months that follow, anger and hurt overshadow fifteen years of friendship, and Will must dig deep to remember Jack is his mate… his best mate, and nothing matters more than that, right?
Lucky Man
As a diehard music fan, a dirty, smoky gig is Vice Squad Detective Danny Jones's idea of heaven. While watching one of the most popular bands in Northern England, the sight of gorgeous rock star Finn McGovern changes his life forever.
Beneath the tattoos and leather jacket, Finn is kind and sweet, but when he confesses a dark secret to Danny, it tests their fledgling bond. Danny digs deep to accept Finn, but before long, a terrifying trail of death threatens to tear them apart before they've even got started.
A monster is killing prostitutes on Danny's patch, and when a dead girl turns up too close to home, Danny discovers a heartbreaking link between the girl and his bright new life with Finn, a life he'll do anything to protect.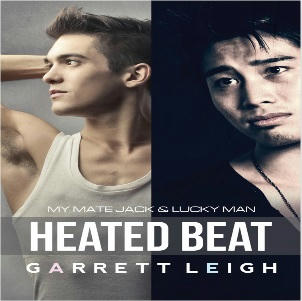 Excerpt
My Mate Jack
MY MATE Jack was the first bloke I ever fancied. Not that I knew what it meant back then. At twelve years old, who did? Not me. All I knew was the brush of Jack's leg against mine was the catalyst for my first boner, and it was three long fucking years before it happened again….
1999
Towcester, England.
WILL WATCHED the empty Hooch bottle spin in the center of the circle. To his right sat Ginny, the fittest girl in year ten. All the boys in the circle had their eye on her, praying the spinning bottle would make their wet dreams a reality. They all wanted to snog Ginny. Every one of them except Will.
The bottle stopped. There was a collective whoop.
"Jackie-boy," Woody crowed. "'Bout bloody time."
Will's heart skipped a beat. If Ginny was supposed to be the fittest bird at school, Jack Lawson was definitely the fittest bloke. Tall, with floppy sandy-brown hair and dark eyes. Striker on the football team. Banging DJ. He even played the drums in a local band—sweating, biceps popping. Did it get any hotter than that?
Not if Will's dirty dreams were anything to go by.
Jack sat up and crawled to the center of the circle. He took the bottle and spun it again, chucking a wink Ginny's way before he sat back. Everyone knew she had the hots for him. It was the talk of the school. Not that Jack seemed to care. He didn't give a toss what anyone said about him. Never had.
The bottle slowed. It stuttered past a few faces. Nearly stopped. Kept going. Then it landed on….
Shit. It's pointing at me.
Will gulped and felt heat flood his cheeks. Jack was his next-door neighbor and best friend and the only soul in the world who knew his secret. One of them, at least.
He doesn't know how much I want to kiss him.
Jack crawled forward on his hands and knees, his grin evil. He stopped a foot away from Will, oblivious to the leering catcalls of their friends around them. "Pucker up, blondie."
Is he serious?
Will knew he wasn't. He couldn't be, but that didn't stop the thunder of his heart as Jack leaned ever closer.
Jack stopped with his face an inch from Will's. Licked his lips. Winked. Will felt like he might faint. The split-second pause felt like an hour. Then he lunged at Jack, shoved him across the grassy circle, found a grin from the pit of his stomach and plastered it on his face. "Piss off, you knobber."
Lucky Man
DANNY STARED, transfixed, from his position deep in the crowd. Golden haired, with strong, darkly inked hands, Finn McGovern was bloody gorgeous. And man, that voice. Live and untouched by studio wizardry, it was pure, unadulterated magic, and the haunting vocals seeped into Danny's soul.
He absorbed the warm, funky bass line and let the tension from a long week ease out of him. Casework, street work, paperwork. Work, work, bloody work. Danny's week had been hell, but a few songs into the Lamps' set, none of it seemed to matter. Instead he found himself pondering Finn McGovern's blond beard and scruffy leather jacket and the way his black jeans hugged his slim hips. Add in the sultry, gravelly voice, and yeah… Danny was a fucking goner.
"Danny!"
Danny tore his gaze from the stage. His ex-housemate, Kev, loomed into view and dropped a hand on Danny's shoulder.
"Danny, mate. Long time no see. How's tricks? Any hot blokes around for you?"
Danny rolled his eyes as Kev swayed happily beside him. Danny had moved out of the house they shared a month ago, and Kev had banged on his door every week since. "What do you think?"
"Come on. There must be someone here you like."
"Why does there have to be someone I like?"
Kev hiccupped. "Okay, how about someone you just want to bang, then? You need to get laid. Even Jackie says so, and you know how she feels about one-night stands."
The last few words were half drowned out by the shouts of the crowd, but Danny got the picture. He was a loser, and even Kev's nicer-than-nice girlfriend thought so.
Great. Danny gave Kev the finger. Kev didn't understand. No one did. Danny had left London with pride and resolution, but over the years, they'd both faded away, and now he was thirty years old, miles from home, and halfway back in the closet.
Danny left Kev and shoved his way to the edge of the crowd. The Lamps gigs were known for getting rowdy, but as much as he liked a good mosh, his exchange with Kev had put a dampener on his mood. He drifted along the fringes, found a spot close to the side of the stage, and stood there awhile, enjoying the dynamic of the band. It was ages before he remembered his glass was empty, and by then Finn McGovern had shed his leather jacket.
Damn, those arms.
Danny pushed through the packed mass of bodies to the bar. He ordered another beer. By the time he turned back to the stage, the band had launched into a rocking song that had the crowd going wild. The growl of the guitars and the crazy beat of the drums pulsated through the crammed venue. Every soul in the building roared the lyrics to a song Danny didn't know, and he knew he stood little chance of muscling his way back to his spot at the side of the stage.
He settled for slouching against the back wall, hoping some distance would break his obsession with the band's rugged lead singer. But it didn't seem to matter how far from the stage Danny stood. Each time he looked up, his pathetic subconscious imagined Finn McGovern was looking right at him, staring through the maddening crowds and singing every line just for him.
Yeah. I really need to get laid.
Eventually the gig played out. The crowd went crazy, and the band came back and played an encore. Their set had been a mixture of their own stuff and covers of well-known crowd pleasers: "Wonderwall," "Song 2," "Common People." Danny expected more of the same for the band's final song, so he was surprised when most of the band sloped off the stage and left Finn McGovern alone with his acoustic guitar for company.
"All right, folks. Let's slow this down. Say good-bye the old fashioned way."
The lights dimmed, low and intimate. Finn McGovern strummed a few chords. Danny recognized them immediately, and if he hadn't been so bewitched by the singer's deep northern accent, he would've melted to the floor. "Lucky Man." The Verve. Is he trying to kill me?

About Garrett
Garrett Leigh is a British writer and book designer, currently working for Dreamspinner Press, Loose Id, Riptide Publishing, and Black Jazz Press. Her protagonists will always always be tortured, crippled, broken, and deeply flawed. Throw in a tale of enduring true love, some stubbly facial hair, and a bunch of tattoos, and you've got yourself a Garrett special.
When not writing, Garrett can generally be found procrastinating on Twitter, cooking up a storm, or sitting on her behind doing as little as possible. That, and dreaming up new ways to torture her characters. Garrett believes in happy endings; she just likes to make her boys work for it.
Garrett also works as a freelance cover artist for various publishing houses and independent authors under the pseudonym G.D. Leigh. For cover art info, please visit blackjazzpress.com.
Social media:
Website | Twitter |Facebook Cover art enquiries: blackjazzdesign@gmail.com
Giveaway!
Win a Garrett Leigh backlist Dreamspinner Title!
(Just click the link below)
(Ends 23rd December 2016)