Hi guys, we have Rebecca Cohen popping in today with her recap tour for He's Behind You, we have a great excerpt, a brilliant giveaway and Prime's review, so check out the post and click that giveaway link! <3 ~Pixie~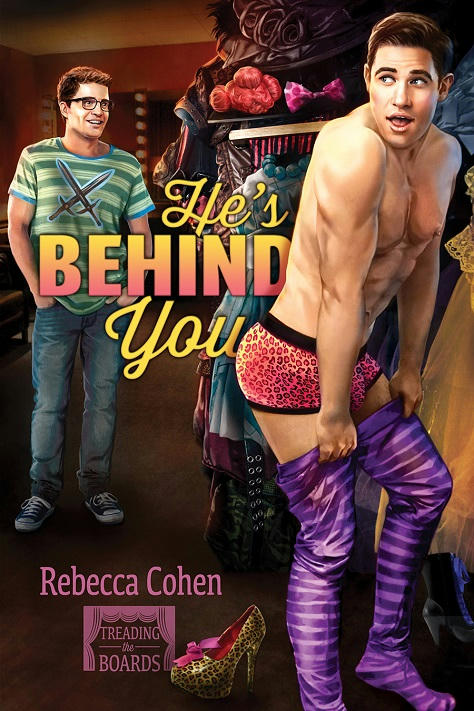 He's Behind You
by
Rebecca Cohen
A trip down to Cornwall is just what Ryan Penniford needs to recover from the daily grind of London life. Ryan and his amateur dramatics society, the Sarky Players, are traveling to Porthcurno to perform at the stunning Minack Theatre. 
Stuart Box has returned to Cornwall after earning his PhD, and is killing time as he looks for a job back in London. Spending time with Ryan from the Sarky Players is a great way to take his mind off things. 
During their first meeting, sparks fly, but not in a good way, and they must work to get past their initial hostilities to discover they have great off-stage chemistry. Stuart soon learns Ryan is not the superficial man people assume he is, and Stuart likes what he sees. The feeling is entirely mutual. 
Pity Ryan is only visiting for two weeks, but both men want to see where this holiday romance might take them.

Excerpt
They headed down a set of steps to an underground bar called Jerusalem, which Craig supposed could've been a lot worse—it only vaguely reminded him of a bomb shelter. Stuart clapped him on the back. "My round."
"No, let me. You won't have been paid yet, and I know what it's like to survive the gap between PhD and postdoc."
Stuart shook his head. "No, I'm good. My partner's not exactly short of cash, and he's already at the bar."
Craig looked at the bar. Stuart pointed out a blond guy, and Craig thought he was more than gorgeous, beautiful even. Stuart wasn't exactly bad on the eye, and the two of them together would be striking. Craig blinked away the image of Stuart and his partner entwined. He really needed a boyfriend if his overactive imagination was providing him with flashes of his colleagues. "Oh, well, I'll have a lager. Whatever's on tap is fine."
Trish grabbed Craig's arm as Stuart went off to the bar. "We've got a table, but we're short a seat. You'll need to find a stool."
She must have reapplied her perfume before leaving, because the strong waft that assaulted Craig made his eyes water. "Will do."
Her ponytail swinging behind her, Trish dragged Katy, the newish PhD student, away with her to where the rest of the lab had bagged a table. Despite the bar being busy, Craig spotted a free stool a few tables away. A group of four had a spare seat, although they were using it as a bag stand. Craig pointed to it. "Would you mind if I took this?"
A young red-haired woman grabbed her bag and smiled. The guy sitting opposite her smirked, looked Craig up and down, and licked his lips. "Oh, for someone as adorable as you, I think we can allow it. It might cost you, though."
"Si, stop teasing," said the redhead with a sigh. "Sorry about him. One too many margaritas," she said to Craig. "Please take it."
Si winked at him, and Craig thought it best to avoid him for the rest of the evening. The guy had a cocky manner. He was attractive and knew it, with his shiny black hair and chiseled chin. The way he presented himself—designer suit and expensive haircut—made Craig think he wasn't used to taking no for an answer. The sooner Craig legged it, the better.
"Thanks."
Craig hurried away, but not before he heard the redhead say, "Si, can't you behave for once? You don't even know he's gay."
"Of course he is, Di. Geeky and gay. My favorite for a bit of fun—always so desperate."
Craig tried not to let the words hurt, but it was hard to ignore the truth. He carried the stool over to the table, refusing to dwell on his pathetic love life. Even the geeks he'd dated had moved on to someone better, to guys who weren't as socially awkward or boring as Craig, once the shine of his Warhammer status waned.
Stuart had arrived at the table with his boyfriend, who he introduced as Ryan, and Craig squeezed into the gap left between Trish and Stuart toward the end of the table.
Small talk was not one of his best skills, but he forced himself to make an effort. "So you've survived the first week. No plans to run screaming for the hills?"
"Can I reserve judgment until the end of the month? It's taken most of the week to get access to the university computer systems and get my staff pass."
"You're doing well," said Trish. "But you should double-check with Senate House that they've got your bank details right. They messed up mine, and I nearly couldn't pay my rent that first month."
Ryan laughed and nudged Stuart. "You'll have to be extra nice to your landlord if that happens."
"I told you I had a nonmonetary payment scheme worked out for emergencies, but you weren't interested." Stuart blew a raspberry at Ryan. "Apart from being rich, attractive, and normally a nice guy, I have no idea why I put up with you."
Craig couldn't help but be envious. Stuart had mentioned they hadn't been together long, but a whirlwind romance had escalated into more. They made a lovely couple, and Craig wished he had someone waiting for him at home after a long day in the lab.
Before he knew it, they were ready for the fourth round. Stuart and Ryan were great company, so for once Craig wasn't itching to go home. Ryan had even somehow managed to convince him to come along to an open audition at the amateur dramatics group they belonged to. Once Ryan learned Craig lived in Deptford, only a couple of stops away on the Docklands Light Railway, he wouldn't let Craig refuse. Maybe it would be good for him to have a social life outside his computer and gaming meetups. He got to his feet at the call for the next round. "My turn."
"You need a hand?" asked Trish.
"Nah, I'll get a tray."
The queue for the bar was several people deep, and Craig checked his phone while waiting to be served. He had a few game notifications and an offer from his credit card company, but nothing of any consequence. At least reading his e-mail meant he didn't accidently make eye contact with anyone.
Once he'd been served, he realized he didn't have room for all the drinks on the tray and would have to come back for his pint.
"I'll keep an eye on it for you," offered the guy standing next to him, who, Craig realized too late, was Si from the table where he'd got his stool. Si grinned.
Craig had a sudden thought that he should be wearing a red riding hood. "Er, thanks."
"My pleasure." Si winked at him.
Craig scurried away with the tray of drinks, intending to come back to grab his pint and return to the table again as fast as possible.
The bar had cleared a bit by the time he went to retrieve his pint. He hoped Si would have collected his own drink and pissed off back to his friends, but no such luck.
"There you are. I was beginning to think you weren't coming back."
Craig reached out to pick up his pint, but Si took hold of his arm. "I hope you aren't rushing off."
"I need to get back to my friends."
"I'm sure they can cope for a little while without you."
Craig tried to shrug off Si's hand. "I need to go."
"Oh, come on, we can have a little fun. What do you say to me letting you suck my cock?"
"What?" He aimed for outraged, but it came out more like a deranged squawk.
"You're gagging for it. I can smell the desperation. I bet you can't even remember the last time you got laid. Here I am, offering you a simply wonderful opportunity."
Craig could tell Si was the wrong side of sober, and he tried to dislodge Si's hand. "Let go of me."
"Feisty!" Si swayed a little and grabbed Craig's arm harder.
"Look, Dick For Brains, the guy's not interested, so fuck off to whatever sewer you crawled out of." A hand reached from behind Craig and pulled Si's hand away. "Piss off and leave him alone."
Craig turned to see a man—at best guess, in his late thirties with dark brown hair and a square jaw. He was dashing in a knight-in-shining-armor way, although dressed in a suit with his shirt collar open, rather than chain mail. Craig supposed he should be incensed another man thought he needed rescuing, but he was far too relieved to be upset.
Si scowled. "Who the fuck are you?"
"Someone with a black belt in judo who doesn't like arseholes picking on people in bars."
About Rebecca
Rebecca Cohen is a Brit abroad. Having swapped the Thames for the Rhine, she has left London behind and now lives with her husband and son in Basel, Switzerland. She can often be found with a pen in one hand and a cup of Darjeeling in the other.
Where to find the author: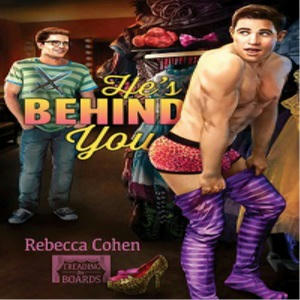 Giveaway!
Win a $10 Amazon or ARe Giftcard!
(Just click the link below)
Review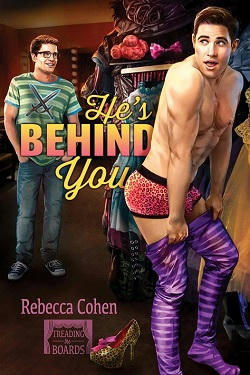 Title: He's Behind You
Series: Treading the Boards 3
Author: Rebecca Cohen
Genre: Contemporary
Length: Novella (140 pages)
Publisher: Dreamspinner Press (2 Dec 2015)
Heat Level: Moderate
Heart Rating: ♥♥♥♥♥ 5 Hearts
Blurb: It's panto season for the Sarky Players, an amateur dramatics society based in Greenwich, South London. With the traditional Christmas play around the corner, it's time to get ready for more larger than life performances—on and off stage.
While Craig Rosen is happy with his quiet life playing Warhammer and working in a university lab, a new colleague thinks he needs more excitement and drags Craig along to an audition for the Christmas pantomime, Aladdin.
Corporate lawyer Jason Carter accepted he's gay a little later in life than most, but now divorced and in his late thirties, he's ready to embrace who he really is. He can't believe his luck when he runs into Craig at the audition and the cute younger man agrees to help him navigate his new life. There's no doubting the attraction between Craig and Jason, but with Craig's insecurities and Jason still finding his way, they'll need to make sure they don't veer off script.
ISBN: 978-1-62380-500-7
Product Link: https://www.dreamspinnerpress.com/books/hes-behind-you-by-rebecca-cohen-4635-b
Reviewer: Prime
Review: Rebecca Cohen's series, Treading the Boards, is as fun as the pantomime and plays that amateur theatre group the Sarky Players thrive on so much. While these books may be read as standalones, I do like that we do get to catch up with the previous characters so it would be good to read the previous installments.
In He's Behind You we get the story of Craig Rosen and Jason Carter. Craig is a post-doctoral research at medical research labs somewhere in London. He's a quirky guy, who has known who he is for a long time; including the fact that he loves the role playing game, Warhammer. Jason is a corporate lawyer who got married at the age of seventeen after getting his girlfriend pregnant. Now at the ripe old age of thirty-eight he is finally divorced and has made the step to come out of the closet. One aspect of Jason that I love is that he is still great friends with his ex-wife and his two kids are fantastic. These three make really good minor characters. But I am sidetracked, after a chance meeting Jason and Craig meet while auditioning for the Sarky Players.
For me it was way too easy to relate to Craig. Partly because I know people that are similar to him in personality and this also includes me, but mostly because this portrays academia and scientific research and generally life working in a lab with great accuracy. I should know: I've done the whole PhD thing and work in a lab. Craig and Jason work really well together, I loved and believed their chemistry.