Hi guys, we have K.A. Merikan stopping by today with their new release Hipster Brothel, we have a great excerpt and a brilliant giveaway so check out the post and click that giveaway link! <3 ~Pixie~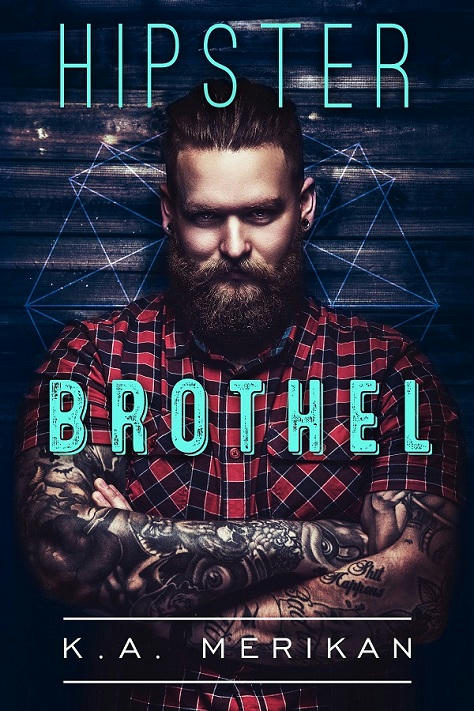 Hipster Brothel
by
K.A. Merikan
— The lumberjack of his dreams is now available for rent. —
Mr. B has always been a safe guy for Jo to crush on. He's the cutest bearded lumber-god to salivate over. Add to that his friendly, outgoing personality, and Mr. B might just be the first guy Jo would be willing to kiss. Fortunately, Mr. B has been in a relationship for years, and Jo is no home-wrecker.
But when Mr. B breaks up with his partner and all of a sudden is single, available, and talks about his plans to be sexually adventurous, Jo isn't so sure anymore if he has the guts to come out as bisexual.
After a sour breakup, Mr. B wants to show his ex that he's independent, exciting, and can do very well without him. His best friend Jo is there to the rescue, and they come up with a great new business venture. One thing they lack to start their own line of artisanal boozy jams – money for the investment.
After a drunken brainstorming session, Mr. B finds a way to both gather the cash and show the middle finger to his ex. He will create a one of a kind Hipster Brothel – The Lumbersexual Experience – offering wood chopping lessons, pipe smoking, and a reclaimed wood bed where the magic would happen. It's bound to be a success… if only Mr. B can go through with it, because the mixed signals from Jo are making him wonder if his best friend is as straight as he always seemed.
WARNING: Explicit content, strong language. A shameless amount of buzzwords. May cause second-hand embarrassment.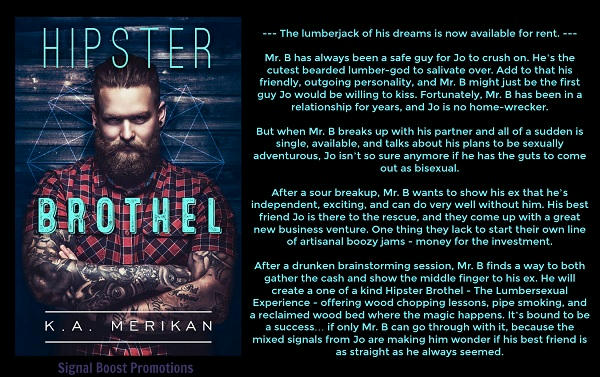 Excerpt
At some point in the night, Mr. B had had to turn his back on Jo to make sure he didn't wake up with a boner poking at his friend's ass. The last thing he wanted was to make Jo uncomfortable, and he liked sleepovers with Jo too much for that to happen. He wasn't exactly perving on a straight friend, but he was only human, so there was no reason for him to not take pleasure from glancing at Jo's body now and then when Jo changed.
But when Jo removed his underwear in front of the train car and walked through the long grass between the trees completely naked save for his boots, Mr. B did indeed perv.
While not as tall as him, Jo was trim like a wild cat, his smooth skin a perfect canvas for the morning sunlight and the tattoos covering the greater part of his upper body. Diamond shapes made up graphic depictions of various animals that occupied his arms, chest, and even the broad back above the fine ass that swung slightly when Jo walked.
Jo shook his head, tossing about his straight black hair as he relieved his bladder by the tree. Mr. B knew he shouldn't keep looking, but the dimples that appeared in the sides of Jo's buttocks when he pushed his hips forward were too delicious to miss. And it wasn't like anything could ever happen between the two of them. What Jo didn't know couldn't hurt him.
Mr. B pulled off the T-shirt he'd slept in and walked out in just his boxer shorts. He yawned as soon as he stepped on the wet grass, inhaling the fresh forest air. Not many places relaxed him as much as his piece of land. Even if it wasn't exactly his but his older brother's.
Mr. B stole another glance at Jo's long legs and the thighs that had gained a good amount of lean muscles in the last two years. When they met, Jo was much skinnier. Not that it ever stopped him from finding a new girl every few months or having an easy time hooking up for one-night stands. Jo had an ease of flirting that Mr. B admired.
"I'm starving," declared Jo, turning back to face Mr. B.
He grinned and walked back toward the train cars, carefreely airing his cock and balls. Mr. B was desperate not to look too closely, but with Jo's pubes completely shaved, every detail was presented in high definition.
Mr. B rubbed his face, still hazy after having drunk too much yesterday. At least they'd done some good
brainstorming, something Mr. B needed like never before, because his life was about to change big time.
"Did we eat everything we had last night? I've got some pickles, but not much else. A jar of hummus? Maybe."
Mr. B looked up at the sun and took another deep breath of the summery air to avoid staring at Jo's abs. He did enough of that during training, especially when the WOD involved exercises that made Jo's tops roll up.
Jo gathered his hair back into a bun and crooked his head, sliding his tongue over that attractive line between dark shadow of the facial hair growing back and the plump lip. "I might have some homemade energy bars on me. Sounds like we're gonna have a feast."
Mr. B stretched. "I shouldn't have had all those cookies, but I just couldn't force myself to care. Let's shower first." Jo's eyebrows went higher when he said that. "'Cause I only have enough water in the tank for one."
Jo took a second to react, but in the end nodded and stepped away to make room in front of the steps. "Show me the way then."
Mr. B pulled off his boxers and threw them inside the train car without looking where they'd fall. "Ah! You haven't seen the shower, have you? It's a work in progress." He laughed and rushed along the train car, excited to show off his DIY skills.
The sound of Jo's footsteps in the grass behind him made heat spike along Mr. B's spine, but he relaxed and breathed in the fresh air, along with all the scents of summer.
The shower would be refreshing. It wouldn't be suitable in winter, but was definitely good enough for now.
About K.A.
K.A. Merikan is the pen name for Kat and Agnes Merikan, a team of writers, who are taken for sisters with surprising regularity. Kat's the mean sergeant and survival specialist of the duo, never hesitating to kick Agnes's ass when she's slacking off. Her memory works like an easy-access catalogue, which allows her to keep up with both book details and social media. Also works as the emergency GPS. Agnes is the Merikan nitpicker, usually found busy with formatting and research. Her attention tends to be scattered, and despite pushing thirty, she needs to apply makeup to buy alcohol. Self-proclaimed queen of the roads.
They love the weird and wonderful, stepping out of the box, and bending stereotypes both in life and books. When you pick up a Merikan book, there's one thing you can be sure of – it will be full of surprises.
Website | Twitter | Facebook | Pinterest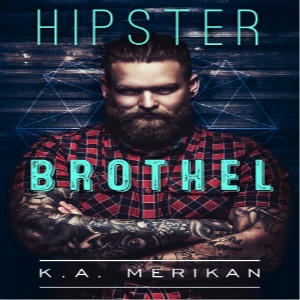 Giveaway!
Win an ebook from KA Merikian Backlist!
(Just click the link below)