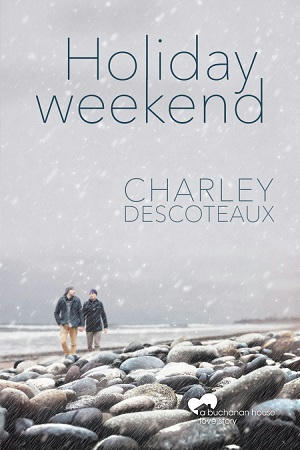 Title: Holiday Weekend
Series:  Buchanan House 05
Author: Charley Descoteaux
Genre: Contemporary
Length: Novella (125 pages)
Publisher: Dreamspinner Press (16 Dec 2016)
Heat Level: Moderate
Heart Rating: ♥♥♥♥ 4 Hearts
Blurb: Ryan Orchard moved from small-town Idaho to Portland almost two years ago and still feels like a hick. When Paulie Nesbitt dumped him, he wasn't even surprised. Despite losing twenty-five pounds since then, Ryan's confidence is nonexistent, and his life has stalled. Not only is he convinced the career he wants is beyond his reach, he's given up on relationships. A new job at a familiar restaurant—and his gorgeous coworker—could be just what Ryan needs to believe in himself again.
Glenn Hernandez might be the only nineteen-year-old in Portland who dreads his days off. Between his horrible housing situation and the ever-present temptation to crawl back into the bottle, Glenn prefers to keep busy. He volunteers at the Elliott Foundation House, a homeless shelter helping LGBTQ former sex workers. As an alum of the shelter himself, Glenn finds it hard to leave his past behind. But when the new server at the trendy restaurant where he works catches Glenn's eye and works his way into his heart, Glenn finally has a reason to start a new life.
ISBN: 978-1-63477-820-6
Product Link: https://www.dreamspinnerpress.com/books/holiday-weekend-by-charley-descoteaux-7892-b
Reviewer: Prime
Review: Charley Descoteaux's Buchanan House series is really a fantastic read. However, this particular book can be read as a standalone, those that have read the previous four books in the Buchanan House series may want to go back and work out where things fit in the story. Then again, you may not want to do that either. Whatever.
Charley writes in the author's note how this particular book fits in the story. It's not a part of the main timeline within the series, much like the other novella within the series "Pride Weekend", "Holiday Weekend" is a part of the Buchanan House universe but not directly, also an important of the structure is that these also don't open with a funeral, as the other three books in the series do. That was me quickly rehashing the author's note .
The story itself revolves around the Elliot Foundation House – it's a shelter for young gay men living on the street, most of them as sex workers to get by which has roots in the previous books of the series. Glenn is one of the success stories. He used to live on the streets and sell his body for money but the 19 year old is now a recovering alcoholic who is making life better for himself, even if he doesn't really see it for himself quite yet. Then there is Ryan – we met him in the book "Tiny House" when his boyfriend Paulie found love with someone else. It wasn't that Paulie is an asshole but Ryan is a very lonely and tragic figure. Both Ryan and Glenn have a lot of healing to do but the question is once they get together and sparks fly, can they be together and heal each other at the same time? When they head to Buchanan House for a weekend a bit of magic and love from familiar faces just makes everything perfect.
This is a heartwarming story which is full of hope and love. Glenn and Ryan are simply wonderful together, they have plenty of chemistry and a lot of heart. This is a wonderful addition to the series. I love that these guys have their chance at a happy ending within their own little world.