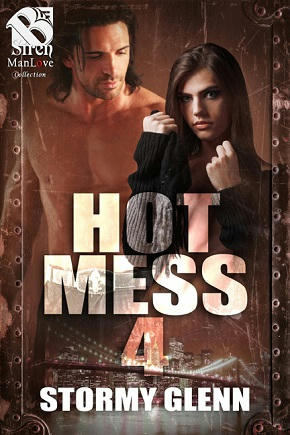 Title: Hot Mess 4
Series: Hot Mess 04
Author: Stormy Glenn
Genre: Contemporary 
Length: Novella (168 Pages)
Publisher: Siren-Bookstrand, Inc. (March 9, 2017)   
Heat Level: Low
Heart Rating:  ♥♥♥♥♥ 5 Hearts
Blurb: Lany
I had once thought that my life was the comic relief for the universe. Today, I was positive I had been right in my line of thinking. It was the only way to explain how I ended up sitting on the floor of my favorite Thai restaurant, surrounded by armed men and hostages.
It was my anniversary after all.
Salvador
I wanted to go to Lany the moment I stepped into the Thai Rose and saw him kneeling on the floor next to Eddie, but dealing with the people threatening him with guns came first. I didn't want him in the line of fire if trouble started. Of course, knowing Lany's luck, just being on the same city block put him in the line of fire.
He was a hot mess.
ISBN: 978-1-64010-210-1
Product Link: http://www.bookstrand.com/book/hot-mess-4
Reviewer: Lisa
Review: Each book in the Hot Mess collection features our very own sexy duo, Lany and Sal. To enjoy the overall story arc and crossover characters, I would recommend reading the series in sequential order.   
I came across Stormy Glenn a few years ago and have been amazed by her stories.  I am always on the lookout for when she has a new one coming out.  Now I have to admit that I am not a fan of all her stories, but this series rocks.  I love the characters quite a bit and they are probably the only couple that I can read in different books. I have never been a fan of the same character in multiple books.  For some reason they just get boring and dull, but Lany never could do that.
Once again it is our fascinating duo's anniversary coming up.  However this time Lany is not taking any chances.  However for Lany trouble always seems to find him.  Thank goodness for his sexy swat husband coming to the rescue.  Although I am not sure of the elephant, he might have asked for that one.  
It is a very entertaining tale that just keeps giving me laughter.  It is the perfect story to brighten your day and let's face it there is nothing hotter than a man with a gun, well one on the right side that is.  He has the bad boy looks, a fierce love for Lany, speaks sexy Italian and can't cook.  What more could a guy ask for.  Well let's see hostage situations, the mob saving the day, a sexy cop, two best friends and a couple of cute baby girls.  
I love reading this series and cannot wait to see what trouble Lany gets into next.  I would definitely recommend reading this series.  Trust me you will get a kick out of it.