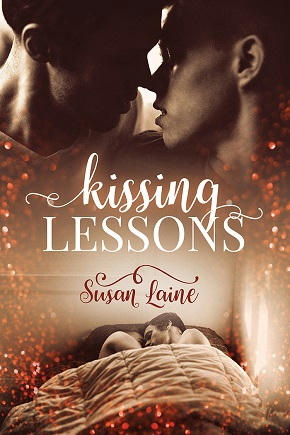 Title: Kissing Lessons
Series: Before… and After #2
Author: Susan Laine
Genre: Contemporary
Length: Novella (81 Pages)
Publisher: Dreamspinner Press
Heat Level: Steamy
Heart Rating: ♥♥♥♥♥ 4.5 Hearts
Blurb: A kiss is just a kiss. It doesn't have to mean anything. Does it?
At seventeen, Merry has never been kissed. Since he doesn't want to disappoint his prom date, he asks his more experienced best friend, Boone, for some pointers. Surprisingly, Boone agrees to give him a hands-on lesson. But they have no idea what they're getting into.
They explore hundreds of ways to make out, but somehow it isn't enough. A week later, they're back together for another session. This time things go further than either of them planned, and their relationship becomes awkward and uncomfortable.
Have they learned enough to salvage their friendship and help it evolve? Their lessons have come to an end. They can either part ways forever… or share a true love's kiss. 
ISBN: 978-1-63533-283-4
Product Link: https://www.dreamspinnerpress.com/books/kissing-lessons-by-susan-laine-8355-b
Reviewer: Veronica
Review: I absolutely love these Friends to Lovers stories. This story is so very steamy, and it doesn't have any sex scenes. I love how the author wrote the chemistry that these two friends have together. I have to say that the blurb made me want this because I am a huge lover of friends to lover's stories and asking your best friend to teach you how to kiss, and then the both of them enjoying it so much that they don't want to stop. WOW.
Merry and Boone have been best friends since kindergarten, they've done everything together. Prom is three weeks away and Merry has girl that he wants to invite, he's never kissed anyone before, so he wants to learn how, so that he won't be made fun of if he doesn't do it right. Merry is a bit socially awkward and totally innocent.  So, he asked Boone, who is the experienced one in dating, to teach him.
I know a few of the names of the kisses that Boone is teaching Merry, and some I've never heard of, but who knew that they were so much names for different kisses. Those are the steamiest kisses, that I've had the pleasure of reading about. Just goes to show that not all stories must have sex scenes to be steamy. The author did a great job on this and I'll be looking forward to more in this series.
For a steamy quick read, I'll definitely be recommending this story, and I have already.