Hi guys, we have T.A. Moore popping in today with her upcoming release Liar, Liar, we have a brilliant guest post and a exclusive extract, so check out the post and enjoy! <3 ~Pixie~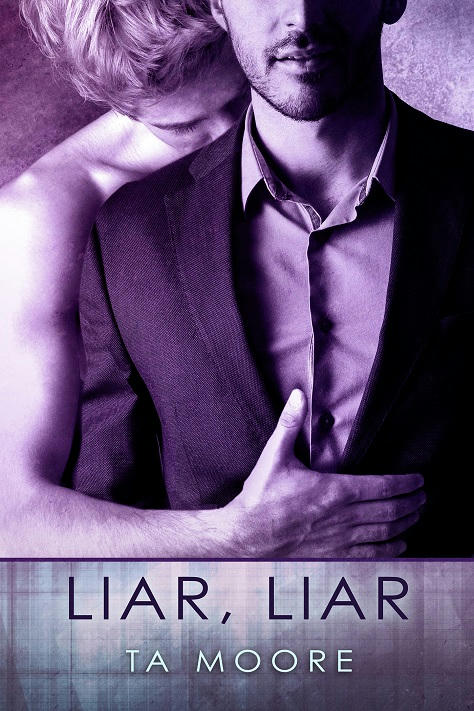 Liar, Liar
by
T.A. Moore
Just another day at the office.
For some people that means spreadsheets, and for others it's stitching endless hems. For Jacob Archer a day at the office is stealing proprietary information from a bioengineering firm for a paranoid software billionaire. He's a liar and a thief, parlaying a glib tongue and a facile conscience into a lucrative career. He just has one rule—never get involved with a mark.
Well, had one rule. To be fair, though, Simon Ramsey is dark, dangerous, and has shoulders like a Greek statue. Besides, it's not as though Jacob's even really stealing from Simon… just his boss and his brother-in-law. Simon didn't buy that excuse either after he caught Jacob breaking into the company's computer network.
That would have been that—one messy breakup, one ticket to Bali booked—but it turns out that the stolen information is worth more than Jacob thought. With his life—and his ribs—threatened, Jacob needs Simon to help him out. Or maybe he just needs Simon.
Release date: 10th May 2017
T.A. Moore!
Why, people might ask, did you make the main character in your romance a compulsive liar? My first response would be that Jacob isn't compulsive, just unrepentant(ish). He knows what the truth is, he just hides around corners from it.
To actually answer the question though, and date myself, when I was a kid I loved Remington Steele. For younger readers, Remington Steele was a TV series about a female private detective who invented a male boss to get people to take her seriously. Except then an Irish con-man (who was played by Pierce Brosnan) turned up and claimed to be the eponymous Mr Steele.

What followed was five seasons of mysteries, slow-burn sexual tension, a lot of lying, and some backstory on both characters. And let me tell you, if anyone ever publishes TA Moore's juvenalia there will be some very bad Remington Steele fanfic in there.
So when I came up with the idea for Liar, Liar the template for Jacob was already there, just waiting to be untrustworthy but appealing. Maybe it is because I come from a family that's pretty jam-packed with charming but feckless people (not all of them, but they know who they are), but there's an appeal to the elusive, but generally good-hearted liar.
God knows, I know a guy who should never, on his own merits, get laid. Yet he has shagged internationally based entirely on being a blithe, Irish 'storyteller' (if you're telling someone about The Ulster Cycle, that's a story; if you're telling them you own a castle, that's a 'story').
Jacob's not that bad. He could totally get laid on his merits. However, he's spent his life doing the easy thing instead of the right thing, until he ended up falling in love with someone who's kind of the exact opposite. He really should have thought that through!
Anyhow, I hope you give Liar, Liar a go! I enjoyed writing it, and I think people will enjoy reading it. To whet your appetite, here's an exclusive glimpse at the characters just before the start of the book.
Check here to find the other extracts: www.nevertobetold.co.uk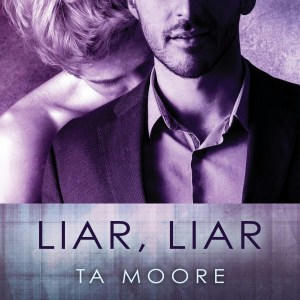 Exclusive Extract!
Jacob rolled back to his apartment at dawn. He was tired, sore, and sticky. Usually he'd have had a good time the night before to make it worth his while.
Not today. It had just been work. Good, honest labour. God, his Dad would be ashamed of him. That almost made it worthwhile. Almost.
He trudged up the narrow flight of stairs to the one bedroom he was renting on the third floor. It smelled of bleach and cleaning solution. Or–Jacob ducked his head and sniffed under his arms–maybe that was him. He stepped on the back of his trainers to get them off and stripped down to his skin.
It wasn't much cooler. There was no air-conditioning, and the one window opened onto a brick wall opposite that was close enough he could reach out and touch it. So not much room for a breeze to work itself up.
Unfortunately, the background that was about to be run on Jacob Archer wasn't going to show up the short of bank balance that could justify a nicer place. So for now, this was home sweet home.
Luckily, he didn't need much. Just a place to lay his head and a wifi signal to piggyback off.
He flopped out on the couch and balanced the laptop on his stomach. A yawn escaped him, the pop of his jaw loud between his ears, and he had to scrub the blur of water out of his eyes before he could navigate the various security protocols and download his email.
Spam. Spam. That one guy that wouldn't take a hint. Two from his sister, probably more complaints about his move. Crap. More crap.
There it was.
Jacob whistled tunelessly to himself as he hit Grace Emory's email. It opened up to reveal a job offer. The fact he was second choice didn't even sting that much, although the favors he'd had to burn to get the first choice dragged in on a warrant from Alabama still did a bit.
He fired off his acceptance quickly, and then unceremoniously handed his resignation in to his current employers.
There was more to do. He had to look over the blueprints he'd got his hands on, and familiarise himself with the Trojan he'd had tailored for this job. Writing a computer program that advanced was out of his skill set–he was better with people than computers–but he made sure he knew how to use it.
Except the sweat had turned to salt on his skin, and every time he blinked it was getting harder and harder to open his eyes. And the laptop had gotten hot enough while he was working that it was starting to scorch his balls.
Jacob closed the lid and reached down to set the computer on the floor. It was still whirring softly to itself as he closed his eyes.
Sleep, so insistent a minute earlier, was suddenly elusive. He couldn't muster enough energy to open his eyes though. So he stared at the back of his lids and waited for his brain to run down.
How long had it been since he had to do this level of legwork on a job? Usually there was a admin who kept all her passwords on her phone, or a disgruntled engineer he could connect with on Facebook. Syntech was a vault, though.
The only way in was to brute force his way from the bottom.
And he'd taken to a life of crime because he thought it was easy money. With the amount he was getting paid, of course, he was still coming out ahead on the whole effort to profit equation.
Maybe it would make Devon Porter feel better once this was all over though, if he knew the person that had robbed him blind had sweated to do it.
That was the last thing he remembered thinking before he finally slipped into sleep. When he woke up five hours later he had a crick in his neck and his mouth tasted like old socks.

About T.A.!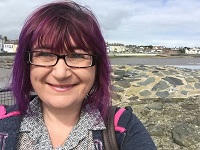 TA Moore genuinely believed that she was a Cabbage Patch Kid when she was a small child. This was the start of a lifelong attachment to the weird and fantastic. These days she lives in a market town on the Northern Irish coast and her friends have a rule that she can only send them three weird and disturbing links a month (although she still holds that a DIY penis bifurcation guide is interesting, not disturbing). She believes that adding 'in space!' to anything makes it at least 40% cooler, will try to pet pretty much any animal she meets (this includes snakes, excludes bugs), and once lied to her friend that she had climbed all the way up to Tintagel Castle in Cornwall, when actually she'd only gotten to the beach, realized it was really high, and chickened out.
She aspires to being a cynical misanthrope, but is unfortunately held back by a sunny disposition and an inability to be mean to strangers. If TA Moore is mean to you, that means you're friends now.

Check out the other blogs on the tour!