Hi guys! We have Lucie Archer stopping by today with the tour for her upcoming release Past the Breakers, we have a short intro, a great excerpt and a brilliant giveaway, so check out the post and click that giveaway link! <3 ~Pixie~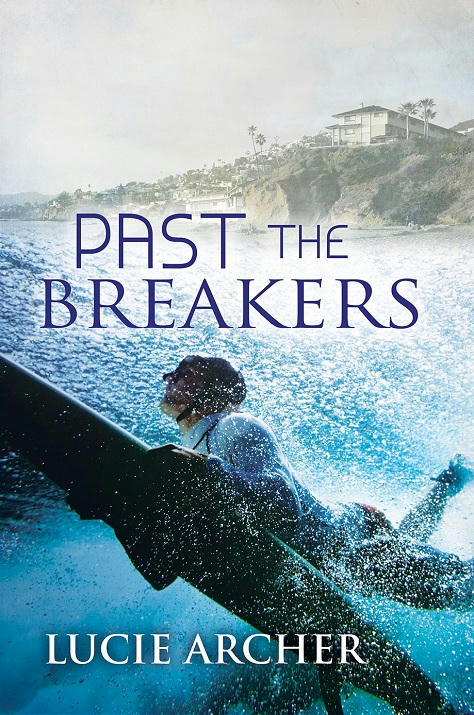 Past the Breakers
by
Lucie Archer
Casey North lost everything when his restaurant burned to the ground: his hopes, his dreams, his reason for living. With nothing tying him to LA, he packs up and moves back to his hometown of Land's End. He takes up residence in a beach house and attempts to shake the depression he's fallen into after his life collapsed. There's just one tiny problem: the ghost haunting his kitchen.
Myles Taylor wasn't always trapped in the Between. One minute, he was about to propose to his boyfriend of five years as they sat out on their surfboards, and the next, he woke up on the beach to find his long-dead uncle walking toward him. After his shock fades, he must learn to navigate his new reality as he searches for a way to move into the Great Beyond. But first he must deal with the man who's invaded his territory.
With Myles tied to the beach house and Casey unwilling to leave it, the two must learn to cohabitate as the lines separating them begin to blur. They grow closer than either expected, but what will become of them once Myles finally escapes the Between?
Release date: 15th May 2017

Intro & Excerpt!
Hi everyone, and welcome to my blog tour for Past the Breakers. I thought I'd start off the tour with an exclusive excerpt. This is the introduction to Myles Taylor right before his life takes a turn for the worst… or maybe for the better. Enjoy!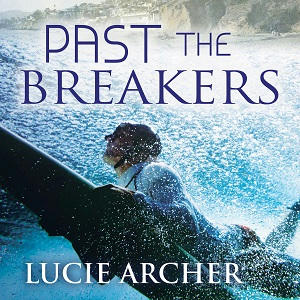 Life as Myles knew it was over, his brain supplied just before everything went topsy-turvy and faded to black. He didn't know what happened exactly, only that he had been enjoying a beautiful morning with his boyfriend, James, out on the water. The day itself didn't have any prior meaning, but the ring he had zipped away in his pocket made it feel special.
After four years together, he'd decided to ask James to marry him. They were both professional surfers, and Myles had planned the day months in advance. He had to with their busy schedules. It took days of coordinating with their agents to carve out some time for a romantic getaway between booked commitments.
They woke up to a wonderful swell just outside the house they rented for the three-day weekend—nothing fancy or ostentatious, just a modest little beach house overlooking Tranquil Bay. The sunrise painted the sky in pinks and oranges, and the warm breeze blowing in the open doors felt like heaven, the ends of the white curtains that framed them dancing on the dark wood floor.
"Good morning, beautiful," Myles said, nuzzling his face into the warm, tanned neck of the body next to him.
James yawned as he stretched, one arm moving to drape over Myles. "How's it looking out there?" he asked at the end of another yawn.
"I'm more interested in how it looks in here."
"You know the rules, babe… surfing and then sex," James said with a chuckle.
Myles groaned but agreed. He wanted to pop the question out on the ocean anyway and had a feeling that if they didn't get out of bed right then, they'd stay there for the rest of the day. Not a bad plan in and of itself, just not the one he'd envisioned for the past three months.
They started pulling on their board shorts, both pairs red with a black stripe running down the sides, when James's phone rang. The harsh ringtone grated against his eardrums and drowned out the sound of the waves crashing in the distance.
"Don't answer," Myles pleaded, past ready to dive into the warm, salty water calling to him.
"It's Logan. I have to."
Myles shook his head, but James picked up his phone from the side table and slid his finger over the screen. He shrugged his indifference at Myles before answering and walking out of the room, a cheerful lift to his voice when he said, "Hey."
That kind of thing had become more and more troublesome over the past few months. James's agent had assured him he could handle everything while they were away, but apparently not. Myles tried to shake off the nagging thought that they had something on the side. He had no proof, other than the increasing frequency at which the two of them spoke.
He had confronted James about it a few times, expressed his fears, but his soon-to-be fiancé brushed off his insecurities, insisting the pair only discussed business. After a few months of reassurance, Myles convinced himself he'd imagined it all, that he was "just stirring up drama," as James had put it, but it didn't stop the pang of wrong that ran through him whenever Logan called.
With James in the other room, he took the opportunity to dig the engagement ring out of the box it had come in for one last inspection. He'd buried it in the bottom of his bag for safekeeping, so it took him a minute of rooting around before his fingers hit pay dirt. James liked the pop and sizzle of shiny and expensive things, but Myles had gone with something a little less flashy, a white gold band with a wave design encircling it. Myles had it sized for him and inscribed it with their initials.
He took a moment to admire the shine of it. James would have gone with platinum, but if he didn't like it, Myles could have it resized for himself. When he heard footsteps growing near, he took the ring from the velvety interior of the box and stuffed it into the pocket of his board shorts, then shoved the box back into the depths of his bag. He stood and hurried over to the door, leaning a shoulder against the frame as he watched the waves roll in. Once James rejoined him, they grabbed their boards and headed for the ocean.
His hands shook as they paddled out. He had practiced his speech, but he hoped he remembered all the words through his nerves when the time came. They caught a few good waves before a break had them sitting on their boards, happy to drift for a bit as they enjoyed the water. Myles never felt more at peace than he did on his surfboard. He considered the ocean his home, and he'd gladly spend all day in it if allowed.
He had no family to speak of, other than the deceased uncle who raised him. His uncle Joe had bought him his first surfboard and gave him his first lesson on his thirteenth birthday. After Joe passed away of cancer a few days shy of Myles's twentieth birthday, all he had left were his friends, and only a few of them close.
Thrill seeking became his way of coping, and while not the deadliest vice in the world, after Joe passed, he spent a few years putting himself in harm's way and making dumb, impulsive choices. Surfing had been enough once, but he tried to fill the hole left in his heart by Joe's death with anything that pumped his system full of adrenaline.
Finding James had felt like being thrown a life preserver just as he started to slip under the waves. James gave him something to live for and had pulled him out of a pretty self-destructive place. He wanted to make that permanent, that safety net, but after living together for three years he'd grown tired of waiting for James to take the initiative.
Instead he found himself on a surfboard in Tranquil Bay about to ask James to marry him. He had doubts about doing it out on the ocean. If his shaky hands dropped the ring, they might never find it again, but at least the salt water offered cover for his sweaty palms. He reached for the ring, but before he could get the zipper of his board shorts open, he felt the telltale signs of a riptide forming under them.
And that was the last thing he remembered.

About Lucie!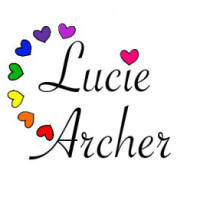 Lucie Archer is a student of the universe who is obsessed with the stars, in love with beaches, and crazy about dudes falling in love. She tells stories of romance, love, and life, with a little bit of passion thrown in for good measure. Because what's life without a little pop and sizzle?
When she's not writing, she can be found tending to her garden, playing with her four-legged children, or procrastinating. Although, she spends a lot of time fending off random plot bunnies that threaten to derail her WIP's.
Website | Facebook | Facebook Author Page | Twitter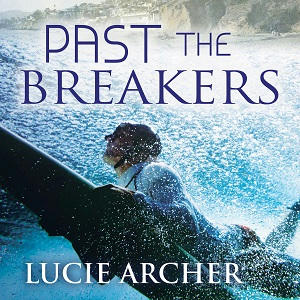 Giveaway!
Win a $15 Amazon Gift Card!
(Just click the link below)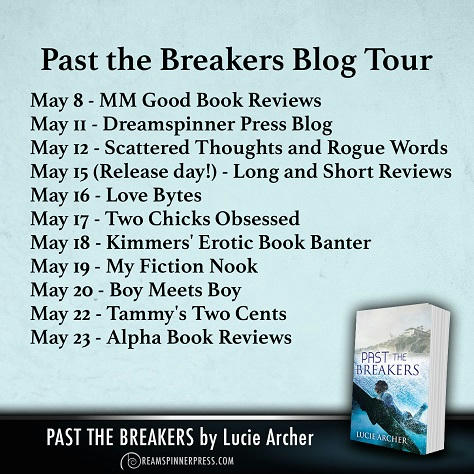 Check out the other blogs on the
May 8 – MM Good Book Reviews
May 11 – Dreamspinner Press Blog
May 12 – Scattered Thoughts and Rogue Words
May 15 (Release day!) – Long and Short Reviews
May 17 – Two Chicks Obsessed
May 18 – Kimmers' Erotic Book Banter
May 22 – Tammy's Two Cents
May 23 – Alpha Book Reviews