Hi guys! We have Janice Jarrell stopping by today with the tour for her new release Love's Magic, we have a great excerpt and a brilliant giveaway, so check out the post and enter the giveaway! ❤ ~Pixie~ p.s. keep an eye out for Lisa's review of Love's Magic!
Love's Magic
by
Janice Jarrell
If you love gay romance that contains both heated passion and steadfast love, Love's Magic is for you!
Professor Nate Reese rushes to protect a female student and is severely injured at the hands of her assailant. Traumatized by the attack, Nate sets his feet on a no-holds-barred path of activism designed to force university officials into addressing the issue of on-campus assault. At the same time, terrified of losing his hard-won status at the university, his partner, David Gardener, a veteran of 12 years as a very popular Professor, is reluctant to support Nate's militant efforts. Seemingly abandoned by his partner, Nate sees David's aversion to his activism as indifference to the trauma he suffered. Day by day they watch as their relationship disintegrates, while still struggling to resolve the disruptive issues engulfing the school they love.
In the meantime, Irishman Colin Campbell, handsome and charismatic Sergeant for the campus police force, fights his own on-going war against campus assault. But behind his obsessive desire to gain justice for victims lies a devastating secret which could forever destroy his fiercely independent facade and expose his deepest fear. Ultimately, it is Colin's powerful connection to a steady, dark-eyed Title IX consultant which threatens to tear down his defenses and shatter the barriers protecting his heart.
Cocky and irresistible, the dynamic police officer was everything Joshua Abrams had ever longed for in a man, but Colin simply didn't 'do' relationships. Unless Joshua would settle for a one night stand, or a very short-term liaison, there was no room for him in Colin's life. Yet even knowing this, he couldn't keep himself from falling hopelessly in love with his 'magic man'. Despite the passion between them, he knew his quiet, reclusive nature could never hope to entice the vibrant, freedom-loving Irishman, so eventually he begins to back slowly away.
Eventually, a disagreement over an oddly disturbing case causes Colin's hot Irish temper to erupt and their relationship is irrevocably shattered. Heartbroken, and convinced that Colin is gone forever, Joshua flees Charlottesville without a word, leaving Colin adrift and inconsolable.
But Joshua Abrams hadn't merely stepped over the indelible line Colin had drawn between his heart and the dangers of real love, he had burned through it like hot lava. Finally forced to acknowledge his love for Joshua and his desperate need to have the quiet, Jewish man by his side, Colin must now face the dark and long-suppressed memories which are irrevocably linked to his love for the handsome consultant. Without even a forwarding address to guide him, he vows to find Joshua and bring him home. Colin's struggle to conquer his pride and fear in order to find the love of his life and achieve their happily ever after will touch your heart.
Four lives in turmoil fighting for the relationships they cherish, and at the heart of the struggle, a great university struggles to survive its most harrowing challenge.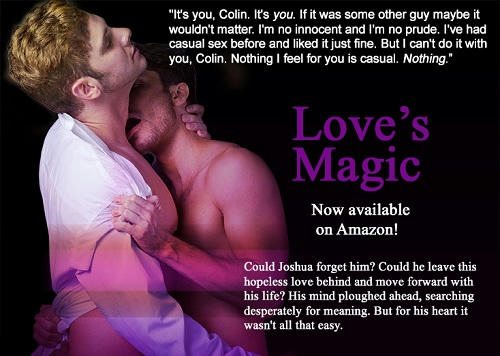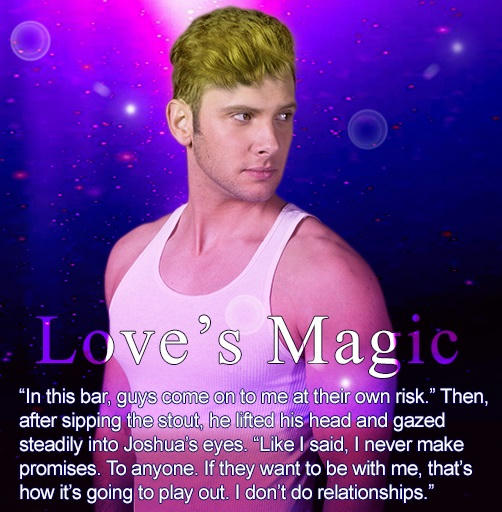 Excerpt!
Nate lounged against the door to David Gardener's bathroom, frowning at his lover's reflection in the mirror. "Jesus," he muttered, "I have got to get you out of that brown suit! We really need to go shopping."
David spun on his heel, gaping in faked amazement. "You dissing my suit? I'll have you know this suit is a classic!"
"In 1984 maybe. And what is that music?!"
"That, you musical neophyte, is Bruce Springsteen! You've never heard of 'The Boss'?"
Nate grinned and winked. "Before my time."
David threw him a look but did not respond to the jibe. His hazel eyes changed to a deep emerald-green as he gazed at Nate's shirtless chest, feeling his mouth water in eager anticipation. Nate's pristine skin beckoned his hands and quickened his heart rate. With a small moan he leaned forward and captured Nate around the waist with one arm, drawing him tight against his body. "Well," he muttered as he nibbled at the curve of Nate's neck," I am an old fashioned kind'a guy."
Nate wriggled in his arms. "Here now, what's this!" he protested, then laughed and relented, winding his arms around David's neck. "This is nice," he murmured. "But as my mama used say, if we keep foolin' around this way we're gonna' be late for school!"
David sighed, lost in the scent of Nate's skin, then leaned away from their embrace. "Well, we can't have that," he said, turning back to the mirror. "I'd lose my reputation as the stuffy history professor." He winked at Nate's reflection in the mirror. "We'll continue this discussion later."
"Promises, promises," Nate replied, then waved and moved toward his own bathroom.
David's eyes followed his reflection, but once Nate was out of sight, he sighed and turned back to his own. He flipped a brush through his dark brown hair until, despairing of seeing the results he wanted he frowned, lowered his arm, and stared at his reflection. The face which stared back at him was pleasantly handsome, with gentle hazel eyes and a firm jaw, but David remained unsatisfied. What does he see in me? David wondered then scowled and turned away from his reflection tossing the brush to the counter-top. He had never been able to see himself as handsome and his athletic six-foot frame only left him feeling over-exposed and vulnerable.
Checking his watch, he grabbed his briefcase from the floor and moved down the long hallway trying to shake off his uncertainties, happy instead that the man he loved saw him through different eyes. At the door to Nate's bathroom he stopped and leaned against the door-frame.
"You ready?"
"Just about," Nate replied, then raised his eyebrows and swept his eyes up and down David's body. "Looking good, Professor."
David shook off the compliment with a quick, unconscious grimace.
Catching the gesture, Nate sighed in exasperation then paused and studied his lover's face. It was plain, but handsome. A face without guile, reflecting intelligence and sincerity rather than cleverness and wit. But this was the physical reality, not the aspect of David's being that had captured his heart. The power of the love shining in David's hazel eyes had stolen his heart a year ago, and even now caused his breath to catch in his throat. For Nate, David's entire being was mirrored in his physical form. His broad shoulders and sturdy build reflected the quiet inner strength which Nate relied on in both good times and bad.
He followed David down the stairs and into the living room without a glance at his own reflection. His extraordinary good looks were a fact Nate took completely for granted. His heart-shaped face could more accurately be called beautiful than handsome and was accented by huge blue eyes as luminous as sapphires and just as unforgettable.
It was this beauty which initially drew David's attention but it was not this outer shell which he'd found impossible to resist. Much more compelling was the realization that Nate's darkly handsome exterior was but a weak reflection of the inner beauty which lived within. Nate radiated a simple decency and generosity of spirit which lifted everything he did and said beyond the ordinary. And though six years his junior Nate possessed a quiet maturity which gave David the sense of being with someone far older than his years.
David, a professor of Revolutionary War history at the University of Virginia, had suffered for years from wounds acquired in an abusive childhood. Wounds which left a dark and brooding shadow over his life, robbing him of joy. Even his many professional accomplishments couldn't triumph over the poor self-image he acquired in his youth. Meeting Nate placed his feet on a path that culminated in an inner awakening unlike anything he believed possible. The love he came to feel for this bright and beautiful man lifted him from lingering darkness into healing and light.
Nate's upbringing was more supportive. His parents, kind, old-fashioned people, had initially resisted the knowledge that their only child was gay. Confused and wracked with guilt, they wondered what they had done wrong or if Nate's 'condition' were merely a phase which he would move beyond in time. His mother still mourned the fact that there would be no grandchildren, but eventually, and after several conversations with a professional therapist, Nate's parents came to look upon his homosexuality much as they looked upon on his dark, unruly hair, as part of the son they loved.
He spent ten years in Hollywood working as an associate producer in documentary films, the last five for a man named Lance Barrett who became like a second father to him. Nate loved the creative aspects of his work, and his status as Lance's right-hand man afforded him many opportunities to grow in his craft, but the hectic Hollywood lifestyle had begun to wear him down.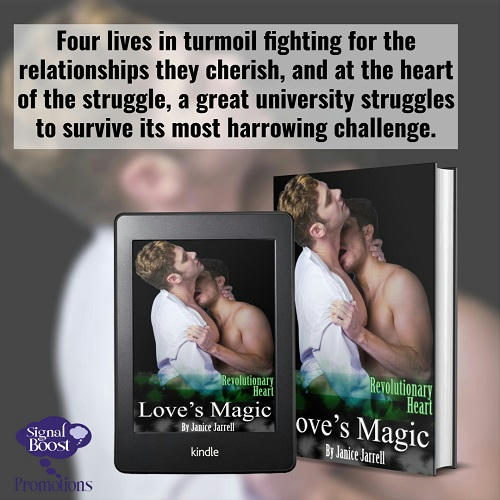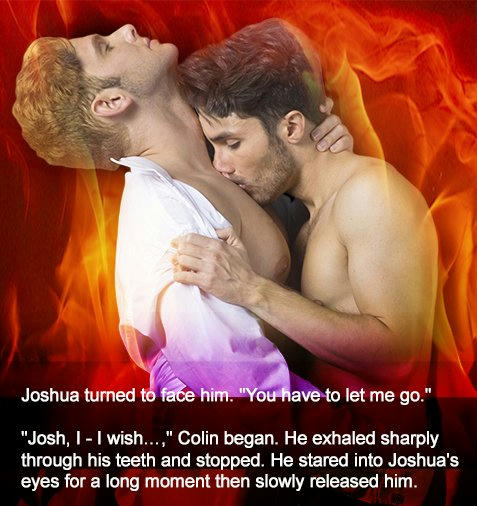 About Janice!
My name is Jan Jarrell. I am a 74 year old retired grandmother who lives in Seattle, WA. I have been a writer of Lord of the Rings slash fan fiction for almost twenty years under the name Rakshi. I have written both RPS fiction and FPS and my list of works stands at three hundred and thirty seven, including stories as short as drabbles (stories of 100 words) and a series entitled 'Time' that was 119,012 words long. I have never had a work officially published, though two of my stories, Char ar' I'ear (Earth and Sea) and 'To The Distant Shore' were included in the Vilya II fanzine. You can find my works on Archive of our Own and on LiveJournal under the username Rakshi.
I began writing original character fiction about a year ago and found I love it more than anything. I tend to fall in love with my characters and always want to give them that happy ending that I just know they deserve.
Reach me at: jjarrell@lovesmagic.online | Facebook | Goodreads | Twitter.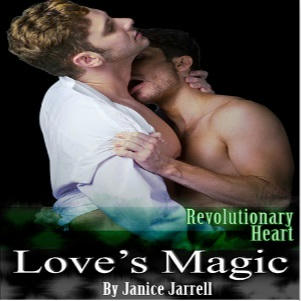 Giveaway!
Win! 2 x $10 Amazon Gift Card!
Win! 2 x Ebooks of Love's Magic!

Check out the other blogs on the tour!