Hi guys! We have Michele Notaro & Sammi Cee visiting today with the tour for their new release Malachite, we have a great exclusive excerpt and a fantastic giveaway so check out the post and enter the giveaway! ❤ ~Pixie~ p.s. keep an eye out for my review coming soon!
Malachite
(Brotherhood of Ormarr 04)
by
Michele Notaro & Sammi Cee
Malachite~
I have a wonderful life. I have no room to complain; between my brothers and their new mates, this is the most alive our home has felt since my parents died. Unfortunately, all of them being mated is making me miserable. When it was just the four of us, it was us against the world. Now they're paired up and it's only me and my dragon, Kesia. Until I happen to walk into the Overlord's Lair and I see him: Quentin. Mine. Mate. As much as I want to win him over without telling him I'm a dragon rider and we're mates—which I know he'd love—I'm not sure I can. The minute I'm around him I act like an idiot.
Quentin~
Every time the goofy guy walks into my store, he brightens my day, and I look forward to his daily visits. There's just something about him that draws me to him, to the point he leaves me pining after him the moment he's gone. But the thing is, I can tell he's hiding something, and my wild imagination is coming up with the craziest explanations of the secrets he's keeping. Maybe he's a vampire that's come to whisk me away—ridiculous, right? But a guy can dream. And I've definitely been dreaming of that big, muscular man wrapping me in his arms at night.
Malachite is the final book in The Brotherhood of Ormarr series. While each book focuses on a different couple, the overall story arc concludes in this installment. For maximum enjoyment, we suggest reading in order. Malachite is a m/m romance, and is recommended for adults 18 years and older.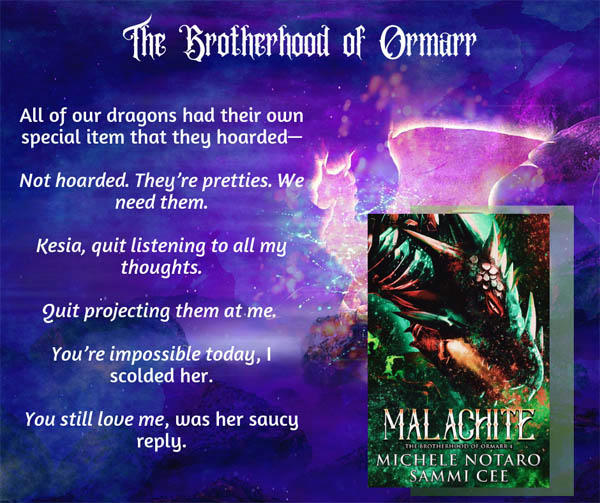 Exclusive Excerpt!
Quentin snorted. "Oh, you may change your mind about this whole mate thing if I tell you about the things my mind conjures."
"Never gonna happen. Tell me," I cajoled.
"I wonder if the vampires are starting to rise from their slumber to face what would be a new day for them. Are they lonely or do they have a special someone waiting for them? I fantasize about the seemingly ordinary man who turns into a werewolf at night. Is he a good guy or is he bad? Does he remember his humanity once he transforms?" He stops and giggles self-consciously.
"Go on," I encouraged. I was fascinated by the inner-workings of him mind. It further confirmed that he was the perfect mate for me. Instead of being a deterrent for Quentin, my life was right in the wheelhouse of his imagination.
"When I was little, I used to go out into my back yard and sit on the grass and dream that  I'd be whisked away by a knight who'd take me to another land far, far away. A place where dragons existed"—he reached down with one hand and hugged Kesia to him tighter—"and where I'd matter…" he trailed off.
My tu'drah is sad again.
I know, Kesia. We'll help make him better, I promised.
The tone of Quentin's voice more than his words disturbed me as much as it did Kesia, so I decided I knew the perfect story to cheer him up. "Do you want to hear my favorite fairy tale?" I asked.
"Yes, I'd love that." It astounded me how easy it was to please Quentin. If I hadn't heard the sadness in his voice myself a minute ago, I wouldn't believe that he wasn't always full of enthusiasm and energy.
"Okay, love, this isn't one you'll find in any store, not even your own, so sharing it with you makes you very special. Parts of it have been passed down through my family."
"Tell me!" he said.
"Once upon a time, there were four brothers. They were the cutest little tykes in all the land, and their parents knew they'd grow up to be handsome warriors."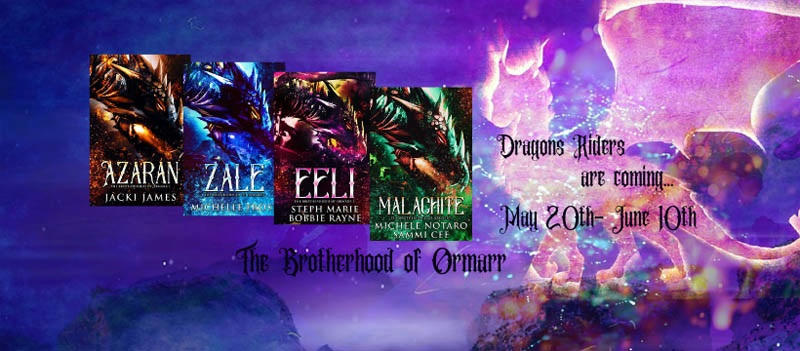 The Brother of Ormarr series!
Being a dragon rider for the Brotherhood of Ormarr is filled with adventure, but danger can lurk behind every corner with the Order of Amsel set out to destroy the riders. Azaran, Zale, Eeli, and Malachite have spent their whole lives training, but will it be enough?
The brothers lost their parents years ago to assassins, but they've never been able to figure out who was behind the attack. Follow the journey of these dragon riders, along with their faithful dragons, as they find their mates and discover clues that will lead to the final epic showdown.
The Brotherhood of Ormarr series consists of four books, each with its own HEA. While each book focuses on a different couple, the overall story arc continues into the next installment. For maximum enjoyment, we suggest reading in order. This is a m/m romance series, and is recommended for adults 18 years and older.
Azaran (book 01)
by Jacki James
.•.•.**❣️ Amazon US | Amazon UK ❣️**.•.•.
Zale (book 02)
by Michelle Frost
.•.•.**❣️ Amazon US | Amazon UK ❣️**.•.•.
Eeli (book 03)
Steph Marie and Bobbie Rayne
.•.•.**❣️ Amazon US | Amazon UK ❣️**.•.•.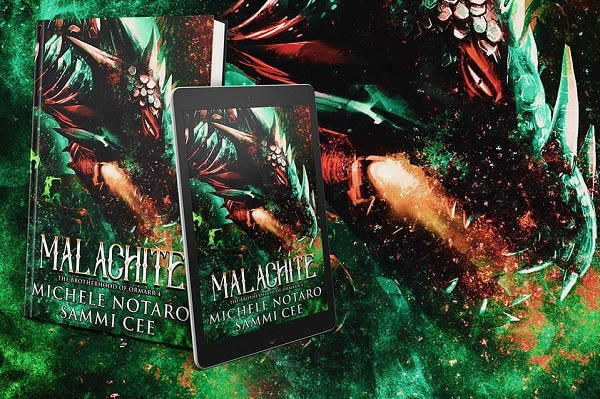 About Sammi & Michele!
Sammi Cee was raised in a family of readers. Summer vacations consisted of a good book while sitting lakeside from as far back as she could remember. After growing up and having her own children, her appreciation of how the written word could transport you on an adventure, bring you to tears, or give you hope, took on a whole new meaning.
These days Sammi is watching her children develop into fine young ladies while doing the things she enjoys most: drinking coffee, eating chocolate, and writing her own stories.
Facebook | Twitter | Instagram | Goodreads | Amazon
Michele Notaro is married to an awesome husband that puts up with her and all the characters in her head–and there are many. They live together in Baltimore, Maryland with their two young boys and two crazy dogs. She grew up dancing and swimming and taught dance–ballet, tap, jazz, hip hop, & modern–for ten years before her kids came along. Now she stays home to write about the sexy men in her head and does PTA everything–as long as coffee is involved. Two other tattooed moms run the PTA with her, and though she wants to rip her hair out from it, she still loves it.
Website | Facebook | FB Page | Instagram | Goodreads | Amazon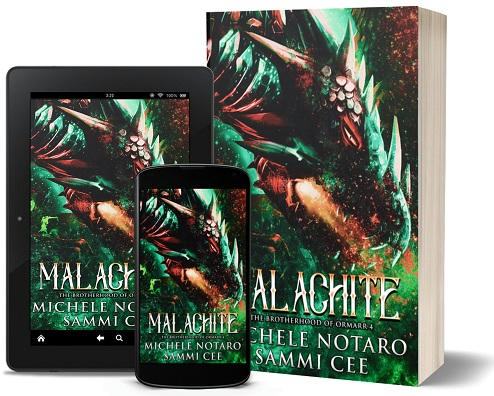 Giveaway!
Win a $20 Amazon GC!