Hi guys! We have Ginn Hale stopping by today with the tour for her new release Master of Restless Shadows (book 01), we have a brilliant Q&A, a great new excerpt and an awesome giveaway so check out the post and enter the giveaway! ❤️ ~Pixie~
Master of Restless Shadows
(The Cadeleonian Series 05)
by
Ginn Hale
Freshly graduated Master Physician Narsi Lif-Tahm has left his home in Anacleto and journeyed to the imposing royal capitol of Cieloalta intent upon keeping the youthful oath he made to a troubled writer. But in the decade since Narsi gave his pledge, Atreau Vediya, has grown from an anonymous delinquent to a man renowned for penning bawdy operas and engaging in scandalous affairs.
What Narsi―and most of the larger world―cannot know is the secret role Atreau plays as spymaster for the Duke of Rauma.
After the Cadeleonian royal bishop launches an unprovoked attack against the witches in neighboring Labara, Atreau will require every resource he can lay his hands upon to avert a war. A physician is exactly what he needs. But with a relentless assassin hunting the city and ancient magic waking, Atreau fears that his actions could cost more than his own honor. The price of peace could be his friends' lives.

Q&A!
Ginn Hale is the author of several works of fantasy and speculative fiction, including the Lord of the White Hell, Champion of the Scarlet Wolf and The Rifter Trilogy: The Shattered Gates, The Holy Road, His Sacred Bones. Her latest book Master of Restless Shadows is out now and she is here talking how she writes to celebrate its release! Welcome, Ginn!
Q: What advice would you give a new writer, someone just starting out?
GH: I'd encourage them to cultivate their senses of curiosity and adventure.  First because thinking in a curious and adventurous manner challenges us all to discover what's fascinating and exciting in the mundane all around us—to look at everyday things from new perspectives that might seem uncomfortable, foreign or weird. Which is where so much creativity finds a spark.
But I also encourage curiosity and adventure because, regardless of genre stories are always informed by an author's own experiences and thoughts, so the more we find fascinating and the more we are open to engaging with new experiences the more we have to put into our fiction. 
Q: Is there lots to do before you drive in and start writing the story?
GH: I like to do research, take notes and draw maps before I start but really the only thing that I absolutely must have before I start writing is a solid idea of how the story ends. Once I know that then I'm a bloodhound chasing that ending down no matter how the plot twists and turns around me, or what research notes get stuck to my nose. (haha.)
Q: Do you have any writing "lifehacks" to share?
GH: Take breaks even if you're up against a tight deadline. Stepping away from a project and taking in the larger world outside your book can actually inspire all kinds of new ideas and solutions. It also allows you to come back to the project and see it afresh, which can spark a breakthrough. (Not to mention that getting up and taking a little walk or doing a silly dance can help to get blood pumping and fresh oxygen lighting up your brain!)
Q: Describe your writing space.
GH: I do my writing in all kinds of places—coffee shops, out in my garden, libraries, even in my office (haha.) But no matter where I am I try to secure a cup of coffee—possibly even coffee-tea—and keep a little heap of paper to scribble notes on. I almost always have a research book with me as well.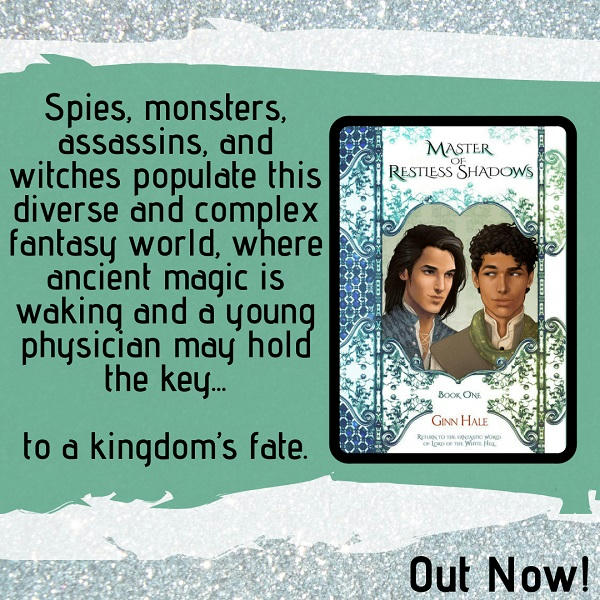 Excerpt!
Inside the smoky confines of the Fat Goose, surrounded by boisterous drunks, gamblers and cold-eyed cardsharps, Atreau's attention strayed from his cards to the wonderful book on the table before him. The leather cover looked supple and already well-worn as a favorite glove. He could see where fingers had cradled the spine and bent the cover, leafing through the pages again and again.
Placed in my callous hands, a testament of devotion, unspoken, and yet laid bare as a naked breast.
Atreau snorted at his own conceited turn of thought.
Still, the simple fact of the book's existence pleased him.
He'd not seen the Haldiim translation and had half suspected that the publisher had forgone printing after the Cadeleonian volumes had been transformed into so much ash and smoke.
For a moment he pictured the dark young man who'd handed him the tome. How striking he'd appeared amidst so many Cadeleonians, and yet something about him—his angular jaw? Perhaps his long, lean build? Or it might have been his sharp brows and dark lashes?—Atreau didn't know but something about the Haldiim physician had filled Atreau with a sense of familiarity. Absently, Atreau wondered if the young man had known that marigold petals clung to his dark curls like drops of gold.
"Stare at the cards all you want. The winning hand is still mine."
Across the table from him Sabella Calies tapped the four cards she'd laid down and then took up her beer mug. Tall and weathered as a warhorse, Sabella was as much a fixture of the capital's unseemly side as was her uncle's Red Stallion sword house, where people gambled fortunes and lives on the speed of their blades. Over the course of her forty-odd years Sabella had taken both from a good number of men. But here at the Fat Goose the stakes were very different, as was the game. Here the kingdom stood to be lost to the church. Or won for Prince Sevanyo.
Atreau's cards came very near winning but missed by only a point. He had indulged himself in the drama of making it appear a close match. Sabella played along, since the money would be hers no matter what cards he dealt. This game, like almost every other hand of cards he played, served as a pretext for Atreau to dole out Fedeles Quemanor's payments to his informants and agents across the city.
Atreau pushed a plain coin purse to Sabella. She opened it and then pulled the drawstring closed again and dropped it into an inner pocket of her leather coat.
Between her lanky build, plain face and close-shorn brown hair Sabella nearly passed for a man. Certainly the heavy doublet and thick riding trousers she sported added to the impression, though they did not create a perfect illusion. Nor did she need them to. She'd patronized the Fat Goose for more than twenty years and all but the most callow of youths knew better than to cause her trouble.
She drew a sheaf of papers from her doublet and pushed them to Atreau. He skimmed the content quickly. It seemed that the royal bishop was collecting ancient scriptures, most having something to do with the Holy Savior's final battle and the Shard of Heaven. Likely the bishop believed the holy blessings that had destroyed the demon hordes so long ago were desperately needed again now to combat a new threat to Cadeleon.
Five years ago Atreau would have found the entire matter amusing or perhaps thought the royal bishop deluded. But since then he'd seen both the wonders and horrors that ancient spells unleashed. He understood why previous generations of wiser men and women had attempted to hide them away.
"We need to know when and exactly what he intends to do with this," Atreau said. "Actual places and dates would be good."
"You don't ask much, do you?"
"I don't pay so little that I should," Atreau replied.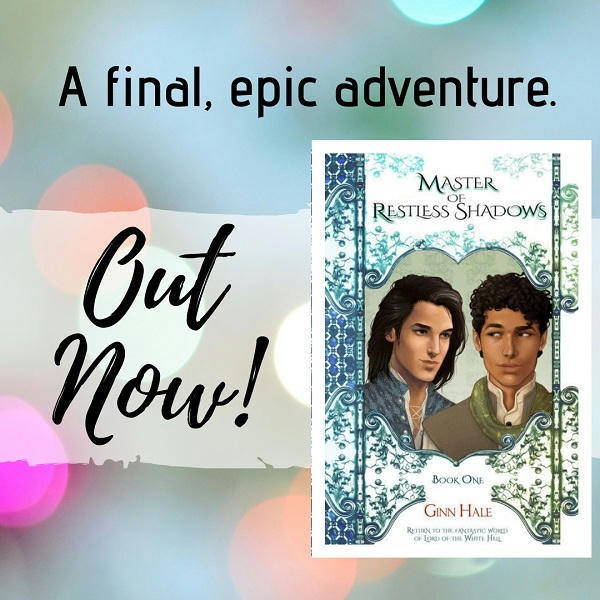 About Ginn!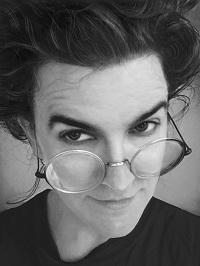 Ginn Hale lives with her lovely wife in the Pacific Northwest. She spends the many cloudy days observing plants and fungi. She whiles away the rainy evenings writing fantasy and science-fiction featuring LGBTQ protagonists. Her first novel, Wicked Gentlemen, won the Spectrum Award for best novel. She is also a Lambda Literary Award finalist and Rainbow Award winner.
Her most recent publications include the Lord of the White Hell, Champion of the Scarlet Wolf and The Rifter Trilogy: The Shattered Gates, The Holy Road, His Sacred Bones.
She can be reached through her website: www.ginnhale.com as well as on Facebook and Twitter. Her Instagram account, however, is largely a collection of botanical photos…so, be warned.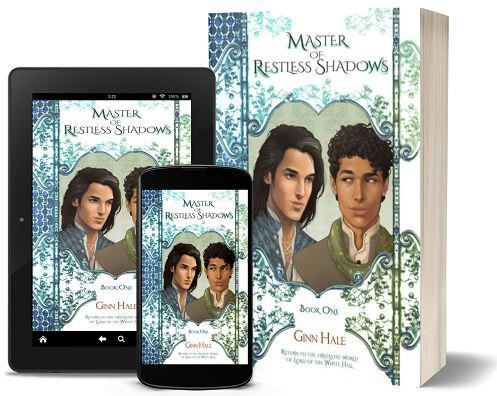 Giveaway!
Win 1 of 3 complete e-book sets of The Cadeleonian Series, Volumes 1 – 4!




(Lord of the White Hell 1 & 2, Champion of the Scarlet Wolf 1 & 2)