Hi guys, we have L.A. Merrill stopping by today with the first stop of her blog tour for her upcoming release Meanwhile, Back At The Ranch, we have a brilliant guest post and a great exclusive excerpt, so check out the post and enjoy! <3 ~Pixie~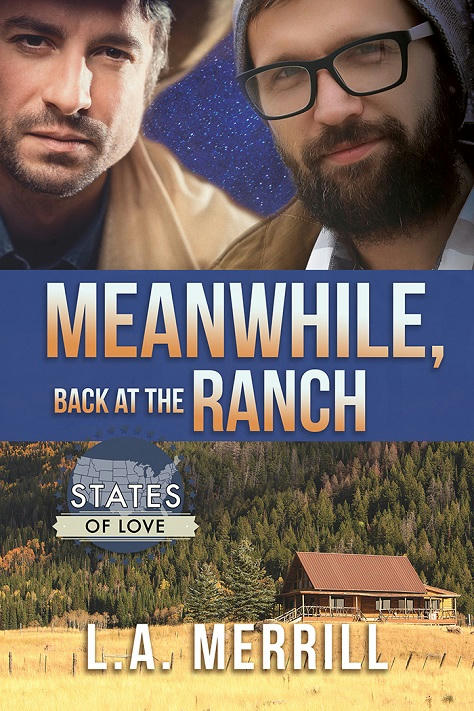 Meanwhile, Back At The Ranch
(States of Love 26: Montana)
by
L.A. Merrill
David Marks is looking for the perfect place to film his new web series and recover from his latest failed relationship. When reclusive writer Michael Sharp opens his Montana ranch to paying guests, David knows he's found the right place—but he doesn't expect to find Mr. Right too.
Forty years ago, Michael Sharp's father was murdered in front of him. No one believed a six-year-old boy's testimony against the powerful Carver brothers. For years Michael has lived in self-imposed exile, the only living witness who can bring down the Carver criminal empire. But now the money is running out, and he's forced to play host to a troupe of temperamental web actors and their energetically attractive director in order to stay alive.
The Carvers aren't about to stand for rebellion. Michael has outlived his usefulness. Now Michael and David have to find a way to end this fight once and for all, finding justice for Michael's father and meeting David's funding deadline—all before one or both of them ends up dead.
Release date: 31st May 2017

L.A. Merrill!
Meanwhile, Back at the Ranch is part of the new Dreamspinner novella series States of Love, which showcases state-specific love stories from coast to coast. I was lucky enough to be asked to write about Montana. Unluckily, I have never even set foot in the Treasure State.
This is where an author's Powers of Imagination (read "ability to lie convincingly") come into play. Armed with a handful of real estate ads, a travel brochure, a road map, and a ridiculously short self-imposed deadline, I fired up my writer brain—and crashed. I could imagine the beauty of the setting—the grandeur, the isolation—and I could imagine everyday details of Life in Montana. I could read about Winter's Bone-level crime and addiction problems, and the storied traditions of cowboys, ranch owners, and Native Americans. I knew Hank Green ran his vlog empire from Missoula, and I knew the gay community there was tiny and strong.
But what about love? (Cue the 'eighties music ear worm, #sorrynotsorry.) What could I possibly write that would be a truly Montana-y love story? What makes love specific to a time and a place?
Nothing.
The answer is: nothing.
Love is one of the weirdest, most irrational emotions you can experience, and it's going to punch you in the face when you least expect it. Like when you're filming a web series out in the middle of nowhere, or hiding on a ranch from a family of criminals. Love can happen between two (or more!) people no matter who, when, where, or what they are. I can drench the story in details, paint a picture of native Montanans that I hope does justice to Big Sky Country and the weird and wonderful beings who live there. But love?
Love doesn't recognize state lines.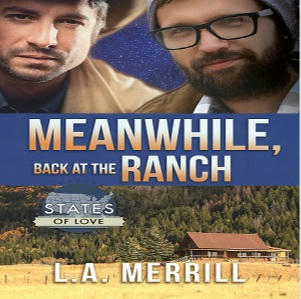 Exclusive Excerpt!
I found Sharp in the smaller of the two barns out back. He was tinkering with some ironworking tools—no, tinkering suggests mindless futzing. This guy knew exactly what he was doing. It was probably a lapse in judgment on my part to confront someone so obviously comfortable around sharp metal objects, but I was pissed. The fact that I knew I should have scouted this location myself before I ever hauled my entire cast out here was not improving my mood.
"Is there a problem?" Sharp asked. He hung a large hammer back in its place.
I settled myself on a barrel next to his worktable and studied him. He looked like he was in his midforties and tired. His close-cut hair was more silver than brown, and he was sporting at least two days' worth of stubble. When I didn't answer right away, he glanced at me, then went back to methodically tidying.
"Tell me something," I said at last. "Are we your first guests?"
That earned me a look. "Yes, as a matter of fact. You are. Congratulations."
"So you've never done this before."
Sharp stepped up to me, bracing one hand on the workbench, the better to loom. "How about you cut to the chase and tell me what problem I, with my limited guest lodge experience, have missed."
I straightened. "There's no Wi-Fi."
He stared at me like I'd just announced my intention to tap-dance on the roof. "It's a wilderness ranch. Why would there be Wi-Fi?"
"It says there is. On your website."
"No, it doesn't."
"Yes, it does." I waggled my phone at him. "I'd show you, except, y'know, I can't access the Internet."
He frowned. "Why do you even need Wi-Fi? You're shooting a movie. Just get your footage and go."
"There had to be a book you could have read. How To Be Welcoming. Guest Lodges for Dummies."
Running footsteps sounded, and Ronni appeared around the corner, catching herself on the open door.
"They're here," she said, out of breath.
"Who's here?"
A figure sauntered out of the gloom and into the fluorescent light spilling from the barn.
"Hullo, old thing. Rather left us at the wicket, what?" Drake Mitchell, cast to play our villain, slung an arm around Ronni's shoulders, nearly knocking her over. He slid his shades down and surveyed the barn. "Very Steinbeck. Quite the thing."
I have yet to determine if Drake's British accent is real or not. It's so over-the-top Bertie Wooster, but if it is an affectation, he's never let it slip. And if Drake was here, that meant trouble wasn't far behind.
I rescued Ronni from Drake's clutches just as the other five members of our cast arrived, trailing Enzo. He still had his phone out, holding it up in supplication to the cruel Internet gods.
Michelle Trask, a petite young black woman and our leading lady, snagged my arm. "We were worried," she said. "We never heard back from you."
"I am so sorry," I said, grasping her hands. "We texted, but I didn't realize we were out of range. But you got here all right?"
She opened her mouth, but Cameron, a broad-shouldered white guy with a man-bun and the regrettable distinction of being our leading man, came up and took over the conversation.
"I have extensive experience with wilderness hiking," he said, "so I triangulated our location by solar positioning. I actually have navigation listed as one of my extra skills on my résumé."
"We used GPS," Michelle clarified.
Sharp came up on my other side. "Who are all these people, and where do you think you're putting them?" he asked, waving a hand to encompass the influx of shiny pretty people into his mountain fastness. The rest of my cast had congregated around a trestle table and, by the looks of it, had just discovered the lack of Wi-Fi.
"Where do I think I'm putting them?"

About L.A.!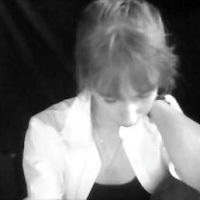 L.A. Merrill is a tiny blonde woman who loves a good story. She has worked as a tour guide and an assistant stage director, and spent one memorable summer as a camp counselor. After five years in vocal performance, production work, and arts education, she now writes full-time. Her work has appeared in Kansas City Voices magazine, on the YouTube series The Blank Scene, and online. Meanwhile, Back at the Ranch is L.A.'s fourth story with Dreamspinner Press, and her first published novella. (There's an unpublished novella, about murderous husbands and Scottish ghosts, written when she was thirteen, that is sitting in a file at home. It will likely never see the light of day.)
An avid knitter, she has yet to follow a pattern and has made some interestingly shaped hats as a result. L.A. makes handknit and crocheted blankets and hats for local charities, as well as leading a LGBT+ writers group in her hometown. She lives with her family in the Midwest, where she can usually be found reading, writing, and making things up as she goes along. Follow her on Twitter for feminism and fangirling at @la_mer92 and Facebook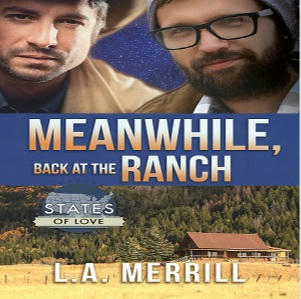 Next Stops on the blog tour!
Two Chicks Obsessed (May 29) [NOVELLA RELEASE DAY!]
Scattered Thoughts and Rogue Words (May 30)
Tammy's Two Cents (May 31)
The Novel Approach (June 1)
Love Bytes (June 2)
Divine Magazine (June 5)
On Top Down Under (June 6)
Dreamspinner Press (June 8)