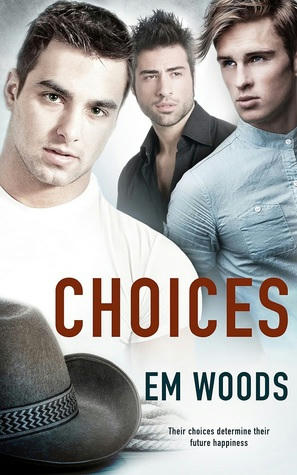 Title: Choices (2nd Edition)
Author: Em Woods
Genre: Threesome, Contemporary
Length: Short (50 Pages)
Publisher: Pride Publishing (21st June 2016)
Heat Rating: Low
Heart Rating: ♥♥♥♥ 3.5 Hearts
Blurb: When a rodeo clown, a small town veterinarian and his assistant form a complicated trio, they find it's their choices that determine who finds love.
When rodeo clown Brandt Collins is forced into retirement by an injury in the arena, he heads to long-time friend Kaden Slater's hometown to settle down. As far as he's concerned if that old flame ignites into a wildfire, then all the better.
Kaden is glad to see Brandt, but a little complication in the form of Kaden's new assistant, Mike, throws a wrench in all their plans. Sexy, smart and young, Mike wants Kaden more than he wants his next breath.
Soon, misunderstandings and the past conspire to tear the trio apart before they've even begun. And now it's their choices that will determine who finds love – and who doesn't. 
ISBN: 9781771018883
Product Link: https://www.pride-publishing.com/book/choices
Reviewer: Veronica
Review: I love this short story from this author; it is a well written read. It's a first for me from this author, and I'll be looking for more of her work. In this small town, no one likes to know that they personal lives are out there for all the residents to know. Brandt is a retired Rodeo clown, and he goes back to his long time friend's hometown, to stay and rekindle the relationship that he had with the town's veterinarian, Kaden Slater. Except, that things aren't that easy for Brandt.
Kaden's assistant, have a huge crush on him. Well, more than a crush. Mike is in love with him, and he isn't happy that Brandt is back in Kaden's life. Now, this is where things get complicated. Brandt wants back Kaden, and wants to make up for the lost years that he wasn't with him. Mike wants Kaden, and wants to make sure that he isn't hurt again, because Brandt has a habit of always disappearing years on end and leaves Kaden distraught. Now Kaden wants both Brandt and Mike in his life, and doesn't want to lose any of them.
Will they be able to sit and talk about the three of them getting together and entering into a relationship, or will they be split apart, because of one hateful man that have a huge issue against gay men. I'm sorry that this story ended the way it did. I was really looking forward to more of this story.
Yes, I would recommend this story to anyone looking for a quick and sexy read.