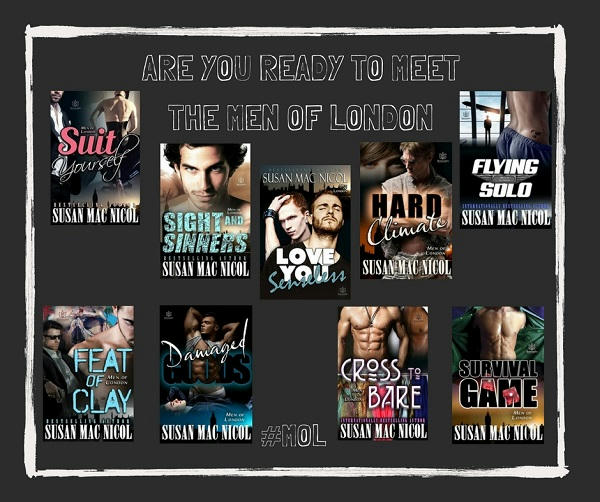 Hi guys! We have Susan Mac Nicol popping in with her Men of London series, Susan also has an awesome giveaway where you could win a £10/$10 Amazon GC, so check out the post and enter the giveaway! ❤ ~Pixie~
Love You Senseless
(Men of London 01)
by
Susan Mac Nicol
One of London's up-and-coming chefs, Eddie Tripp has just the right recipe to drive tragedy from the mind of Gideon Kent—and leave him senseless with desire.
THE MEN OF LONDON
From Soho to Norwich, there's no escaping love.
A TASTE OF FOREVER
An award-winning chef with his own restaurant and an inexhaustible passion, Gideon Kent once had everything. Then came tragedy. It stole more than Gideon's home. He hasn't cooked since.
Until Eddie Tripp. Fun-loving and vivacious, the Norfolk redhead's a real up-and-comer in Gideon's kitchen—and other places. Slim where Gideon's broad, easy-going where Gideon is growly, he and Gideon seem polar opposites, and yet Eddie conjures flavors that would tempt anyone with a taste for perfection. The sauce of love is already simmering, and this pair is about to dine on the most delicious dish they've ever prepared. Because Eddie's been Gideon's missing ingredient all along.
Boroughs Publishing | Amazon US | Amazon UK | Smashwords | Kobo | B&N | iTunes 
Sight and Sinners
(Men of London 02)
The murder of a shared friend leads a high-profile investigator and a psychic into a mystery involving lies, blackmail, BDSM—and into each other's arms.
SEEING THROUGH…
From Charing Cross to Waterloo, there's no escaping love.
28-year-old Draven Samuels has a tragic past, but as an investigator with a high-profile London company he now gets what he wants. Tough, sarcastic, and sceptical, he has no patience for lies and even less for people who waste his time. Even if they're as beautiful as the wild and dark-haired Taylor Abelard. Especially when they're talking over the body of a murder victim.
THE DARKNESS
Psychic Taylor Abelard is used to people calling him a freak. He can see past events and feel the ghostly vibrations of people close to him who've passed on. It's why he doesn't get too close to the living. But this time, against his better judgment, despite Draven's mocking rejoinders, Taylor will get closer than ever before. The mystery of a dead friend will lead the two men down a dark and seedy trail of blackmail and lies. Add in the heartbreak of a family tragedy, and events lead them straight into each other's arms. By the end of this night, all their demons will have risen—and been banished with the dawn.
Boroughs Publishing | Amazon US | Amazon UK | Smashwords | B&N | Kobo | iTunes
Suit Yourself
(Men of London 03)
Scarred both physically and emotionally after a motorcycle accident, twenty-five-year-old ex-fashion model and porn star Oliver Brown is about to be stripped bare by flamboyant twink Leslie Scott—and they'll rebuild love from the bottom up.
BARING THE BEAST
Twenty-five-year-old Oliver Brown is addicted. Two years ago, he was at the height of his career as "Nicky Starr," fashion model, porn actor, partier without peer. Then came the accident. Hiding his scars, both emotional and physical, he's gone into hiding. But fine clothing is some solace. A new suit by Debussy? Better even than a ride on his motorcycle Hulk or all the things he used to give and take on camera.
Enter Leslie Scott, the flamboyant, dark-haired, heel-and-tiny-short-wearing twink sent to deliver Oliver's newest fix. A firecracker, Leslie is dapper, generous, in touch with his feminine side but all man, and as gorgeous as any garment ever made. He makes Oliver dream of ending his reclusion, of recapturing a future forever denied him. But for that to happen, Leslie would have to strip him to the bone. Only then will they rebuild life from the bottom up.
Boroughs Publishing | Amazon US | Amazon UK | Smashwords | Kobo | B&N | iTunes
Feat of Clay
(Men of London 04)
TWO MEN.
TORN. TORTURED. LOVED.
Though they went their separate ways, Tate Williams and Clay Mortimer have been crazy about each other since their school days. Clay went into the SAS. Tate became a cop. Neither mentioned their attraction to the other. Both sought out danger. Both found it.
Imprisoned and shot in an undercover assignment gone wrong, Tate somehow survived…and found his way back into Clay's arms. His old friend is now the owner of an elite investigation agency and everything any man could want: patient, handsome, commanding. And Clay knows what it takes to survive. But Tate can't bring himself to share all his secrets, nightmares that force him to rebel against everything. He finds solace from his past as a graffiti artist, a childhood passion, but his demons drive away all who might care for him. Only when he faces that past—and learns that everyone has tasted despair—can the two men truly be brothers-in-arms…and more.
Boroughs Publishing | Amazon US | Amazon UK | Smashwords | Kobo | B&N | iTunes
Cross to Bare
(Men of London 05)
TWO OF A KIND
It's amazing what a little mascara and lipstick, a blonde wig, false boobs, and top-notch female fashion can hide. Not that Lenny James is hiding his masculinity. He uses his normal voice when he's Laverne, and he's not particularly camp as a man. His reasons for creating his alter ego are locked deep in his past. He is who he is: tough in business, and a romantic at heart. What he's hiding is vulnerability. He wants a man to accept both sides of him.
Gorgeous, commanding, and dark as sin, Brook Hunter meets Lenny and knows nothing about Laverne until fate pushes her into his path. Cross-dressing is as far from Brook's reality as fashion is from his world of diplomacy and high finance. Understanding and truth take time, and trust doesn't come easy. But Brook is about to show Lenny that there are no sides to true love, just the place where they meet in the middle.
Boroughs Publishing | Amazon US | Amazon UK | Smashwords | Kobo | B&N | iTunes
Flying Solo
(Men of London 06)
Flight attendant Maxwell Lewis has spent years cultivating a bon vivant image only to find he finally wants something more—and that something more includes the never-does-repeats game designer Gibson Henry.
ABOVE AND BEYOND
Maxwell Lewis is proud of the life he's made. Having turned tragedy into triumph, he's now a beloved member of a Target Airlines cabin crew with more than his fair share of attention both in the air and on the ground. But lately he's wanted something more than the occasional hook-up or sometime sex buddy—particularly after meeting game designer and passenger Gibson Henry.
Talented and driven, Gibson has built a company ready to be the next big thing in gaming. Devoted to his work, he takes onetime pleasures where he finds them and never does repeats…which is what he tells handsome, sexy Maxwell Lewis after a little mile-high flight attendance. But a chance encounter in a London club is about to change things forever. Two men, one who's flown solo and another who's only ever played alone, are about to find that at some point all games come to end, it's time to bare your heart and try for love.
Boroughs Publishing | Amazon US | Amazon UK | Smashwords | Kobo | B&N | iTunes
Damaged Goods
(Men of London 07)
Touched by tragedy, love is an elusive dream never to be realised by eighteen-year-old Jax Grady–until he discovers his secret admirer and receives the sweetest gift he could ever desire.
THE SWEETEST GIFT
Tragedy and horror shaped Jackson Grady's life, leaving him orphaned and scarred. At eighteen he's ready to claim his future, but who could love his disfigured face and damaged soul? Definitely not a big, burly, beautiful Irish Traveller who is entirely the stuff of dreams.
Dare Rowan didn't mean to become obsessed with the blue-eyed man he first saw across a field, but that porcelain skin and innocent air demanded another meeting. Jax has the face of a wounded angel, and the rest of the young man is as heart-breakingly perfect. Jax is beautiful in every way and teaching him about love and life will be something Dare will embrace. Like unwrapping and savouring the candy at the shop where he works, Dare will show this young man everything Jax desired but never thought he'd have, and take Jax to new highs while he holds him through the lows. Between them, they'll find out just how sweet life can be.
Boroughs Publishing | Amazon US | Amazon UK | Smashwords | Kobo | B&N | iTunes
Hard Climate
(Men of London 08)
Brawny, beautiful, complicated and sexy as hell, eco-warrior Mango Manning is everything performer and London nightclub owner Ryan Bishop wants in a life-partner. But Mango has been loving and leaving Ryan for the past two years, and Ryan's had enough. That's why he's moving on. Ryan's the monogamous type—which means now he'll be alone at the worst possible time.
Mango Manning knows he's screwed up and has commitment issues. That's why he's been so on-and-off with Ryan these past two years. He'd thought he found a safe haven, a place to hide from the losses of his past, but there are other demons you just can't escape. Like Ryan's health. If Mango is to put things right, he must man up and discover a way back into Club Delish and the heart of its owner. Only then can they look to the future together, come what may. True happiness will slip through their fingers…unless they both grab on and hold tight.
Boroughs Publishing | Amazon US | Amazon UK | Smashwords | Kobo | B&N | iTunes
Survival Game
(Men of London 09)
Since his true love died, paramedic Eric Kirby has been living a half life, but when he meets purple-haired Kyle Tripper, Eric's heart is jolted into a whole new rhythm.
HANDLE…
Kyle Tripper has led an interesting life. Currently the manager of London's famous Club Delish, he used to be a croupier extraordinaire in Las Vegas. But not everything in that life was so glamorous; his ex was a piece of work. Now gun-shy, Kyle hopes there is someone special out there for him, and secretly wishes it's luscious paramedic, Eric Kirby.
WITH CARE
Every day Eric Kirby goes through the motions. Yeah, he saves lives, and, sure, he makes a difference, but he doesn't feel it anymore – not since he lost his one true. But, when he meets wild, flamboyant Kyle Tripper and learns there's a skittish, apprehensive man beneath the bold façade, the best of Eric's protective nature kicks in, and opens his heart to a new love.
Boroughs Publishing | Amazon US | Amazon UK | Smashwords | Kobo | B&N | iTunes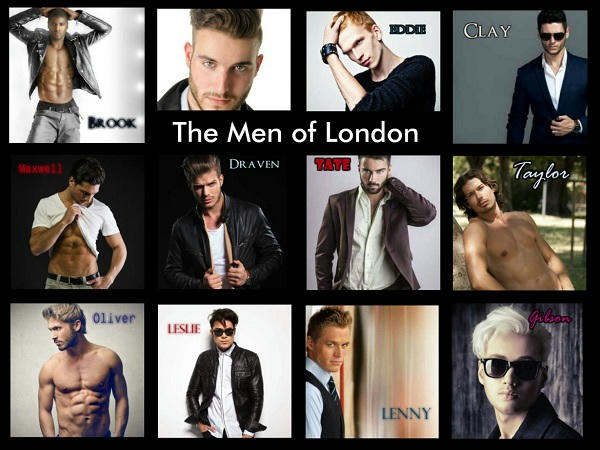 About Susan!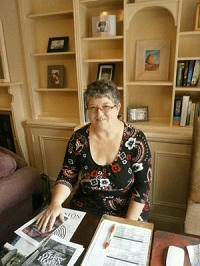 Susan Mac Nicol is a self-confessed bookaholic, an avid watcher of videos of sexy pole dancing men, self-confessed geek and nerd and in love with her Smartphone. This little treasure is called 'the boyfriend' by her long suffering husband, who says if it vibrated, there'd be no need for him. Susan hasn't had the heart to tell him there's an app for that…
She is never happier than when sitting in the confines of her living room/study/on a cold station platform scribbling down words and making two men fall in love. She is a romantic at heart and believes that everything happens (for the most part) for a reason. She likes to think of herself as a 'half full' kinda gal, although sometimes that philosophy is sorely tested.
In an ideal world, Susan Mac Nicol would be Queen of England and banish all the bad people to the Never-Never Lands of Wherever -Who Cares. As that's never going to happen, she contents herself with writing her HEA stories and pretending, that just for a little while, good things happen to good people.
Sue is also a PAN member of the Romance Writers of America and a member of their Rainbow chapter as well as a member of the Romantic Novelists Association in the UK.
Facebook | Facebook Author Page | Susan's Squad Street Team Page | Twitter | Google+ | tumblr| tsu | Youtube  | Instagram| Pinterest | blog | Website | Boroughs Publishing | Amazon Author Page | Scoop.it | Goodreads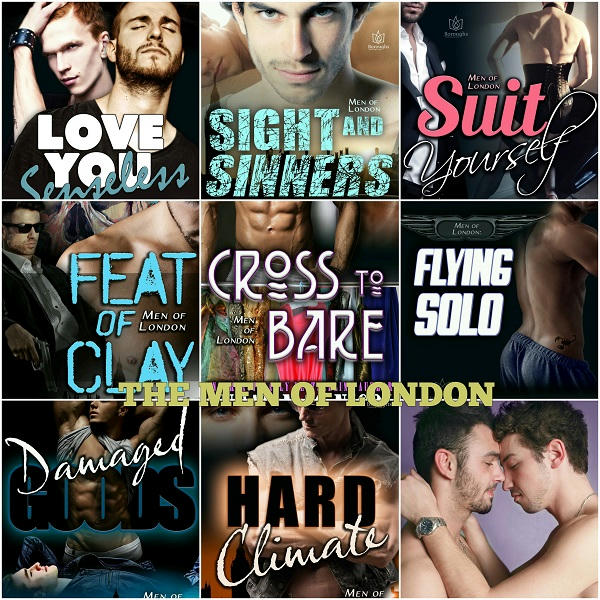 Giveaway!
Win a £10/$10 Amazon Voucher!
(Just click the link below)