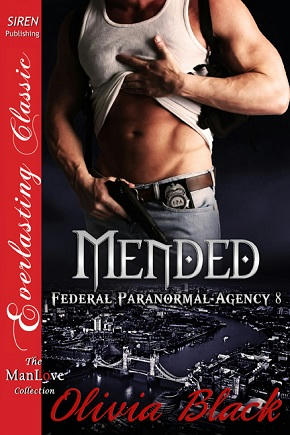 Title: Mended
Series: Federal Paranormal Agency #9
Author: Olivia Black
Genre: Paranormal
Length: Novella (134 Pages)
Publisher: Siren Publishing (November 18, 2016)
Heat Level: Low
Heart Rating: ♥♥♥♥♥ 5 Hearts
Blurb: You have to be the best to go to war with the worst. That's the motto the agents of the Federal Paranormal Agency live by. They hunt down rogues and deliver justice to those that break the law. They are the enforcers of the paranormal world.
Max Lumeria is a snake shifter with the FPA. When the International Criminal Investigation Unit calls and asks for help, Max gets on a plane to London. He's excited to work with the unit, a group of agents that solve cross-border crimes in Europe. As soon as his plane lands, Max is given the task of assuming the identity of Patryk Walicki, a member of the ICIU.
Tommy McConnell was a detective in Northern Ireland before being recruited to join the ICIU. He isn't exactly thrilled when Max is brought in to pose as one of their own. But, after spending some time with Max, Tommy quickly realizes that he likes the shifter.
Even though Max is drawn to Tommy, he's still cautious. This human is special because he might be Max's second chance at having a mate.  
ISBN:  978-1-78651-470-7    
Product Link: http://www.bookstrand.com/book/mended
Reviewer: Lisa
Review:  Each book in the Federal Paranormal Agency collection features a different romantic couple. To enjoy the overall story arc and crossover characters, I would recommend reading the series in sequential order. This is actually Branched off from her Silver Bullet series so I would suggest starting with that series first.
Max lost his mate some time ago in the war, from that point on he lost himself into the bodies of others.  It didn't however bring him pleasure but made him miss his mate.  Then he was sent to find out what truly happened to a member of the ICIU.  He had not expected to find another mate.
Tommy was a detective for Northern Ireland before being recruited to the ICIU.  They are paired up in more than one way.  Neither might be ready for the answers of what happened but damn their mating might just rock.  If you want to know what really happened, read the book.
I had a blast reading this story however it just felt a bit off. Not enough to make me not like the story but it just felt a bit rushed. Other than that issue, this story is perfect for when you are trying to take a break or when you just need the sun to shine for you. It caught my attention from the moment I started reading and kept it all the way to the end. It also gave me everything I could want in a book.