Hi guys! We have L.E. Royal stopping by today with her new lesbian release Never Knew Until You, we have a great excerpt and a brilliant $10 NineStar GC giveaway so check out the post and enter the giveaway! ❤️ ~Pixie~
Never Knew Until You
L.E. Royal
After the dissolution of her fourteen-year marriage to her cheating ex-wife, forty-year-old college professor Parker Freeman finds herself adrift. Suddenly middle-aged with so much time wasted, she seeks solstice online where she stumbles upon The Pandora Agency—an organization claiming to help individuals find themselves through submission. Encouraged to be a little wild by her best friend, Parker speaks to the agency and sets up a meeting with a female dominant, Miss Diaz.
Greeted at the door of an impressive Miami townhouse by a young woman, Parker questions her decision as she waits for the girl's mother. Stunned by the reveal that twenty-four-year old Kristina is in fact the Miss Diaz she has come to meet, she is dragged head first into a new world.
Despite Kristina's commitment issues and Parker's shattered confidence, the two enter into a tenuous agreement that sparks Parker's rediscovery of herself. Both are surprised by their compatibility until they stumble across the line from arrangement into relationship, and Kristina calls their time together to an end. When an unexpected catastrophe throws them back together, old demons are finally brought into the light, and both women must decide if letting go of the past is worth the future they could have together.
Warning: references to past domestic abuse, alcohol use

Excerpt!
Never Knew Until You, L.E. Royal © 2019, All Rights Reserved
"Miss Freeman?"
Parker snapped her head back to her lawyer.
She still had her name, thank God for that. Amanda hadn't wanted to go through the trouble of changing her medical license after they married, and transitioning from Professor Freeman to Professor Miller had just seemed like too much work.
"Doctor Miller has proposed that you keep the house in South Beach, and she will keep the condo downtown. Is that agreeable?"
Of course she wanted the condo. God, this is happening.
"Fine."
Her reply was terse, and she tried to look anywhere but at Amanda, perfectly put together in her usual designer slacks and jacket. The resident she had been having an affair with for years—early thirties and gorgeous—waited for her in the hall. Parker felt frumpy, plain in comparison in her blue jeans and politely heeled boots, and forty years old.
She cried on the way home, still lost and furious. Deep down she'd known Amanda was having an affair for some time, but their life had been so comfortably routine, and the loss of that comfort scared her, so she'd adhered to the routine blindly.
Monday through Wednesday Amanda was on call and stayed at the hospital—or so she'd said—Thursday they went out for dinner, Friday Parker finished late after her office hours, and Saturday morning they had sex before Amanda disappeared to a conference, or a clinic, or some other work-related necessity. She'd resurface for her token appearance Sunday night, before it all began again.
Her mind still grappled with it all. How the hell she'd come to accept this as her life. The cheating, the lying, the regularly scheduled sex for God's sake? She'd been so scared to lose the status quo, the only life she'd known for years, she'd just let it happen, and then she'd lost it all anyway. How is that fair?
The house was empty, which was nothing new. Amanda's schedule left her alone a lot of the time before, but somehow, Parker noticed it more now.
She kicked off her boots, poured herself a glass of wine, and sat down with her laptop. Miserable, she resigned herself to answering emails.
Somewhere between recommending chapter nine and a review of last month's lectures for the third time, she drifted out onto the internet. It had become a guilty not-quite-pleasure of late. Browsing divorce forums, searching in the sea of dissatisfied women behind keyboards for something, anything, to make her feel like any of this was going to be okay.
Part of her liked the bitterness of these women, and part of her was left desolate by it. Her brown eyes tracked line after line, post after post, before a thread caught her eye. Moving On and Rebuilding?
She clicked and began to read. Even on these forums among hundreds of others in her situation, she felt alienated, alone. Most of the posters had been scorned by ex-husbands. Very rarely did she find a woman trying to figure things out after the loss of her cheating, lying wife. The responses ranged from funny to sad. She didn't want to go clothes shopping, her wardrobe was…fine, and although slashing Amanda's tires had a certain appeal, she knew she would never go through with it.
Frustrated, left empty again, she was about to click off. A response caught her eye and made her pause.
If you are open minded and serious about rediscovering yourself, I highly recommend the Pandora Agency. Through them I transformed my life and my views on my situation and myself.
The link took her to a website, dark and sophisticated with a definite erotic aura. She almost clicked away, but her eyes caught the first line and then she was reading.
Find yourself through submission. A professional and discreet agency, dedicated to connecting searching souls to their perfect counterpart to facilitate personal growth and groundbreaking life change.
Licking her suddenly dry lips, she carried on reading. The site was certainly convincing, and the testimonials were glowing.
Could I do that? Let someone dominate me?
She blushed at the thought. Of course she'd read the books—who doesn't like a racy story every now and then—but that was honestly as much as she knew about…this. She was surprised to read testimonials from lawyers, CEOs, teachers, people with professional careers, people who sounded more like her than any of the tire-slashers had.
She told herself the agency probably had a line-up of controlling, chauvinistic men to choose from, though the idea was totally at odds with all the comments from women who felt empowered and in control after using it. She didn't understand it.
Opening a new tab before she could think about it any harder, she did a quick Google search for "the Pandora Agency." She was surprised to find more well written, articulate, and genuine rave reviews.
Am I seriously considering this?
The shrill ringing of her phone sounded. Jumping guiltily, she knocked it off the coffee table while trying to grab it. She scrambled to pick it back up and swiped to accept the call.
"Hello?"
She sounded breathless, flushed, heat on her chest and her cheeks as she snapped her laptop closed.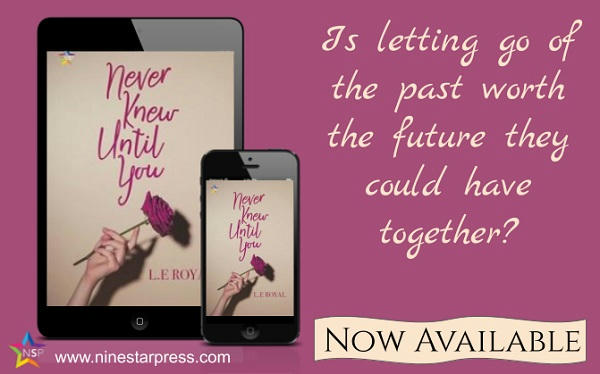 About L.E.!
L.E. Royal is a British born fiction writer, living in Texas. She enjoys dark but redeemable characters, and twisted themes. Though she is a fan of happy endings, she would describe most of her work as fractured romance. When she is not writing, she is pursuing her dreams with her multi-champion Arabian show horses, or hanging out with her wife at their small ranch/accidental cat sanctuary.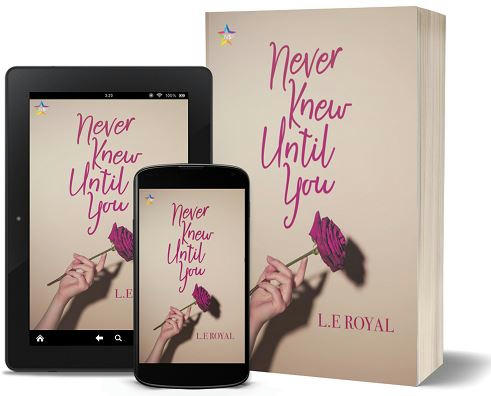 Giveaway!
One lucky winner will receive a $10.00 NineStar Press Gift Code!