Hi guys! We have Ginn Hale stopping by today with her new release Master of Restless Shadows (book 01), we have a great exclusive excerpt and a awesome giveaway so check out the post and enter the giveaway! ❤️ ~Pixie~
Master of Restless Shadows
(The Cadeleonian Series 05)
by
Ginn Hale
Freshly graduated Master Physician Narsi Lif-Tahm has left his home in Anacleto and journeyed to the imposing royal capitol of Cieloalta intent upon keeping the youthful oath he made to a troubled writer. But in the decade since Narsi gave his pledge, Atreau Vediya, has grown from an anonymous delinquent to a man renowned for penning bawdy operas and engaging in scandalous affairs.
What Narsi―and most of the larger world―cannot know is the secret role Atreau plays as spymaster for the Duke of Rauma.
After the Cadeleonian royal bishop launches an unprovoked attack against the witches in neighboring Labara, Atreau will require every resource he can lay his hands upon to avert a war. A physician is exactly what he needs. But with a relentless assassin hunting the city and ancient magic waking, Atreau fears that his actions could cost more than his own honor. The price of peace could be his friends' lives.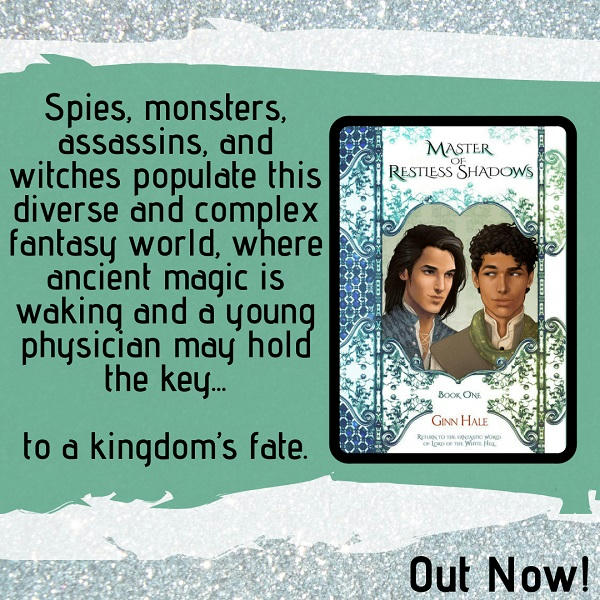 Exclusive Excerpt!
A rap at his door sent Narsi leaping from his seat and nearly straight into the glowing coals of his fireplace. He staggered back, still only half awake. A second knock sounded, this time much more quietly. Anxiety lingering from his disturbed dreams made Narsi suddenly fear that his first patient in the duke's household could be dying in the hall—the knock growing weaker as lifeblood drained away.
Narsi bounded to the door and pulled it open, fully prepared to discover some bloodied page boy, a trampled groom or a maid in labor. Instead Lord Vediya stood before him, tousled and looking in perfect health. He held up Narsi's book.
"I noticed lamplight . . . ," Lord Vediya began but then drew back a step. "I didn't mean to wake you."
"You didn't," Narsi replied, if only to keep Lord Vediya from vanishing once again.
"Didn't I?" Lord Vediya arched his brow as he took Narsi in. "Should I be flattered by your lack of modesty in greeting me, then? Or simply awed in the presence of such magnificent endowment?"
Suddenly it occurred to Narsi that he stood in the doorway stark naked. His towel lay in a crumpled heap at the foot of his chair. He flushed with mortification.
"I meant that I was only napping—"
"I assure you I would be the last man to judge," Lord Vediya said. "But perhaps I should come in or go away, instead of keeping you here in the open hallway."
"By all means, come in." Narsi stepped back, then hurried to the examination table where he'd left his thin, white prayer clothes. "I'm afraid I haven't any refreshments to offer yet," he called over his shoulder as he tugged on the cotton pants.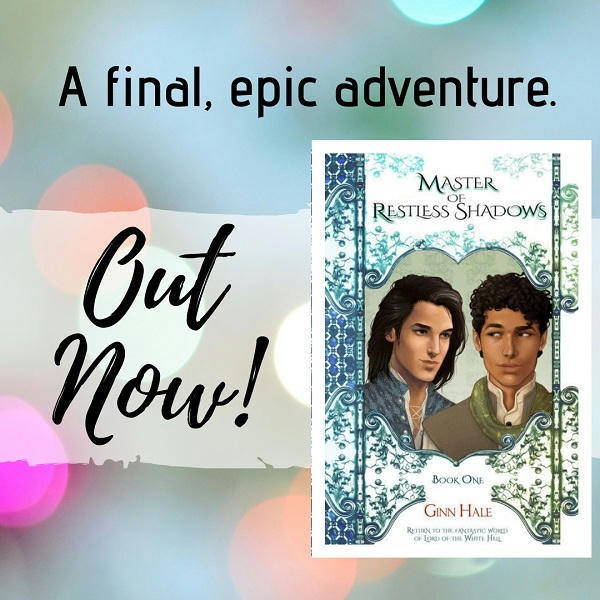 About Ginn!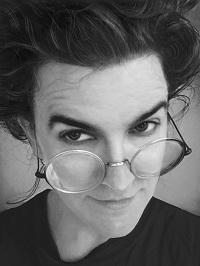 Ginn Hale lives with her lovely wife in the Pacific Northwest. She spends the many cloudy days observing plants and fungi. She whiles away the rainy evenings writing fantasy and science-fiction featuring LGBTQ protagonists. Her first novel, Wicked Gentlemen, won the Spectrum Award for best novel. She is also a Lambda Literary Award finalist and Rainbow Award winner.
Her most recent publications include the Lord of the White Hell, Champion of the Scarlet Wolf and The Rifter Trilogy: The Shattered Gates, The Holy Road, His Sacred Bones.
She can be reached through her website: www.ginnhale.com as well as on Facebook and Twitter. Her Instagram account, however, is largely a collection of botanical photos…so, be warned.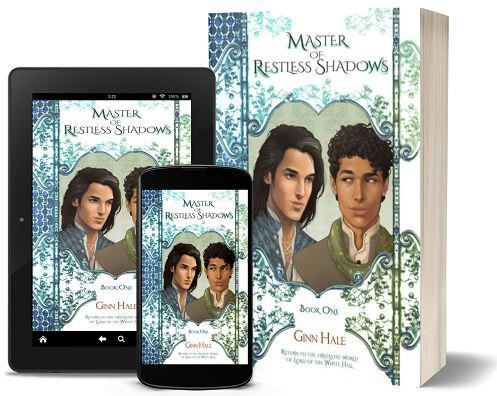 Giveaway!
Win 1 of 3 complete e-book sets of The Cadeleonian Series, Volumes 1 – 4!




(Lord of the White Hell 1 & 2, Champion of the Scarlet Wolf 1 & 2)