Hi guys! We have Amy Aislin stopping in today with the tour for her new release On The Ice, we have a brilliant guest post with a character interview, a great excerpt and a fantastic giveaway where you could win a On the Ice prize pack, so check out the post and enter the giveaway! ❤ ~Pixie~
On The Ice
by
Amy Aislin
For college sophomore Mitch Greyson, determination and persistence are the name of the game if he wants to make it as a professional hockey player. A busy schedule of practices, games, classes, homework, two part-time jobs—and now, working with a tutor to help him pass the class he's failing so that he can keep his scholarship—shouldn't leave him with enough time to flirt with the NHL player in town. But that doesn't stop him.
Placed on the injured reserve list until his broken arm heals, NHL defenseman Alex Dean is using the time off to be with his ailing grandfather and get a head start on the book he's been commissioned to write. He doesn't expect to get roped into a tutoring gig, especially not for cocky, smart-ass Mitch.
But Alex soon discovers that there's more to Mitch than meets the eye…and he really likes what he sees. Only Alex doesn't dare risk his NHL career by coming out, and a relationship between them would jeopardize Mitch's chances with the organization too.
It looks impossible. Then again, the best things usually do…
On the Ice is an m/m contemporary romance featuring a flirty college hockey player who meets his match in a demisexual NHL player.
Amazon US | Amazon UK | B&N | Kobo | iTunes
Amy Aislin Character Interview!
Thanks for joining me today on the fifth and final stop of my blog tour for my newest m/m romance novel, On the Ice, and thank you to MM Good Book Reviews for having me!
I thought it'd be fun to put my characters through a game of Who Knows Who Best?
Interviewer: Alex, what's Mitch's biggest pet peeve?
Alex: Only one?
Mitch [smirks]: I have many.
Interviewer: How about just one?
Alex: The shrink wrap around cucumbers.
Interviewer: Um, what?
Mitch: Seriously, why it is even on there?
Interviewer: To protect the cucumber?
Mitch: What for? It has a peel, skin, whatever you call it. And none of the other vegetables are shrink wrapped.
Alex: Cauliflower's wrapped in plastic.
Mitch: Yeah, but that's 'cause that shit gets everywhere.
Interviewer: Mitch, what's Alex's—
Mitch: And then you cut into it and you get all these little grainy cauliflower pieces everywhere. And God forbid your hands are wet, that shit sticks to you like glue.
Alex [laughs]: He doesn't like things he can't control.
Mitch: Seriously, everywhere. 
[Silence.]
Alex: Was that your only question?
Interviewer: Oh, are you guys done?
Mitch: I mean, I could go on about cauliflower if you really want me to.
Alex: He could.
Mitch: I do like cauliflower fried rice, though.
Alex: But only if you don't have to make it.
Mitch [smiles at Alex winningly]: But you make it so yummy. Why would I want to mess with that?
Interviewer [quickly, before Mitch can get going again]: What's Alex's biggest pet peeve, Mitch?
Mitch [snorts]: That's easy. People who get on the subway and then stand right in front of the door.
Interviewer: I'm not sure I understand.
Mitch: You know when there's a big crowd waiting for the subway, and it finally comes and everyone gets on? But then the person in front of you stops right there as soon as they get on, blocking the doorway?
Alex: As if there isn't anyone behind them also trying to get on? I mean, really. Get the hell out of the way.
Mitch: He's not a good public transit commuter.
Interviewer [shrugs]: Who is?
Alex: Good point.
Interviewer: Mitch, what's Alex's favourite thing in the world?
Mitch [peers at Alex]: Hmm. I…don't know. Not hockey. I mean, you love hockey, but…
Alex: Not as much as you.
Mitch: Right. I don't know the answer to this one. Your mom? Your hometown?
Alex [smiles softly at Mitch and threads their fingers together]: It's you, Mitch. What else would it be?
Thanks for joining me today on my last blog tour stop. Pick up On the Ice at Amazon, iBooks, Kobo, and B&N. Check out the rest of my blog tour stops below.
Don't forget to enter the giveaway for a chance to win an On the Ice prize pack, including a signed paperback, a notebook, a one of a kind professional art print, Hershey's NHL mini chocolate pucks, and real Canadian maple syrup.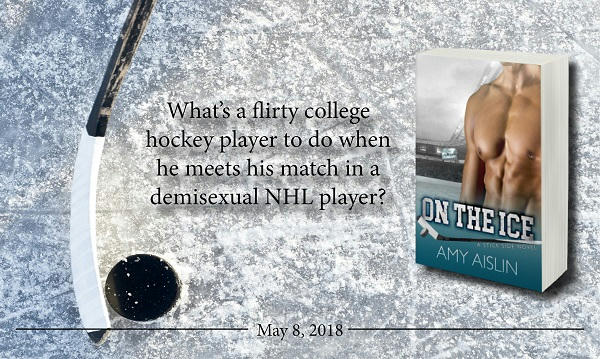 Excerpt!
"Good game against Colgate," Alex said, pocketing his phone.
The mask slipped off Mitch's face. "You were there?"
Alex shook his head. "Watched it on TV."
Holy crap! An NHL player—Mitch's hockey crush, no less—had watched his game. At a loss for words, Mitch stood there blinking at Alex like a putz.
"You've got impressive foot work," Alex said.
Mitch continued to blink at him.
"You skated circles around Colgate and that goal in the third?" Alex smiled wide. "You broke Colgate's end as if the defensemen were pylons. It was beautiful."
"I—" Mitch cleared his throat. "Well, McCall passed me the puck at just the right time, so… I mean, I did figure skating for years and…" He had no idea what he was trying to say.
"Huh. I know a couple of guys who did some figure skating after their game slipped and it helped them rebound. It's something I've been considering to improve my foot speed." Alex leaned a shoulder against the wall and crossed his arms, but his cast got in the way so he ended up shoving one hand in his pocket and letting the casted one dangle. "Your training shows in your footwork. How else has it helped your game?"
In total disbelief that an NHL player was asking him for advice, Mitch said, "Figure skating is about using edges and your body to change direction on the ice. It's about learning to cut a corner or to pivot the right way while maintaining your speed. It made me a better skater."
"It shows."
God, the compliments were going to go to Mitch's head.
"What made you decide to stick with hockey instead of figure skating?"
Mitch shrugged and told the truth. "I liked hockey better."
"Could you do a triple axel in full hockey gear?" Alex asked, a teasing grin on his face.
Mitch had to laugh. "I've never tried." But now he was itching to.
"No? What about a—" Alex held his index finger up and moved it in small circles, "—with the leg out in front?"
"A sit spin?" Mitch scratched his head. "I actually think that one might be harder than the triple axel in full hockey gear."
They stood there smiling at each other for a moment, Alex's eyes the color of the Green Mountains in summer. The man was too gorgeous for words and he was nice to boot. Mitch couldn't help staring at Alex's mouth, red and surprisingly soft in an otherwise rugged face.
Alex cleared his throat and edged around Mitch. "I've got to get back to my friend."
"Wait, I—" The hallway was empty so Mitch plastered his sex smile back on his face, walked right into Alex's personal space, and put a hand on Alex's hip. "Why don't you come over tonight and we'll—"
Alex palmed Mitch's shoulders and pushed him away. "Look, kid—"
"I'm not a kid."
"Mitch." Alex held him at arm's length. "Whatever it is you're trying to do here, it's not going to happen. I don't even know you."
"What difference does that make?"
Alex dropped his arms. "I don't jump into bed with people I don't know. Hell, I don't even jump into bed with people I do know."
Alex wasn't saying I'm not gay, but it did sound like he was saying I'm asexual or something similar, which left Mitch exactly nowhere.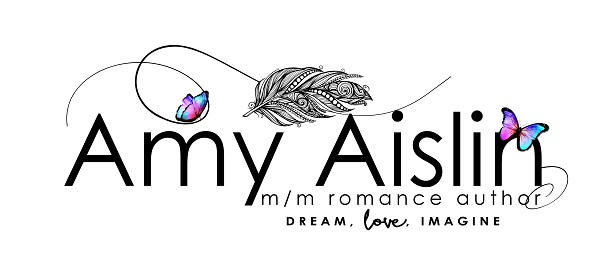 About Amy!
Amy started writing on a rainy day in fourth grade when her class was forced to stay inside for recess. Tales of adventures with her classmates quickly morphed into tales of adventures with the characters in her head. Based in the suburbs of Toronto, Amy is a marketer/fundraiser at a large environmental non-profit in Toronto by day, and a writer by night. Book enthusiast, animal lover and (very) amateur photographer, her interests are many and varied, including travelling, astronomy, ecology, and baking. She binge watches too much anime, and loves musical theater, Julie Andrews, the Backstreet Boys, and her hometown of Oakville, Ontario.
Website | Facebook | Facebook Page | Twitter | Instagram | Pinterest | Tumblr | Goodreads | QueeRomance Ink | Amazon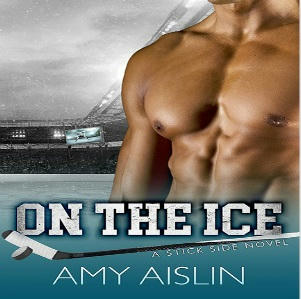 Giveaway!
Win a On the Ice prize pack, including a signed paperback, a notebook, a one of a kind professional art print, NHL mini chocolate pucks, and real Canadian maple syrup.!

Check out the other blogs on the tour!