Hi guys! We have George Loveland popping in today with the tour for his new release On The Third Kiss, we have a great excerpt and a brilliant giveaway, so check out the post and enter the giveaway! <3 ~Pixie~
On The Third Kiss
by
George Loveland
Sebastian Bennett is really looking forward to his Christmas holiday with boyfriend Elliot Bolton in the Gran Canarian sun. The only thing left is for him to sing one last song at the pub as his Drag Queen alter-ego, Donna Tracey. After the wig, make-up and dress come off, he rushes home to pack, only to find he and his chihuahua, Buster, have been deserted by Elliot, who's taken someone else to Gran Canaria. Devastated, Elliot turns to his friend and the pub's manager, Javier Reyes-Martinez, who helps him pick up the pieces.
Javier seems determined to bring fun and laughter back into Sebastian's life during this holiday season, and Sebastian is both grateful and enchanted. After a family Christmas and a word of advice from his great-uncle, Sebastian starts to look at Javier in a different light. Is Javier as fond of Sebastian as he appears, or is Sebastian being misled by his own need? If he's reading the signs right—and if he's ready to move on from his previous heartbreak—could he and Javier be much more than friends?
Excerpt!
The bar was empty when I got downstairs, the staff were running around, cleaning up the remnants of the night. For a Sunday night, that crowd were a mess. I shouted my goodbyes to the bar staff, blowing kisses to them all and catching them in return.
"Cab's here, Seb," the bouncer called.
I always had a taxi ready for me, rather than facing the tube.
"Have a good Christmas, Javier," I shouted.
He ran from the stage to the front of the bar, "You too, Sebastian," and planted two kisses on me, one for each cheek. The smell of his aftershave tingled my senses as his beard brushed against me. I gave him a hug, wished him a happy Christmas and then headed outside.
It's another rainy December night, and I was thankful when the bouncer took my case and put it into the boot of the car as I got into the back. The driver knew where he was going, so I sat back and pulled out my phone. There were some tweets I'd been tagged in, but as I scrolled through the notifications there was nothing from Elliott. Must be busy packing still. I fired a text message off to him to let him know I was headed home and then went through the notifications, clicking the like button where appropriate, and responding to other posts where I could.
The cab driver slowed down when he reached my flat, got out of the car and retrieved my case from the boot. As he set it in front of the doorstep, I handed him a fiver, even though the journey had been paid for. I knew a tip was always appreciated this time of year.
I dragged the case up the two flights of stairs, and put the key in the door.
"Elliott, I'm home," I called before the door's even open.
Little taps against the wooden floor greeted me as Buster, my Chihuahua, ran towards me.
I bent down to greet him and picked him up. He smelt of the vanilla and almond conditioner I used on him earlier, and as I nuzzled into his fur, I pulled him back to look at him. "What are you doing here? Did Dada forget to take you to Aunty Andi's?"
Buster licked my face in reply.
"Elliott, I'm home. I thought you were taking Buster to Andrea's?"
There's no reply, and the flat was silent.
The bedroom, spare room and office were all empty. My heart raced. Back in the living room I found a piece of paper on the table. He must have gone out, I thought, but it was a long note.
I scanned through it, but I knew I'd read it wrong. It couldn't be right. He must be having a joke on me. Not a funny one, though as I read through the note again:
Not working.
Met someone else.
Going away with him.
See you when I get back to sort stuff out.
Happy Christmas.
My legs gave way and I landed on the floor. "Happy Christmas?" I cried.
Buster yapped at me and climbed onto my lap. His vanilla fragrance soothed me as I pulled him up and into me. I read through the letter again, that time knowing I was not reading it wrong at all. Buster squirmed to be free, and when I let him go the tears fell and I realised I was all alone.
About George!
George was about eighteen when he told his friend that he was going to be a writer. It took him another eighteen years before he finally did anything about it and wrote his first short story. A typical Englishman, he drinks buckets of tea with milk—but no sugar, because he is sweet enough. His Nan told him so.
George lives just outside of London, but close enough to enjoy Soho and the West End, where you will find him in a bar with a pint, in a club dancing into the early hours of the morning, or enjoying a musical in the theater; but more than likely he will be in a coffee shop reading a book or writing a new story. Currently single, but taking applications for future husband position, George enjoys crafting romantic stories in which he hopes that one day, life will imitate art.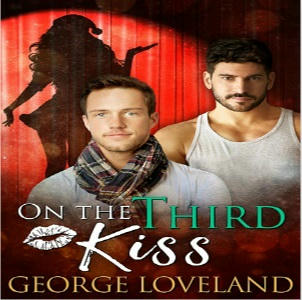 Giveaway!
Win an ebook Of On The Third Kiss!

Check out the other blogs on the tour!