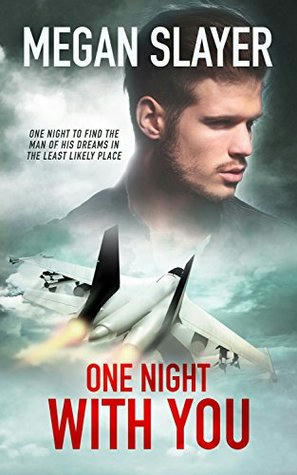 Title: One Night with You
Author: Megan Slayer
Genre: Contemporary
Length: 54 Pages (short story)
Publisher: Pride Publishing (21st February 2017)
Heat Level: Low
Heart Rating: ♥♥♥♥ 3.5 Stars
Blurb: One night to find the man of his dreams in the least likely place…
Airman Tate Gibson thought going to a party at the local college with his friends would take his mind off of his troubles. He'll head back to Korea in two days time—after the funeral of his baby sister. He's always taken responsibility for her and he's not ready to deal with her being gone. He wants a man to help him deal with his sadness and give him a reason to get through his deployment.
Raine crushed on his neighbor across the hallway, but once he spots the hunky airman his thoughts center on Tate. He wants to strip the handsome blue-eyed man down and lick him everywhere, but geeky guys like Raine never get the man. He's stuck playing the perpetual wallflower.
Will one night tear them apart before things get hot or will it be enough to bring these two wounded souls together for a long-term engagement?
ISBN: 9781786515254
Product Link: https://www.pride-publishing.com/book/one-night-with-you
Reviewer: Veronica
Review: The day before the funeral, he decided to go visit his best friend, who is still in college. He needs a friendly shoulder to cry on. Someone that he can talk o about his loss, and the way his family is treating him. When he reaches his friend's dorm, he's hosting a very loud and boisterous party. He doesn't stay, and decides to leave. He meets Raine in the hallway.
Raine considers himself a geek, and not someone that other guys want to have a relationship with. He was on the way to the party, when he meets the handsome Tate. They started talking and ends up in  Raine's dorm room drinking beer. They start making out and have sex. Raine just can't believe that someone as hot as Tate wants him. Tate spends the next couple days with Raine, and the he have to report back to work in Tokyo. Will the time that they spent together show Raine that yes, he's worthy of Tate's love, and although they keep in touch with each other. Will the distance bring them closer together?
This author did a good job on this story; it told the pain of losing a sister and the heartache of a parent blaming him for his sister's death. A parent should never put that blame on anyone. Tate is on leave from the Air Force for a week for his sister's funeral. She died in a vehicular accident, and his mom and family members blame him for her death. His mom had asked him to take care of his little sister, and he also blames himself, although he wasn't the cause and wasn't in the country.