Hi guys, we have Lynn Michaels popping in today with the tour for her new release Out of the Ocean, we have a brilliant character interview, a great excerpt, a fantastic giveaway where you can win a $10 Amazon GC or an ecopy of one of Lynn's backlist titles and my review, so check out the post and enter that giveaway! <3 ~Pixie~
Out of the Ocean
by
Lynn Michaels
Cal Bigsby spent his life working the fishing boats and ignoring who he really is and what he needs to be happy.
Prescott 'Scott' Vandenburton is being primed to take over Daddy's company, but he craves a life of his own. His only escape is sailing his yacht.
When a freak storm hits, both are forced to think about life from a whole new perspective.
Character Interview!
Yachting Magazine
Ordeal on the Ocean
By Jason Gibbons
Exclusive Interview with Prescott Vandenburton, survivor of a freak storm in the North Atlantic
Last month, Prescott "Scott" Vandenburton was involved in a shipwreck in the Atlantic. He'd sailed from Lisbon alone on his thirty-three foot Bavaria, single helmsand, named Freiflug, which means free flight, when he was hit by a freak weather phenomenon and his boat was destroyed. Scott was ultimately rescued some thousand miles south of his original course, off the coast of Bermuda, where his emergency raft had floated for nearly two weeks. 
Scott is the heir to the Vandenburton fortune. He's worked alongside his father, Edsel Vandenburton, at the world renowned Vandenburton Enterprises, the international organization, headquartered in Frankfurt, Germany. Scott is an experienced sailor, regularly taking his yacht sailing out of Lisbon, but on his last trip, things didn't go well.
He's here with us today for an exclusive interview to clue us in on how he survived. Here's what we talked about when we sat down for a chat.
JG (Jason Gibbons): Hi, Scott. So happy you're here and alive with us today.
SV (Scott Vandenburton): Oh, yeah. Me too, for sure.
Scott chuckles like it was only a little joke, but in his eyes, I can tell he's more shaken than he lets on.
JG: This shipwreck was a major scare for you. Did you think you would die out there? 
SV: For sure. No lie. There were several times that I was sure my life was over when that storm hit. There was a loud crack when the hull was damaged, and I knew it was going down. I just went into survival mode, but in the back of my mind…yeah, I wasn't sure I'd make it.
JG: But, you did. How'd you survive on that raft?
SV: I wasn't alone for one. 
Scott's eyes light up when he starts to talk about his companion.
SV: Cal was there and he…He saved me. I don't think I'd be here today without him.
JG: This is Cal Bigsby, the fisherman from the US vessel, the ? He was also caught in the storm.
SV: Yes, Cal. He's amazing.
JG: You've now formed a new friendship with Cal? What's that like?
SV: More than that. He's my partner now. In everything. He's wonderful. 
JG: That's great to hear. I know you're starting a new life with Cal in the US, but take us back to the raft. How'd you get along? How'd you survive together?
SV: (laughs again) Seriously, he knew what to do, and I was smart enough to listen to him. 
JG: It's clear you think a lot of him. When was the moment you knew you'd be together beyond this ordeal?
SV: Ah…yes. (There's that sparkle in his eyes again.) It was actually after we were rescued. I mean, when we were out there…it was about survival, but we also had a lot of time alone. We got to know each other, and when we were separated… I just knew that wasn't where I ever wanted to be.
JG: You mean away from Cal?
SV: Exactly. I don't think I'm ever going to be too far from him. In fact, he's here. In the other room. (Scott gestures to the door that separates the hotel room we're in from another room. They must have booked a suite) So, yes. That's when I knew. The first time we were apart afterward.
JG: I hope you both find that together. We wish you both all the luck in the world. Is there anything else you want to say about your ordeal?
Scott takes a moment, bows his head as if in deep thought. When he looks up, I see tears, unshed in the corners of his eyes.
SV: I want to thank the guys that rescued us. They were kind. Helpful. The guys on the boat, the people in the ambulances and the hospital. They were all wonderful and caring. I'll forever be thankful they pulled us out of the ocean.
This reporter, for one, will be looking forward to hearing more from Scott Vandenburton and his next venture.
Excerpt!
"Well, we do have some food here," Scott said, as Cal sorted the nets.
"Yep."
"I have some crackers and a can of smoked oysters. Want that for breakfast?"
"Nope."
"Aren't you hungry, Cal?"
Cal grunted. "You need to ration that food. Who knows how long we'll be out here." There was no way Cal was going to take food from Scott. He couldn't.
"Uh…you mean we."
"Huh? No."
"Don't grunt at me. This is serious. You're sharing this food with me. Now what do you want to eat?"
Cal ignored him. Scott meant well, but his own instincts wouldn't let him compromise. No matter what happened, Cal had to do everything he could to protect Scott, make sure he survived. Nothing else mattered. "Have some crackers, Scott. I'm busy."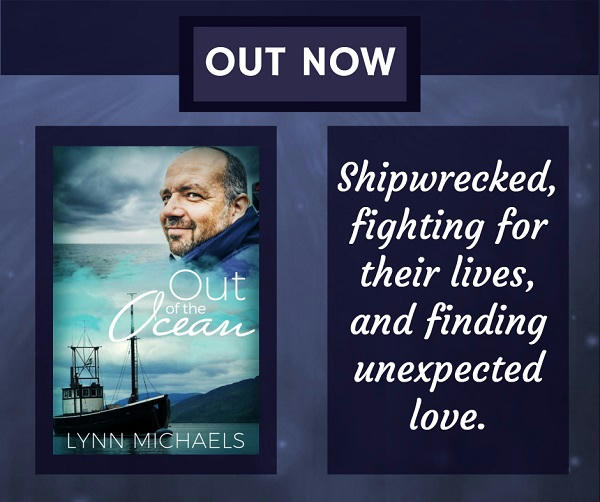 About Lynn!
Lynn Michaels lives and writes in Tampa, Florida where the sun is hot and the Sangria is cold. Lynn is the newest addition to Rubicon Fiction, and she loves reading and writing about hot men in love. She writes paranormal and contemporary MM Romance
Facebook Page | Amazon Page | Twitter | Website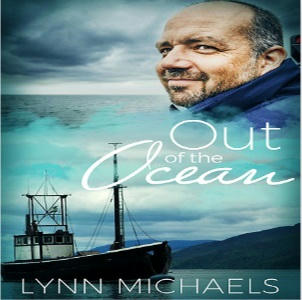 Giveaway!
Win a $10 Amazon Gift Card!
Win a backlist ebook from Lynn Michaels!
Review
Title: Out of the Ocean
Author: Lynn Michaels
Genre: Contemporary
Length: Novella (130pgs)
ISBN: 9781386999409
Publisher: Robicon Fiction, Self-published (15th March 2018)
Heat Level: Low – Moderate
Heart Rating: ♥♥♥ 3 Hearts
Reviewer: Pixie
Blurb: Cal Bigsby spent his life working the fishing boats and ignoring who he really is and what he needs to be happy.
Prescott 'Scott' Vandenburton is being primed to take over Daddy's company, but he craves a life of his own. His only escape is sailing his yacht.
When a freak storm hits, both are forced to think about life from a whole new perspective.
Shipwrecked, fighting for their lives, and finding unexpected love.
Purchase Link: Amazon US | Amazon UK | B&N | Kobo | iTunes
Review: When a storm approaches while Cal is working on a fishing vessel he expects the skipper to turn away and head for land, instead he finds himself the only survivor when the boat sinks after the skipper decided he wanted just a few more fish. Scott just needed time alone away from the expectations of his father, when the storm hits Scott finds himself scrabbling for survival as his boat sinks but his limited experience hinders him.
Finding each other on the vast ocean is a miracle and as Cal and Scott struggle to survive they become close and soon become lovers, but will their relationship last if they get to land and real life interferes?
Out of the Ocean is an interesting story of survival on the high seas, the struggle to find a way to hold on long enough to be found. Cal is an old hand fisherman, the sea is his home but sometimes working for idiots is the only gig available, but this time it's cost the lives of good men and Cal is stranded in a lifeboat with only his wits to survive. Scott has a job he hates and pressure from his father to do what he wants, Scott escapes to the sea but this time he's in terrible danger as he has no clue how to survive on a raft by himself.
I liked this story but found that the relationship between Cal and Scott moved very fast, within a space of a couple of hours sexual thoughts and wants are shared, and seeing how the two met and the situation they are in it just felt wrong, too quick too fast. I was expecting them to bond over their experience, get to know and admire each other and then pursuing something between them when they were rescued.
The story is good though, Cal and Scott couldn't be more different from different walks in life but they connect and want more from life than they currently have. Cal keeps them going while Scott tries his best to help. Cal is fifty while Scott is in his thirties but the age difference doesn't really come into play, in fact with the way Scott talks about his parents I kept thinking he was in his early twenties and Cal doesn't come across as fifty, he just comes across as a crusty grumpy no age fisherman. 
I recommend this to those who love stories of finding love during trying times, of determination to survive, of grabbing life by the throat and two men determined to be together. 

Check out the other blogs on the tour!