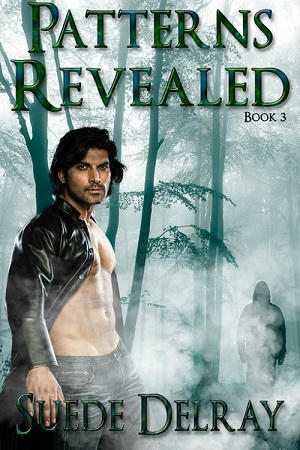 Title: Patterns Revealed
Series: Patterns 03
Author: Suede Delray
Genre: Contemporary, Mystery
Length: Novella (148pgs)
Publisher: eXtasy Books (April 21, 2017)
Heat Level: Low
Heart Rating: 💖💖💖💖💖 5 Hearts
Blurb: Dominick has recovered from his injuries but is still on suspension from the force. This hasn't deterred him from wanting to solve the Regis murders. Some information from his sister prompts Dominick and Rob to take a weekend trip to Boston. What they don't know is that the killer is watching.
ISBN: 978-1-4874-1038-4
Product Link: eXtasy Books | Amazon US | Amazon UK
Reviewer: Lisa
Review: Dominick went against regulations to save his sister and was now on suspension, the same as his partner. It did give him and Rob time to take a small vacation. To bad he wants to still work the case and he has found a lead in Boston. However it would seem the killer knows they are there. Someone that knows him so very well.
Lots of twists and turns to this story and lets just say it is quite surprising. I was very surprised to find out who the killer was and even thought it was two other guys. Never suspected and damn was it good. My attention was caught from the time I started reading and kept it all the way to the end. When I started reading this story I knew that I had read it before and that tells me it is quite remarkable. I can see myself reading this more then the two times I have read it. It is a bit creepy though with a dark tone to it.
I usually don't read stories that have dark tones to it, but this one was top notch. It kept me on the edge of my seat both times. I can't wait to get started reading the next book and I can guarantee that you will love these guys just as much. The characters were what made the story rock even more for me.