Hi peeps! We have Jaime Samms popping in for a visit today with the beautiful cover to her upcoming release Permanent Ink. We have a short intro from Jaime, a great excerpt and a brilliant giveaway, so check out the incredible cover and leave a comment with the answer to Jaime's question to enter the giveaway! <3 ~Pixie~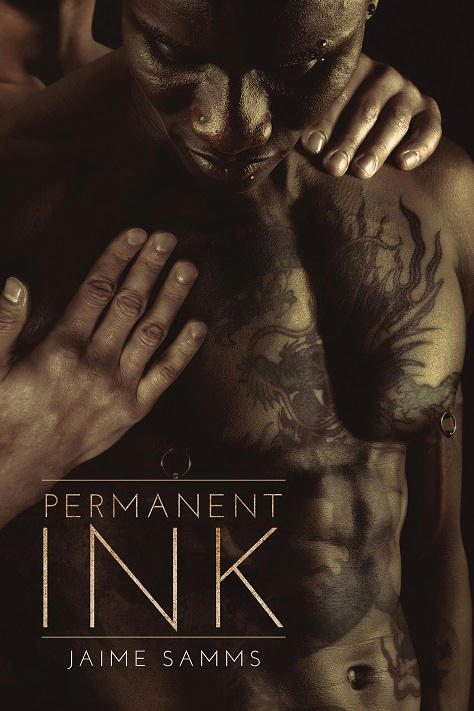 Permanent Ink
by
Jaime Samms
Beauty is only skin deep, but some marks—and what they represent—are impossible to escape.
Eric resents his comfortable college life and the restrictions his family's expectations put on him. Dwayne, his best friend Angel's cousin, is a pierced and tattooed ex-con trying to rebuild his life. Eric sees only the tattoos and the way Dwayne's upbringing have dictated his future. It takes a surprising revelation from Angel to force Eric to see past Dwayne's defenses to the generous heart beneath and to realize it's time for him to break free of his own instilled beliefs. The men can't keep apart, and they gradually learn that everything they thought they knew about each other might be wrong. 
Opposites attract as two men from very different backgrounds move from enemies to lovers in a story of understanding, compassion, and redemption.
Release date: 18th January 2017

Jaime Samms!
Hello, It's good to be back at MM Good Book Reviews. I mean, I frequent the site as a reader, scoping out new books to read, so to have the chance to show off a delicious new cover here as an author is a real treat. Thanks so many times over to Pixie for offering up the space. I was really happy with the way this cover turned out. So many things seem impossible when it comes to getting exactly what you might want on a cover, so when Angsty G came through for me to make this cover what I had envisioned, I was so thrilled. I think this story deserves a shiny new package to along with the polished tale, and it certainly has that.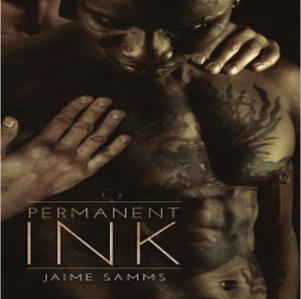 Excerpt
Dwayne sat in the seat across from him, unsnapped his helmet straps, and left them dangling. He looked good, sweaty from his latest run, the tight jersey fabric of his shirt hiding no detail that lay underneath, including the round outline of the ring in each nipple. He set the bottle on the table, keeping his big hand curled around it so Eric could only see the imprinted lid.
Eric stared at him, willing himself to keep his focus on Dwayne's dark eyes and not the wide, delicious expanse of chest or the rounded muscle of exposed bicep. He wouldn't trace the swirls of shadow that curved over glistening brown skin. He didn't need to count the stars on his inside left forearm. Seven. He already knew that. He also knew they had fuzzy outlines and voids where the needles had gone too deep.
Dwayne grinned, an expression remarkably like Angel's when he was making a particularly nasty point.
"Okay. Right." Eric dropped his head on his folded forearms, trying to escape the bright light. "I was an ass. I'm sorry." He said it to the tabletop, without lifting his head. A complete cop-out.
"And the drug dig just now?"
Eric groaned. "Yeah. All right. I'm sorry for that too."
"Make it up to me."
Eric groaned. His head hurt. His heart pounded, and he couldn't tell if it was from moving too much or from the hot, jumbled images of dark limbs tangled with white ones flashing through his mind.
"Would you rather suffer, sweetcheeks?"
"Don't call me that."
There was a shuffle. The chair across from him scraped over the floor, and a hand rested gently on the back of his neck. "You're warm."
"I'm fine. Just hungover."
"Feels like a fever."
Eric batted his hand away. The heat it induced was not a fever. "Get off."
"Worried you'll catch something?"
Not exactly.
"You want to know where I've been? All you gotta do is ask, Eric." The pill bottle rattled again. "I was going to ask you to eat with me, but maybe it ain't worth it."
The chair scraped again, and when Eric looked up, he was alone with the aspirin.

About Jaime
Jaime has been writing for various publishers since the fall of 2008, although she's been writing for herself far longer. Often asked why men—what's so fascinating about writing stories about men falling in love—she's never come up with a clear answer. Just that these are the stories that she loves to read, so it seemed to make sense if she was going to write, they would also be the stories she wrote.
These days, you can find plenty of free reading on her website. She also writes for Freya's Bower, Dreamspinner Press, Totally Bound, and now, Riptide Publishing.
Spare time, when it can be found rolled into a ball at the back of the dryer or cavorting with the dust bunnies in the corners, is spent crocheting, drawing, gardening (weather permitting, of course, since she is Canadian!), or watching movies. She has a day job, as well, which she loves, and two kids, but thankfully, also a wonderful husband who shoulders more than his fair share of household and child-care responsibilities.
She graduated some time ago from college with a fine arts diploma, and a major in textile arts, which basically qualifies her to draw pictures and create things with string and fabric. One always needs an official slip of paper to fall back on after all . . .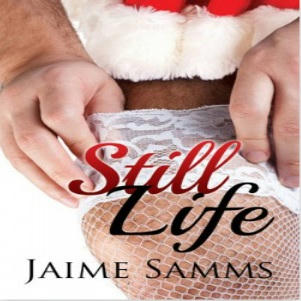 Giveaway!
Win an ecopy of Still Life! (for anyone who hankers for a bit of a Christmas tale to go with a hot cocoa and lazy afternoon!)
(Just leave a comment with an answer to Jaime's question)
What you would get as a tattoo and where, if there were no restrictions like pesky day-job decorum or price?
(Ends when Jaime says it ends!)
Winner will be picked at random from the comments below by Jaime!