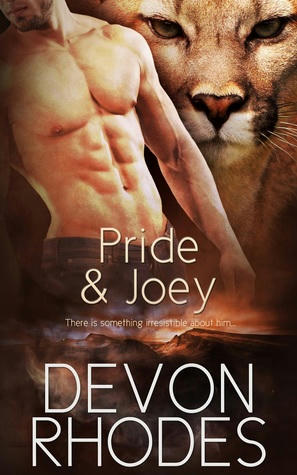 Title: Pride and Joey (2nd Edition)
Author: Devon Rhodes
Genre: Paranormal, Wereshifters
Length: Short (59 pages)
Publisher: Pride Publishing (September 13, 2016)
Heat Level: Moderate
Heart Rating: ♥♥♥♥♥ 5 Hearts
Blurb: Vance thought his pride meant everything to him…until fate sent Joey into his lair and into his heart.
Vance has grown up the odd one out in a macho and very insular pride of lion shifters. Differences like enjoying the cool fall weather are bad enough—his pridemates would kill him if they learned he was gay. Still, his pride is all he knows. He's never even met a shifter of another type…until he discovers an unconscious cougar male in his lair.
Joey is on the run and wants to keep Vance at arm's length, especially since someone very close to the lion is at the root of all his troubles. But there is something irresistible about Vance, something that has Joey wanting more than he has ever dared to dream.
When their lives are threatened, Joey must choose whether to sacrifice himself, or try to live and keep Vance close…for the very short remainder of his life.
Publisher's Note: This book has previously been released by Pride Publishing. It has been revised, expanded and re-edited for re-release. 
ISBN: 978-1-78651-494-3
Product Link: https://www.pride-publishing.com/book/pride-and-joey
Reviewer: Shorty 
Review: I love a story that has a twist that takes me by surprise as this one did. Joey is on the verge of death but manages to escape his captors and hide out in a cave to recover. Unbeknownst to him it's Vance' private spot where he can get away from his pride and reflect on things. Vance finds Joey but is unable to make him leave due to the pull he feels.
As the story progresses we learn what happened to Joey and who exactly caused it. I loved the tense nature in this story. It kept me intrigued and engaged to know exactly what happened. The twists and turns just kept on coming. 
Highly recommended.