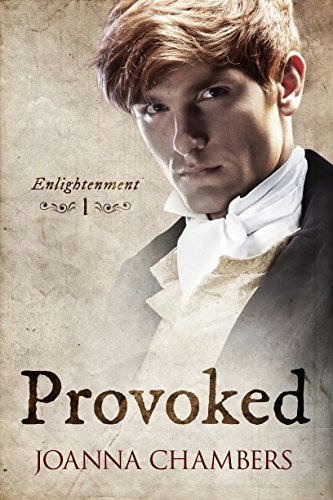 Title: Provoked (2nd Edition)
Series: Enlightenment 01
Author: Joanna Chambers
Genre: Historical, 1800's Scotland
Length: Novel (208 pages)
Publisher: Joanna Chambers Books (16th April 2017)
Heat Level: Explicit
Heart Rating: ♥♥♥♥♥ 5 Hearts
Blurb: David Lauriston is struggling to build his reputation in Edinburgh's privileged legal world. His humble origins are enough of a hurdle, never mind his recent decision to defend a group of weavers accused of treason, prompting speculation that he may harbour radical sympathies. The last thing he should be doing is agreeing to help the brother of one of the convicted weavers find the government agent who caused his brother's downfall.
David's personal life is no more successful. Tormented by his forbidden desires for other men, and the painful memories of the childhood friend he once loved, David tries his hardest to live a celibate existence, castigating himself whenever his resolve slips. 
But then—into David's repressed and orderly world—bursts Lord Murdo Balfour.
Cynical, hedonistic and utterly unapologetic, Murdo could not be less like David. Whilst David refuses to entertain the prospect of entering into a loveless marriage for propriety's sake, Murdo is determined to wed one day—and has no intention of giving up the company of other men when he does so. But as appalled as David is by Murdo's unrepentant self-interest, he cannot resist the man's sway.
Murdo tempts and provokes David in equal measure, distracting him from his promise to find the agent provocateur responsible for the weavers' fate, and forcing him to acknowledge his physical desires.
But is Murdo more than a mere distraction? 
Is it possible he could be the very man David is looking for?
Product Link: https://www.amazon.com/gp/product/B071YJ254F
Reviewer:   Gigi
Review: I know it's a great book when I stay up reading until 2:30 in the morning on a work night! I couldn't put it down. I really enjoy historical romances, I really truly love m/m romance, I get all hot and bothered over Scottish men, and I love a bit of intrigue…this book contains it all! The drama, the angst, the steamy hot and erotic sexual encounters. Chambers has really developed complex characters in both David and Balfour; they each have concrete reasons for being the way they are, how they react to their life situations, and how they see themselves in the peerage. The book opens with an intense scene of a public hanging and decapitation, and really sets the tempo for the tension I felt throughout the book. It's edgy, it's philosophical, and it's exciting throughout.
I really enjoyed how the author is building up tension and magnetism between the two main MC's, and that they are both drawn to and repelled by each other throughout the plot. I'm also surprised and intrigued by the fact that the bleeding heart idealist David is the rough and gritty lover, and the brutish lord Balfour is the more sensual, intimate lover. That was a nice twist. The drama unfolds as David and his bleeding heart agrees to help Euen, the brother of the executed men he advocated for in court. He wants David's help tracking down the spy that got his brother killed, and that path may just lead to Balfour! You just know no good can come of it. You see the train wreck coming but can't help but turn the pages even faster.
As the characters paths begin to align the book becomes nail-biting, and at the same time the sexual confrontation is also coming. The end of book one was at once painful, and settling. I really truly felt sorrow for David's self-sacrifice for his ideals, and understanding in him accepting what love and family he has as his best comfort in the world. But I know I want so much more for him. I'm left irritated a bit with Balfour, and my mind is whirring with the many possibilities that may lie in store for David and Balfour in the next book!
If you enjoy reading about the Ton and you love a hot, angsty romance, this book is for you! I couldn't put it down!