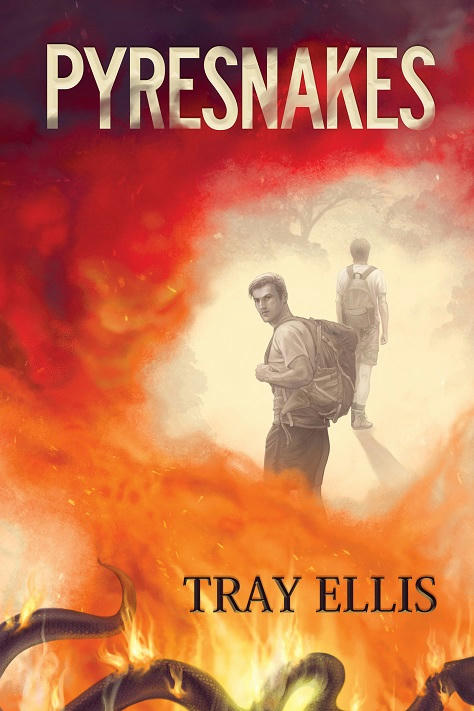 Title: Pyresnakes
Author: Tray Ellis
Genre: Paranormal, Urban Fantasy
Publisher: Dreamspinner Press (June 28, 2017)
Length: Novella 
Heat Level: Low
Heart Rating: ♥♥♥ 3 Hearts
Blurb: There is another world existing alongside the one most see everyday, and although it is a place of magic and wonder, the dangers are very real. 
Aran, an artist, grew up on his grandmother's tales of the Side-by-Side world. He never expected his knowledge of folklore would aid his boyfriend, Brandon, in an arson investigation, but the snakes that burst into flames when agitated are something he recalls from those childhood stories. 
When Aran vanishes, Brandon knows his time as a state trooper won't help find him, so he enlists the aid of Aran's grandmother, Ruth, and they venture into the Side-by-Side world. 
But Aran has no memory of his life prior to crossing between worlds, and he's enjoying the company of his handsome new companion, Ren. Even if Brandon and Ruth reach him, convincing him to return to his former home won't be easy. In a contemporary fairy-tale adventure set among forests and trails, Aran must choose between a mystical fantasy world and the man he loves. 
ISBN: 978-1- 63533-702-0
Product Link: https://www.dreamspinnerpress.com/books/pyresnakes-by-tray-ellis-8608-b
Reviewer: Lisa 
Review:  Tray Ellis is a new author to me so I wasn't too sure what to expect.  I grabbed it up because of the title, but I had not read the blurb for the book, which was my mistake.  I went in totally blind to what I was getting.  I will admit that if I had paid attention to the fact that it was an urban fantasy, I would have probably passed it up.
I have never heard of snakes that start fires, but damn if these ones don't do that.  However that is what brings us into the story, but they were not the whole story.  Brandon is an arson investigation and was looking into who started the fire that almost killed a family.  He took the case because it was on the way to where him and Aran like to hike. 
Aran is an artist and knew in his memory what kind of snakes they were.  It led him into remembering the folklore that his grandmother had told him about. Out on a hike, when it got dark Aran disappeared.  Brandon knew he needed Aran's grandmother help to find him.  It led them into a world that he did not know existed.  A world in between or in this case side by side world.  A venture where he did not belong.  Now Aran needs to make a choice of which he wanted more.  
I am sorry but this story was just way too weird for me.  I got it because of the fire starting snakes, not the other world.  It was easy to follow in reading but the story itself was too descriptive and strange to even get into.  The characters were hot, but there was no love story in the way one would think.  You could sense it between the men, but it was just weird.  
This author has one hell of an imagination and it made me think of old legends.  However it also told me that I need to stay away from these types of books and to look at what I chose before grabbing it up.  I am sorry but this book was definitely not for me.