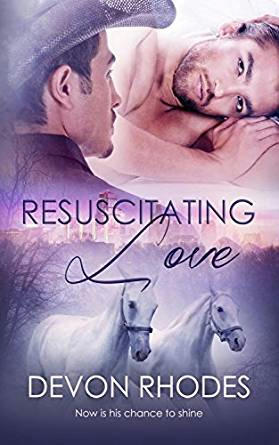 Title: Resuscitating Love
Author: Devon Rhodes
Genre: Contemporary
Length: Short (40 Pages)
Publisher: Pride Publishing (31st January 2017)
Heat Level: Low
Heart Rating: ♥♥♥ 3 Hearts
Blurb: If Hill keeps putting cowboys ahead of his marriage, even being a cardiologist won't help David fix their broken hearts.
Hillard 'Hill' Pearson, the new events director of the American Royal, has worked hard to get to where he is. This is his first year as director, and the huge responsibility of the more visible position has taken over his life. Yes, he could be considered a workaholic, but he's put fifteen years into the event he's loved since he was a kid, and now is his chance to shine.
When David Weinstein finally convinced his long-time partner, Hill, to marry him, he thought it would bring them closer together. Instead, they're not even to their first anniversary and their relationship is suffering. David's finally at a stage in his medical career where he has regular hours, but he can't seem to connect with his husband when he's free. Now, with the event that he's sick of hearing about underway, he feels like he's making all the effort with no return.
Can Hill and David resuscitate their love before David gives up on the promise of forever?
ISBN: 9781786515056
Product Link: https://www.pride-publishing.com/book/resuscitating-love
Reviewer: Veronica
Review: Who doesn't to read about Cowboys? The Boots, the snug jeans and the swagger in their walk. David and Hillard, 'Hill' has been together for about fifteen years, but married only one year. As much as they love each other, they're drifting apart, and David wants to do anything that he can to stop that. Hill was promoted in his job and he is now the Events Director, and the job is so time consuming, that he misses lots of important dates with his husband David. On this particular day, David is waiting for Hill, way past the time that they had agreed upon. David wants to celebrate the anniversary of their first date, but Hill forgets, and therein lies the distance that David feels is growing between them.
 Yes, Hill loves his job, and has worked very hard for his position in the company, and he doesn't want to do anything that can jeopardize it, but he have to compromise or he will lose the best thing in his life and it isn't his job. Will a talk from his Boss convince him to pull up his boots, and find his priorities where his husband is concerned, or will he lose his husband to his work?
I love this author's work, and I would recommend this story to anyone that wants a quick read about a couple and the heartfelt emotions the author showed in this story.