Hiya guys, we have Jackie North popping in today with her the tour for her new release Ride The Whirlwind, we have a great guest post with exclusive excerpt and a brilliant giveaway, so check out the post and enjoy! ❤️ ~Pixie~
Ride The Whirlwind
by
Jackie North
Soulmates across time. Two hearts, stronger together.
In present day, Maxton is good at finding trouble and bad at everything else. Then he receives a letter from his friend Laurie, who went missing. The letter is dated over one hundred years in the past.
In 1892, Trent Harrington, sheriff of Trinidad, Colorado, cast off by his family, lives a respectable but lonely life, devoid of any closeness. He knows he will be alone forever.
Trying to escape a past that keeps chasing him, Maxton drives south to Mexico. When his car spins off the road, he is swept up in a desert whirlwind, which takes him back in time to the year 1892. There, unused to the laws of the wild west, Maxton gets arrested, and is subject to the terrifying whims of two deputies who can do whatever they want to him.
Sheriff Trent Harrington of Trinidad is tasked with escorting Maxton to Trinidad. The request isn't unusual, but the young miscreant is. Maxton draws Trent's heart out of its shell with his flashing green eyes and lush head of hair. It isn't right. It isn't natural. It's illegal. Yet Trent cannot resist the impetuous young man.
As the two men travel through the dry, lonely desert to their destination, will they find in each other the love and companionship they never thought they'd have?
A male/male time travel romance, complete with the scent of desert roses, brilliantly colored sunsets, starlit nights, roast rabbit over an open fire, growing honesty and trust, and true love across time.
Contains references to Honey From the Lion and Wild as the West Texas Wind but can be read on its own.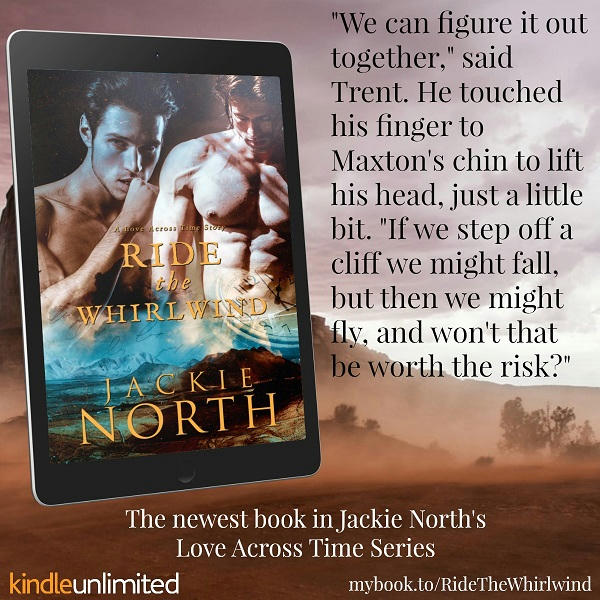 Why Cowboys?
by Jackie North!
For years, I've loved old-fashioned heroes, and figured that the Victorian era was my time of choice. But recently, while writing a collection of stories in my Love Across Time series, I have realized that I have quite a fondness for cowboys. Oddly, I only recently became aware (in the past six months or so) that cowboys are a very solid trope within the m/m romance genre.
You know how you tend to stay away from the thing you love just so you make sure you don't ever get tired of it? No? Is it just me? My Dad would only eat strawberry shortcake twice a year, on his birthday and on Father's Day because, as he told me, he never wanted to get tired of it.
Me, I would watch westerns, and admire the whole "he walks the earth" kind of vibe that the heroes would give off. I would think fondly about cowboy boots, and chuck wagons, and cowboy coffee, and sigh. And then move on because, of course, I didn't want to grow tired of cowboys.
But then I started seeing those gorgeous western, cowboy-themed covers in the m/m romance community, and was able to let out my inner cowboy lover and really enjoy rolling in that world of cattle drives, open skies, and desert sunsets. Thus Ride the Whirlwind has a very cowboy/western theme to it.
What do I love about cowboys? I love the way they wear blue jeans like a second skin, with their sweet behinds all snug and tight beneath the denim. I love how they tip their hats and say "ma'am" or "sir" or whatever is required. I love how they don't complain when they get thrown, and how they do hard work with their hands and get all sweaty and dusty and have to take showers that actually need to be taken.
Ride the Whirlwind has a character called Trent Harrington. He's a sheriff more than he's a cowboy, but the idea is the same. He's tall, broad-shouldered, strong, and, most important, very patient with Maxton who is from the future and is way out of his depth. And it was when I was writing him, a character from the Old West, that I realized how delightful it was to give in to my passionate and natural impulses to write about cowboys.
Here is an excerpt where Trent is taking good care of Maxton:
When they arrived back at the hotel, the clerk kindly informed them that baths were now available in their rooms. Trent ordered one for Maxton and, after giving the broad-shouldered young man a nickel for bringing the tin tub and buckets of water, helped Maxton out of his clothes, taking the time to gently unroll the bandage on his arm, taking care not to jar him.
He stood close by while he made Maxton get into the tin tub and wash himself. Then, after rewrapping Maxton's arm with a new strip of cloth, which made it feel more protected, he made Maxton get dressed in some funky, old-fashioned clothes, buff colored trousers that had buttons but no zipper, a blue chambray shirt, tucking away Maxton's dusty clothes and single sneaker in his funny-looking luggage.
The clothes he was wearing were way too thick for summer, and had already been worn by somebody else. Worse was the fact that the underwear was not simple briefs, of course not. Instead, garment was made of thin, pale wool that covered him from neck to thigh, and buttoned down the front, with a buttoned opening in the back. The stockings were wool also, and came all the way up to his knees. At least the boots, once laced up by Trent, kneeling at his feet, felt mostly right.
Maxton wasn't too proud for second-hand clothes, for sure, but as he put them on, he had a thought, not altogether pleasant, about what had happened to the original wearer. And whether the clothes would have turned to dust on the shelves of the store if Maxton had not come into the past and needed them, and Trent had not bought them.
This train of thought made his head dizzy, and he stumbled pulling on the buff-colored trousers.
Trent was right there, a hand on Maxton's arm and another on his neck, like he was going to yank him hard and tell him off for messing around. Only that's not what Trent did. Instead, his hand was warm and still, his fingers settling around Maxton's neck gently, guiding him until the dizziness went away, the thoughts buzzing into the background like bees who didn't quite know where the flowers had gone.
Well, it was the desert where there were no flowers. Maxton finished dressing and followed Trent down to the dining room, his stomach rumbling, feeling, it must be admitted, more like eating now that his skin felt clean.
Trent had loaned him a wooden comb for his hair, and had watched him use it, but gently, out of the corner of his eyes, like he couldn't help himself.
That was fine, Trent could look all he liked, though the question remained as to why he was so attentive, so nice. The meanness would come out sooner or later, as it always did. In the meantime, Trent led the way into the dining room, where once again, the waiter took them to a nice table near the center of the room. All eyes were upon them as the kerosene lamps were lit and they sat down to eat.
Trent had the bearing of a type of man who drew attention. The badge he wore on his dark vest also drew attention from law-abiding folks, such as were obviously seated in the hotel dining room, as if they'd been waiting for years, eons, maybe, for just such an occasion as Sheriff Trent's arrival.
Maxton shook his head as he sat down. He couldn't let himself go down the rabbit hole where his thoughts kept dancing around the idea that everybody was dead, and this was all a dream. Or that this wasn't a dream and he was dead. That or this was some moment trapped in time, looping over itself, over and over, until the film dissolved and melted into the darkness.
Now he felt sick. Concepts around time travel were complex and there were paradoxes. What if he'd struggled to come back in time but had ended up in a parallel universe, completely separate from the one Laurie was in? What if he had come back to the wrong time? He needed to check, so he sat up straight, and winced as his stomach rumbled from hunger and churned with worry.
"What is it, Maxton?" asked Trent. He'd just given the waiter their order and now his attention was fully on Maxton, which was good just as it was bad. Why was he letting this guy order for him all the time?
"Does Laurie know we're coming?" asked Maxton, licking his lips. Trent's answer would tell him a lot. If he acknowledged that Laurie existed, that alone would be enough. Maxton didn't care which universe it was, parallel or otherwise, as long as Laurie was in it.
"Yes, indeed, he does," said Trent. He pushed the plate of buttered bread that the waiter brought them toward Maxton and nodded. "Remember? I told you. He even sent me a telegram."
"Yeah, okay," said Maxton. That was a good sign that he'd ended up back in the right universe, and he refused to let himself think about what would have happened if he'd ended up in the wrong universe. "What did he say?"
With considerate care, Trent pulled out his wallet and took from it a small slip of yellow paper.
This he read from.
"Mr. Quinn writes Please and thank you. Tell Maxton we'll leave the light on for him. Tell him there is no sausage and onion pizza in town."
The reference to the old motel commercial, which they often used as a jokey way to say they'd be there for each other, and the mention of Maxton's favorite kind of pizza, told him immediately that the telegram was from Laurie.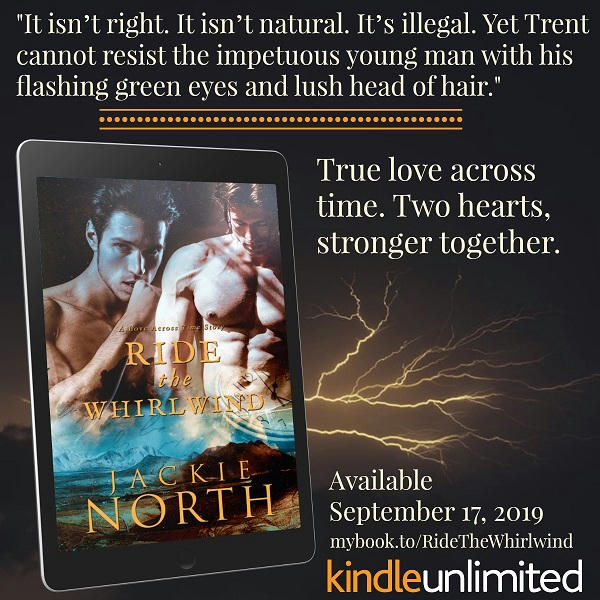 About Jackie!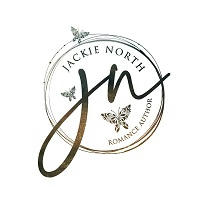 Jackie North has been writing stories since grade school and spent years absorbing the mainstream romances that she found at her local grocery store. Her dream was to someday leave her corporate day job behind and travel the world. She also wanted to put her English degree to good use and write romance novels, because for years she's had a never-ending movie of made-up love stories in her head that simply wouldn't leave her alone.
As fate would have it, she discovered m/m romance and decided that men falling in love with other men was exactly what she wanted to write books about. In this dazzling new world, she turned her grocery-store romance ideas around and is now putting them to paper as fast as her fingers can type. She creates characters who are a bit flawed and broken, who find themselves on the edge of society, and maybe a few who are a little bit lost, but who all deserve a happily ever after. (And she makes sure they get it!)
She likes long walks on the beach, the smell of lavender and rainstorms, and enjoys sleeping in on snowy mornings. She is especially fond of pizza and beer and, when time allows, long road trips with soda fountain drinks and rock and roll music. In her heart, there is peace to be found everywhere, but since in the real world this isn't always true, Jackie writes for love.
Website | Facebook | Facebook Page | Twitter | Pinterest | Email: jackie@jackienorth.com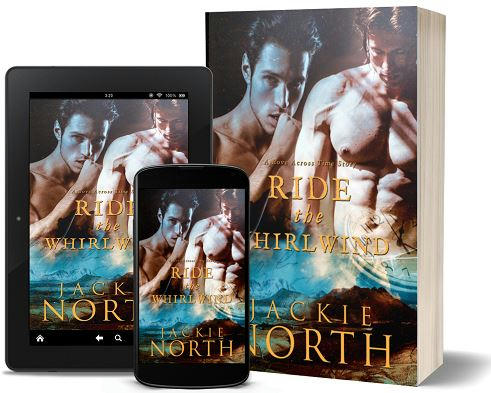 Giveaway!
Win a $5 Amazon Gift Card!