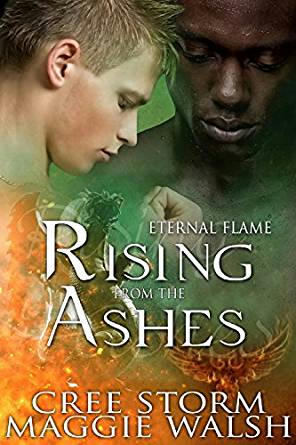 Title: Rising From The Ashes
Series: Eternal Flame #2
Author: Cree Storm & Maggie Walsh
Genre: Paranormal, Fantasy
Length: Novella (176 Pages)
Publisher: Cree Storm & Maggie Walsh 
Heat Level: Low
Heart Rating: ♥♥♥♥♥ 5 Hearts
Blurb: Crystal, Colorado Fire Investigator Angelo Carbone loved his job and his friends, but ever since that fateful night when he was raped at the young age of seventeen, he has felt a piece of him missing. Until he meets his mate in a sexy as hell dragon shifter.
Angelo's visions help him do his job, but recently his visions seem to be lying to him. They are telling him that a man he knows to be dead is committing the new fire's that plague Crystal. The confusion over what his visions are telling him causes Angelo great anguish when he also sees this supposed dead man harming a boy. 
Angelo has sworn that he will never allow another to be bullied or suffer as he had all those years ago, if he could stop it. 
When he and his new found mate, Morgan, run off into the night following one of Angelo's visions, they never expected to find what they did, or to suddenly find themselves with a family. As the fires escalate, people get killed, and their new ward Manny goes missing, Angelo and Morgan must count on their friends to help them figure out this puzzle before Manny's bully kills him. But a new foe in town brings back memoriesthat Angelo wishes he could forget. These memories not only threaten his mating, but also his gift. 
Can Morgan save Angelo and Manny in time? Or will he lose them both to evil forces?
ISBN: B01JBMWX52
Product Link: https://www.amazon.com/Rising-Ashes-Eternal-Flames-Book-ebook/dp/B01JBMWX52
Reviewer: Lisa 
Review: Each book in the Eternal Flames collection features a different romantic couple. To enjoy the overall story arc and crossover characters, I would recommend reading the series in sequential order.
When I found out that these two authors were going to team up to write this series I knew I wanted to read it.  Let's just say I was not let down at all.  The world that was created is unique and fresh in my eyes.  There are not very many books with dragon shifters nor phoenix shifters, well this series combines them both.  I had just finished the first one and couldn't wait to start this one.  It caught my attention from the moment I started reading and kept it all the way to the end.  I love the characters but especially Angelo.  There is just something special about that man. 
When Angelo was seventeen his life had changed, he was brutally gang raped and his phoenix had been taken from him.  Now many years have passed and he has found his mate.  His fear was stopping him from doing what he would have naturally done.  Thank god Morgan is the patient type because his little mate needed him.  When Angelo's visions were telling him that a dead man was still causing trouble with their town, he is left shaken.  However time will show that the visions were of something worse. 
I loved how this story was so full of excitement, suspense, emotion and twists.   I loved how captivated I was when I was reading it and how I was wishing I was right there with them.  It gave me exactly what I wanted and when I needed it.  I loved this book and can't wait to read the next book.  This is one series that I would recommend reading.