Hi peeps, we have R.J. Scott & V.L. Locey stopping by today with the tour for their new release Ryker, we have a great excerpt and a fantastic $10 Amazon GC giveaway, so check out the post and enter that giveaway! ❤ ~Pixie~ p.s. keep an eye out for my review!
Ryker
by
R.J. Scott & V.L. Locey
Ryker is hockey royalty, Jacob is a poor country boy. Can two vastly different people find common ground and become the men they want to be?
Ryker comes from a long line of championship-winning hockey players. Playing college hockey to develop his game is his only focus, and nothing will stand in the way of him working to become the best player. He has no room for relationships, people that point out his flaws, or anyone who calls him on his dreams. He certainly has no place for love, and meeting Jacob is nothing but a useful distraction on the side. After all trying to get his Owatonna Eagles teammate into bed is less work and more play. When tragedy rocks his family, his charmed life crumbles, and the only person he can turn to is the same one who claims to hate him.
Jacob Benson has only known hard work and stifling conservative values his whole life. Born and raised in the small rural community of Eden Crossing, Minnesota, he's the only son of a hard-working but struggling dairy farming family. Jacob is using his skills in hockey to finance his way to an agricultural science degree. These four years at Owatonna U. will probably be the only time he has to enjoy life, gain acceptance about his sexuality, and live openly before his inevitable return to the farm. Running into a pretty rich boy like Ryker Madsen is putting a damper on his enjoyment of life away from home. Ryker's flip, conceited, carefree attitude grates on Jacob's every nerve. So why, if Ryker is everything he dislikes, does he want nothing more than to explore the sinful dreams that his annoying teammate stars in every night?
Excerpt!
The crinkled map in hand, I stepped outside, inhaled the fresh air, and watched in mild fascination as a 550 horsepower Range Rover pulled up. I'd never seen one in person, although I had a photo of one on my pin board at home. Not one person in Eden Crossing could afford such an ostentatious car. It was a beauty; deep red, sleek, and shiny. A book under my arm, I waited, knowing that whoever climbed out of it would be upper crust, clad in the best clothes and carrying the best gear. And yeah, I was right. Top-of-the-line stick, pricey skates, brand-new pads. I hadn't pictured the rich boy being so hot, but looks don't mean a thing when you're an uppity snob. Mr. Money Jr. was tall, firm, long-legged, and possessed some of the thickest, darkest hair I had ever seen. I rubbed my hand over my short hair and frowned. My mother cut my hair because why pay fifteen bucks to the barber? This guy probably spent a hundred bucks to get his hair styled.
He spun around, looking a little lost, talking the whole while with a big blond man whom I instantly recognized as Jared Madsen. I would have pegged him as a defenseman just from his bulk and carriage. Old-school D-men all had that look. It's hard to describe it exactly, but they were burly bastards who knew how tough they were, and that confidence oozed out of them. So, if that was Jared Madsen, Richie Rich there had to be his son, Ryker. I'd seen a few fuzzy images of the three of them—Jared, Ryker and Tennant—online at some rock concert they'd flown to. Talk about a charmed life. The only concert I'd ever attended had been some washed-out country singer at the Eden Crossing fair.
Ryker turned to face the cool wind coming down the mountain. The rowdy air lifted all that hair of his. It was long and lush. I bet he had great flow. It probably felt like satin between a man's fingers…
Knowing I had seen enough of the cash-and-flash, I headed toward the central facility, found the dining hall and the rest of the Eagles, and sat down to fill up on fresh fruit, whole wheat toast with jam, oatmeal, and milk. My teammates all called out as I passed, the only one jumping up with his tray and following me to a corner table was Benoit Morin, one of two Eagles goalies. Ben, as we called him, was an upbeat Quebecer who smiled a great deal, told the corniest jokes, listened to a lot of Frank Ocean and Drake, and worshipped Malcolm Subban. We'd hit it off first thing, and he was probably the closest friend I had on the team.
"Thanks for dropping me a note letting me know you were here," Ben said, then popped a chunk of melon into his mouth. I gave the lanky black man a tired glance and flipped open my book. He reached over, fingers coated with fruit juice, and closed the textbook. "Nope, man, no way. Not today. Study time is later. Daytime here is all about the hockey."
 "Got to cram it in when I can," I reminded him.
Ben rolled his eyes, about to say something about giving myself a break or cutting back on the books or going out on a date. Ben was big on being social. When you looked like him, social was easy. He was one beautiful man. A man who looked like me—big and homespun with a common sort of face—who carried the smell of a barn with him, being a social butterfly wasn't quite in the cards. He opened his mouth to say something when a disturbance at the cafeteria door grabbed our attention.
"No shit, you know who that is?" Ben waved his slice of pineapple at Mr. Rich Boy and a pudgy man in a red staff polo coming through the door. "That's Ryker Madsen."
 "Yeah, I know."
 "And you're not impressed?"
 "Not really, no."
He wasn't wrong. I mean, I couldn't get my head out of the books, but equally, I needed to pay more attention to the guys around me in the hockey community.
Ben shoved a fat red grape into his mouth, chewed, and hurried to swallow while I stared at Mr. Wealth, the one with the pretty face and L'Oréal locks from the parking lot. "Ryker Madsen is the son of Jared Madsen, the defensive coach of the Railers. His father is living with Tennant Rowe, a hockey god. And you're not the least bit impressed?"
"Not really. Ryker Madsen has probably had everything bought and paid for by his father. When he has to work to prove himself and earn his way, then I'll pay attention." I went back to my book.
"Wonder who he's rooming with. Man, if we could get in close with him, we could get to meet his father and Tennant Rowe. I'm going to go introduce myself."
"Knock yourself out. I don't bow and scrape for rich people."
"JB, come on, don't be so you."
When I looked at Ryker Madsen flashing straight white teeth and a small dimple as he was engulfed by my team, my resolve to keep my distance doubled. I refused to be a sycophant, sucking up to him because he had money and was close to a hockey god.
"Nope, not interested in his type." I'd seen the snide glances tossed my way by the elite on campus. Running over to kiss this rich kid's thousand-dollar sneakers? Thanks but no thanks.
"Fine. Be yourself then. Save me a place in line for the opening day tour." Ben shot to his feet, wiped his sticky fingers on his gym shorts, and joined the throng of admirers gathering around Ryker. Damn guys acted as if they'd never seen famous people before. I went back to my textbook, uninterested in the drooling taking place by the breakfast buffet tables. Hopefully, I'd be able to keep a wide berth from Mr. Ryker Madsen and his millions.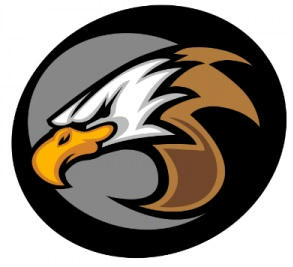 Owatonna U Hockey series!
Scott (2019) 
Benoit (2019)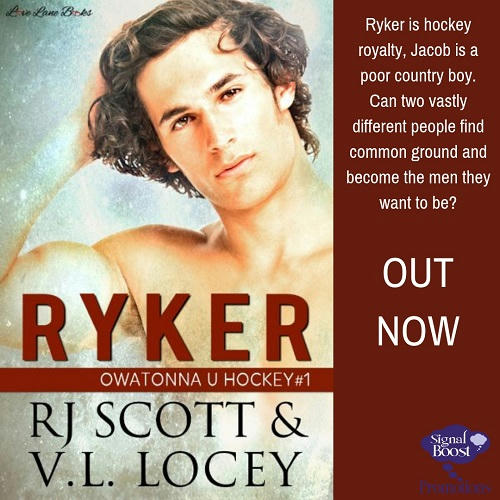 About R.J. & V.L.!
RJ Scott is the bestselling romance author of over 100 romance books. She writes emotional stories of complicated characters, cowboys, millionaire, princes, and the men and women who get mixed up in their lives. RJ is known for writing books that always end with a happy ever after. She lives just outside London and spends every waking minute she isn't with family either reading or writing. 
The last time she had a week's break from writing she didn't like it one little bit, and she has yet to meet a bottle of wine she couldn't defeat.
Website | Facebook | Goodreads | Twitter | LibraryThing | mailto:rj@rjscott.co.uk
V.L. Locey loves worn jeans, yoga, belly laughs, walking, reading and writing lusty tales, Greek mythology, the New York Rangers, comic books, and coffee. (Not necessarily in that order.) She shares her life with her husband, her daughter, one dog, two cats, a flock of assorted domestic fowl, and two Jersey steers. 
When not writing spicy romances, she enjoys spending her day with her menagerie in the rolling hills of Pennsylvania with a cup of fresh java in hand. She can also be found online on Facebook, Twitter, Pinterest, and GoodReads. 
Website | Facebook | Twitter | Pinterest | Goodreads | Blog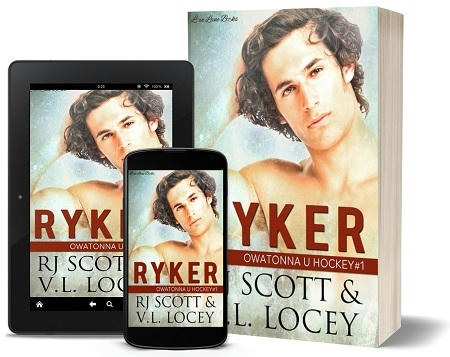 Giveaway!
Win a $10 Amazon Gift Card!

Check out the other blogs on the tour!