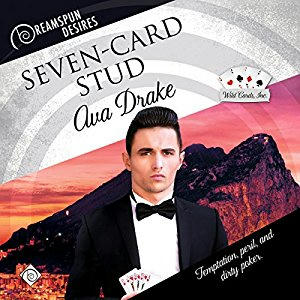 Title: Seven Card Stud
Series:  Dreamspun Desires 22 / Wild Cards Inc 02
Author: Ava Drake
Narrator: John Solo
Genre: Contemporary
Length: 6 hrs 32 mins
Publisher: Dreamspinner Press (12 Dec 2016)
Heat Level: Moderate
Heart Rating: ♥♥♥♥ 4 Hearts
Blurb: When Collin Callahan, British secret agent, goes up against math genius turned surfer bum Oliver Elliot, the battle is epic – and so is the attraction. They're pitted against each other in an exclusive, ultra-secret – and ultra-illegal – poker match in Gibraltar, but when players start dying and they could be next, they find a common goal: catch the killer before it's too late.
Evenly matched at poker and romance, they each wrestle personal demons that threaten to consume them as the stakes climb. It's an all-or-nothing gamble with both life and love on the line as they fight to be the last seven-card studs standing.
Product Link: Audible US | Audible UK
Reviewer: Prime
Review: Seven-Card Stud is book 2 in Ava Drake's Wild Cards series, it also happens to be a part of the Dreamspun Desires series. For those that have heard (or read) book 1, Ace in the Hole, and enjoyed the over the top nature of the plot line (it was excellent over the top fun) then you'll have to give this one a go. Of course, for those that have not read the first book, you will be happy to know that this functions as standalone novel.
Our MCs for this adventurous ride is Collin Callahan, a British spy who is just about everything you would expect from your Bond-like hero, and Oliver Elliot, who is everything you'd expect from a math genius who decided to become a surfer-bum. The situation is somewhat complicated but so simple: while involved in an illegal poker game, some of the other players begin to turn up murdered. It is impossible to know who to trust but together Oliver and Collin need to survive in order to find out who is responsible for the murders.
There's danger from organized crime, illegal gambling havens, and a poker game to end all poker games. But let's not forget the super-hot sex and the raw attraction between these two guys. The sexual tension just sizzles between them. Of course there is a good measure of deception in this story, but somehow their growing love is strong enough to keep the fires burning.
That ridiculous sound description is in fact quite accurate but it really does serve as the launching point for a lot of the fun and danger that happens throughout the entire story. And John Solo's narration – OMG – absolutely fantastic and really enhanced the sexy times and the danger that the characters are battling.