Hiya guys, we have Meg Harding stopping by today to show off the fantastic cover to her upcoming release Shifting Views, we have a short intro, a great excerpt and a brilliant giveaway, so check out the cover, take a peek at the excerpt and then leave a comment to enter the giveaway! <3 ~Pixie~
Shifting Views
by
Meg Harding
Successful fashion model Denver Carlisle is finally living on his own. He's got a new apartment, a neighbor who has a problem shutting his blinds, and a local bakery with an owner who makes his knees weak. It's raining men, and Denver hasn't gotten any in a long time. Going out on a limb, he asks Ethan Monahan out and resorts to a little exhibitionism for his neighbor. Only to be turned down by both. That's a first. 
Ethan Monahan runs his own bakery and has a new neighbor who walks around naked. The latter is a little too distracting. When his naked neighbor turns out to be none other than model Denver Carlisle—and the customer who asked him out—Ethan tries to make amends. In a purely friendly way. 
Friendship leads to more, and both men find themselves in over their heads with emotions and compromises. Denver has trust issues that could span the Sahara, and Ethan is a product of the foster system with a chip on his shoulder and a serious wariness of those with money. There's only one way to reconcile their issues: work together.
Release date: 10th February 2017

Meg Harding!
I'm thrilled to be here today, finally able to share the cover for Shifting Views. Denver's the last of the Carlisles to get his HEA, and for me this is the ending of a chapter of my life. I could talk on and on, but I've got something I think you'll enjoy much more.
Here's an exclusive excerpt from Shifting Views and—of course—the absolutely gorgeous cover designed by Garret Leigh.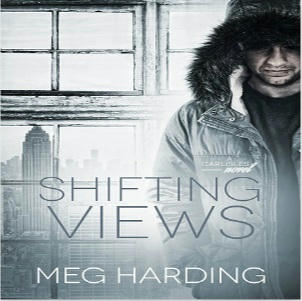 Exclusive Excerpt!
It's his face that Ethan sticks on. There's something about it…. A sharp jaw, high cheekbones, dark blue eyes. He's got shortish dirty-blond hair that's messy from being covered by a hood. A lock of it's flopped onto his forehead. Why does he look so familiar? He's not a customer Ethan's seen before. Ethan wouldn't have forgotten him if he'd been in the shop. It's going to bug him.
The blond shrugs his parka off, leaving it over a chair at a table in the back corner of the room. Ethan watches him peruse the display case, sometimes bending to read the food descriptions better. Or inspect the food. Who knows. Ethan tries not to fidget. Why can't he place this guy? He's normally good with faces.
"Can I have one of these, please?"
The please takes Ethan by surprise—it's not something he hears often from customers, if ever—and it takes him a second to figure out what blondie is pointing at. "The baklava?" he verifies, reaching for one of their in-house plates. Since the guy took his jacket off, Ethan thinks it's safe to assume he's going to stay to eat.
"Yeah," he says, dragging his long, slender fingers through his already tousled hair. The tip of his nose is red, as are his cheeks, and his lips are slightly chapped but a little glossy. "Thanks. Can I get a caramel macchiato to go with that too?"
"You can." Ethan finds himself smiling, not his service smile—a real one. He sets the plate of baklava on the counter and turns to get the macchiato. Curiosity gets the better of him once he's handed the drink over and is waiting on payment. Which he's not sure is coming. Blondie is staring at him, not saying anything. "Do I know you from somewhere?"
***
It's a different guy behind the counter today. Instead of a frazzled college student, there's a man with a broader, more muscled build. He's wearing a plain short-sleeved shirt—even though it's like thirty degrees outside—and it's hugging everything. There's random patches of white sprinkled over the black fabric. His hair is fluffy and dark. Denver wants to pet it, which is weird he knows, but it looks so soft. His eyes are a deep brown, nearly blending with his pupils, and he has long, dark lashes. Denver's envious purely on principle. He has to use a lot of mascara to get that effect, and he highly doubts this guy is wearing any makeup to enhance his. His lips are plump, and his teeth, when he smiles, are all straight except for his right incisor, which is crooked. They're pointy—his incisors—like little fangs. It makes his smile sharp, almost predatory. And his hands… don't get Denver started. They're working hands, dexterous, long fingers and callused pads. Hands that would know what they're doing with a body. Probably.
Does Monahan Bakery only employ attractive people? The previous cashier was cute, but this one is hot. Denver wouldn't be averse to eating a treat off this guy's stomach….
"Do I know you from somewhere?"
Denver's lecherous thoughts screech to a halt. Either this guy is coming on to him in a truly awful way that Denver is beyond over and used to or he noticed Denver staring like a dope and is concerned. Being safe, he says, "Um, no. I don't think so."

About Meg
Meg Harding is a graduate of UCF, and is completing a masters program for Publishing in the UK. For as long as she can remember, writing has always been her passion, but she had an inability to ever actually finish anything. She's immensely happy that her inability has fled and looks forward to where her mind will take her next. She's a sucker for happy endings, the beach, and superheroes.  In her dream life she owns a wildlife conservation and is surrounded by puppies. She's a film buff, voracious reader, and a massive geek.
Website | Facebook | Twitter | Goodreads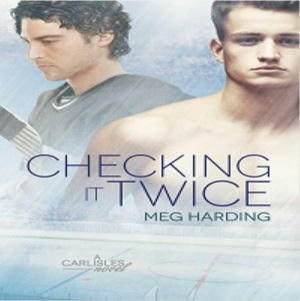 Giveaway!
Win an ecopy of Checking it Twice!
(Just leave a comment with the answer to Meg's question on this post)
Want to win a copy of Checking it Twice, book 3 in The Carlisles series? Comment below letting me know who your favorite Carlisle is!