Hi peeps, we have Bonnie Dee stopping by today with her upcoming release The Mighty Have Fallen, we have a brilliant guest post from Bonnie and a great excerpt, so check out the post and enjoy! <3 ~Pixie~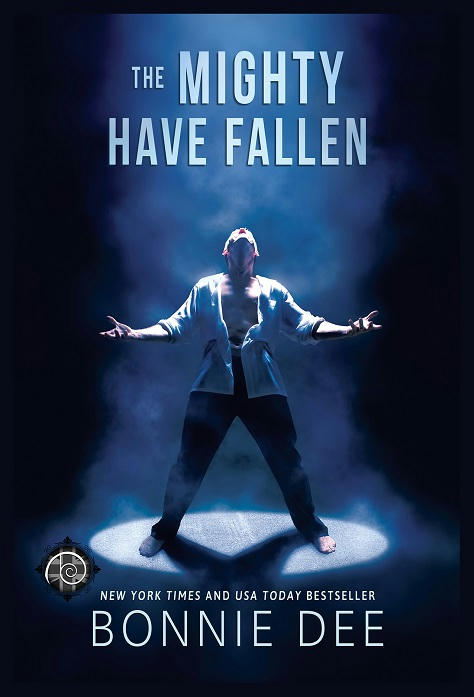 The Mighty Have Fallen
by
Bonnie Dee
Theatre headliner Trevor Rowland is at the peak of his career when disaster strikes. In one fell swoop, he loses his eyesight, his fame, and his boyfriend, who absconds with most of his money. Trevor must take on a flatmate, hardworking East Ender Jack Burrows, to afford the rent. Anger and bitterness have taken up residence in his heart—but Jack shines light into the shadowy corners with his relentlessly sunny disposition.
Jack introduces Trevor to a local drag club and convinces him he can enjoy the stage again. Trevor's defences slowly come down as Jack becomes much more than a barely tolerated roommate.
But will Trevor's fragile trust be destroyed when it appears he's been manipulated yet again by a man he's come to care for? Will he reclaim his life or crawl back into a shell of defeat? Trevor must learn to trust not only a man, but himself, once more.
Release date: 18th January 2017

Bonnie Dee!
I'm happy to be invited to post on MM Good Book Reviews. My name is Bonnie Dee, and I'm the author of a number of gay historicals, some solo and some with Summer Devon. My current release, The Mighty Have Fallen is a contemporary and part of Dreamspinner Press's new Perchance to Dream Line. That means I had a UK editor to help "Britify" the story of two Londoners who find unexpected love in the wake of tragedy.
Trevor Rowland is a theater headliner who tumbles from the heights of fame after losing his eyesight due to a health condition. This misfortune is followed by his lover/financial advisor absconding with all his money. He takes up lodging in a dodgy part of the city (see how I used Brit speak there ? 🙂 ) with new flat mate, Jack Burrows. Initially too depressed to do anything but scowl at Jack and his sunny disposition, Trevor eventually gains love, strength and a will to take hold of his future.
I think an author's favorite past time is throwing catastrophes at a protagonist in order to be able to write their story of growth. One might become philosophical and suggest the Infinite Being does the same thing with human beings. Not to equate a writer with God or anything, but just sayin'.
Anyway, I truly enjoyed writing The Mighty Have Fallen and hope readers will like this tale of overcoming obstacles to find love. Here's a "first kiss" excerpt from the story.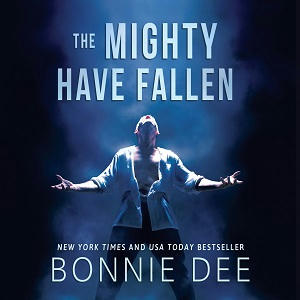 Excerpt
Standing up, Trevor realised he wouldn't make it home without a toilet break. Damn, he didn't want to stand shoulder to shoulder with Jack and whip out his cock, especially not right on the heels of making a clumsy move on him, but there was no alternative. He'd need a little guidance to navigate the toilets. "We should stop at the loo first."
Though he used his cane to feel the way before him, he still had to touch Jack's arm for guidance, at least until they reached the lavatory. He tried not to let his libido run wild, but suddenly he could think of nothing but grabbing Jack, pressing him up against any free wall, and kissing the hell out of him. What would Jack feel like to the touch? Would his kisses and his embrace be aggressive and rough in all the right ways? The fact that Trevor hadn't even liked the man before today had little bearing. His yearning body superseded his brain.
The show was between performances. Music played more softly and conversations grew louder. Laughter erupted from a group they passed, and for one mad moment, Trevor believed they were laughing at him and his foolish horniness.
The toilets were crowded, so they waited in a queue. Trevor's excitement waned, and he wished he were somewhere quiet and private. The noise and energy of the people surrounding him felt too exhausting. Plus, his stomach was queasy and he rather wished he hadn't drunk that last shot and beer.
Jack's hand pressed against the small of his back. "Doin' awright? You look a mite peaky."
"Mm," Trevor grunted. Then it was his turn at a urinal, so he focused on locating the porcelain and aiming, not so easy to do drunk, even without his cane dangling from its strap around one wrist. A quick wash at the sink, dousing his face with cold water, and slurping some from cupped hands helped settle his stomach.
They left the club, and the fresh air outdoors cleared his head even more. He winced at the memory of groping Jack. Was it better to pretend nothing had happened or to clear the air by apologizing? "Listen. About what I did—"
"Look, I don't want to—" Jack said at the same time.
They fell silent and the quiet was a river of embarrassment between them.
"I'm sorry I groped you," Trevor tried again after a beat. "Too much drinking. I didn't mean anything by it."
"Yeah, yeah," Jack rushed to agree. "Easy to get grabby when you're pissed."
"It'd be a stupid line to cross," Trevor said.
"Yeah, right. But the thing is…." Jack's pause drew out so long, Trevor thought he'd never finish. Then he said hoarsely, "Bloody fuckin' hell, I've wanted to do this for a while now!"
Suddenly hands pulled Trevor close to a hard slab of man. Strong arms wrapped around his body, and a hot mouth covered his in a deep, devouring kiss.

About Bonnie
You can learn more about me, Bonnie Dee, and my back list of many romance books at http://bonniedee.com. Find me on FB at Bonnie Dee Author or Bonnie Dee. My Twitter handle is @Bonnie_Dee. I'm not the most active social media person but I turn up occasionally. Most importantly, please take a moment to sign up for my newsletter to learn of upcoming releases. Newsletter signup form