Hiya guys! We have Cardeno C. stopping in today with her new release Smitty's Sheriff, we have a great excerpt so check out the post and enjoy! <3 ~Pixie~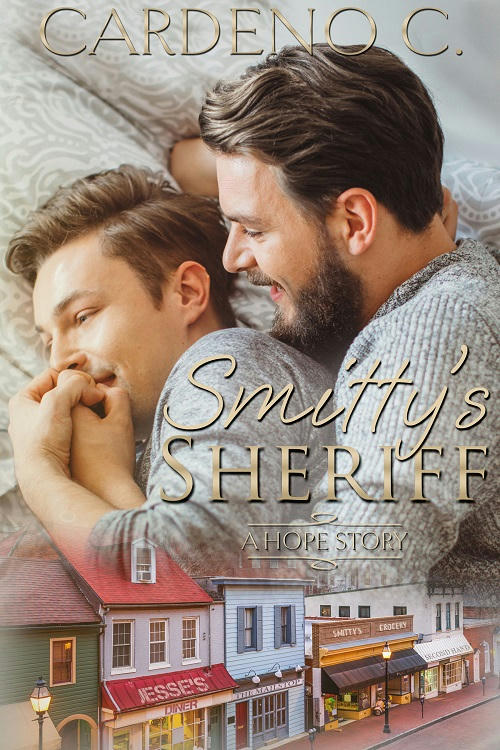 Smitty's Sheriff
by
Cardeno C.
Todd is too flakey. Richard is too stubborn. Together, they're perfect. A May-December couple get a second chance at love.
Retired soldier Richard Davis wants a stable life in a quiet town with a forever man. Becoming the sheriff of Hope, Arizona, accomplishes two of his three goals, but instead of finding a serious partner, he falls for too-young-to-be-committed and too-flakey-to-be-serious Todd Smitty. Richard won't find the right man if he's obsessed with the wrong one, so he walks away from Todd.
It's lust at first sight when Todd meets his sister's army friend. He sets his sights on the worldly, strong, stable older man, and the more time he spends with Richard, the harder he falls. But after three years together, Richard cuts off all contact with no explanation.
When a mutual obligation requires Todd to move into Richard's house, he's thrilled at the opportunity to earn a second chance. Ignoring Todd from across town was hard enough. Can Richard resist temptation under his own roof?
Excerpt
"Hold up, Jared. Let me give you a hand." Sheriff Richard Davis slammed his truck door and hurried toward Jared McFarland, who was holding a tall stack of produce boxes. "Big bounty this week." He took half the boxes.
"Been a good season." Jared nodded. "Thanks."
"These going to Jesse's Diner?" Richard asked. The fruit and vegetables from Jared's organic farm on the outskirts of Hope, Arizona, were served in five-star Beverly Hills restaurants. And in their own small town diner.
"Yes. Tanner is expanding the menu. All day breakfast."
They walked side by side to the diner's back door. "I don't think of breakfast as being heavy on vegetables," Richard said, mentally going over his favorite morning meals.
"There's fruit salad, and he said something about a vegetable tomato egg bake." Jared shrugged. "I just grow the food. Don't know a thing about cooking it."
"If Tanner's making it, I'm sure it'll be good." They walked through the propped open back door, and Jared set his boxes on a rustic wood table. Richard followed suit. "You staying for dinner?" Richard didn't mind cooking, but doing it only for himself seemed pointless, so he ate at Jesse's several evenings a week.
"Yes. It'll give Lucas a break." Jared stepped back toward the door rather than walking through the busy kitchen.
"How do you get him to do all the cooking?"
"He volunteered." Jared smiled. "Lucas isn't fond of eating things that come in a frozen cardboard box."
Chuckling at the image of impeccably clothed, silver-spoon-raised Lucas Reika eating frozen meals, Richard said, "Where is your fancy boy?"
"He ran down the street to pick up milk and eggs at Smitty's. Probably got caught up jabbering with Todd."
Still tensing at the sound of his ex's name after six months was pathetic. Typical, but pathetic. "Rumor has it those two don't get along." Probing for information about that ex was even more pathetic. "You sure it's safe for them to be alone together?"
In a town with a population of barely three thousand, gossip traveled quickly, which was how a few years earlier, Richard had heard about the feud involving the man who, at that time, shared his bed. Apparently, Lucas had not taken kindly to Todd putting the moves on Jared. Richard would have told them not to put much stock in Todd's come-ons—he handed them out more easily than the paper bags with the store logo—but instead, he had followed his normal course of action when it came to Todd's extracurricular activities and tried to put the whole thing out of his mind. Besides, letting folks know their new sheriff was the grocery boy's booty call was no way to gain respect. He had a hard enough time respecting himself when he thought about what he was doing.
"Lucas and Todd buried the hatchet a long time ago," Jared said. "Todd doesn't always think things through before he acts, so he said a lot of nonsense the first time they met, but he's a good guy and he was just being loyal." Jared shrugged. "They have a lot in common. They figured that out when they spent more time together."
"Oh." The effort he had put into giving Todd space had clearly worked because his intel was outdated.
Having enlisted in the army straight out of high school, Richard had never been able to have the kind of personal life he craved. He had enjoyed his career and he had been good at it. But for most of his two decades serving his country, he couldn't be open about being gay, let alone openly date anyone. With the repeal of Don't Ask, Don't Tell, a door had opened, but when he looked through it, he still didn't see the type of relationship he wanted on the other side. A quiet life, a warm home he returned to every night, and a man who needed him, wanted him, and belonged just to him.
It was the drive to build that stable life, to plant those roots, to find that permanent man, that had motivated him to retire from service and take a law enforcement job in a quaint, friendly town. Todd was too young to be serious about anything, let alone a relationship, so Richard had categorized their hookup as a bit of fun not to be taken seriously. Except it turned out to be more than one hookup. And he had taken it seriously. Too seriously.
"So they're friends now?" Why was he continuing this conversation? Who Todd did or did not associate with was no longer his business. Or more accurately, it had never been his business.
"Yes. And if the two of them really get rolling, they won't stop chatting and then I'm liable to miss dinner." They turned the corner and neared the front of the diner. "It's enchilada night. You want to sit and eat with us?"
If the only thing bothering Jared about his partner spending time with Todd was a skipped meal, the friendship probably didn't have a physical element; Jared didn't strike him as the type of man who would be comfortable sharing. Then again, neither was Richard, and he had done just that for three years.
"There's Lucas." A smile taking over his face, Jared looked toward the grocery store. "Looks like he's bringing Todd with him."
Glancing over his shoulder, Richard confirmed that assessment. The last thing he wanted to do was sit across a table from Todd Smitty. His downfall had always been those clear blue eyes that perpetually looked a little bit sleepy, as if Todd was satisfied from good sex and ready to be held. When Richard looked into those eyes, all he could think about was fulfilling that need by folding Todd into his arms. But as good as Todd would feel pressed up against him, Richard knew that he'd be nothing special; he'd merely fill the role of any available set of arms. And if he confessed to what he truly wanted, his arms would transform into a straitjacket to Todd.
Hope series!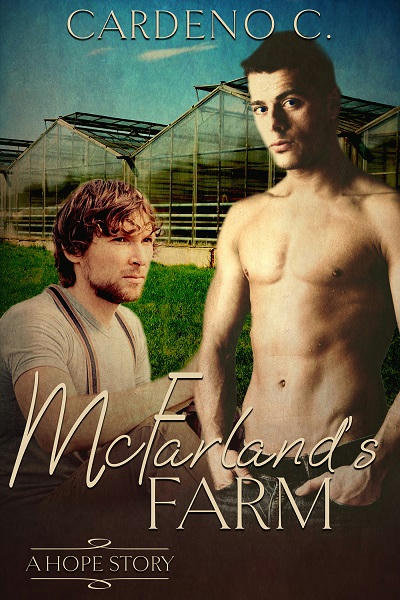 McFarland's Farm
Quiet but lonely Jared has to decide how much of himself he's willing to risk to keep party-boy Lucas.
Wealthy, attractive Lucas Reika treats life like a party, moving from bar to bar and man to man. Thumbing his nose at his restaurateur father's demand that he earn his keep, Lucas instead seduces a valued employee in the kitchen of their flagship restaurant, earning himself an ultimatum: lose access to his father's money or stay in the middle of nowhere with a man he has secretly lusted over from afar.
Quiet, hard-working Jared McFarland loves his farm on the outskirts of Hope, Arizona, but he aches to have someone to come home to at the end of the day. Jared agrees to take in his longtime crush as a favor. But when Lucas invades his heart in addition to his space, Jared has to decide how much of himself he's willing to risk and figure out if he can offer Lucas enough to keep him after his father's punishment is over.
Start the Series Today!
(Free in Kindle Unlimited)
Amazon | Amazon CA | Amazon UK | PayHip Audio Amazon | Audible | iTunes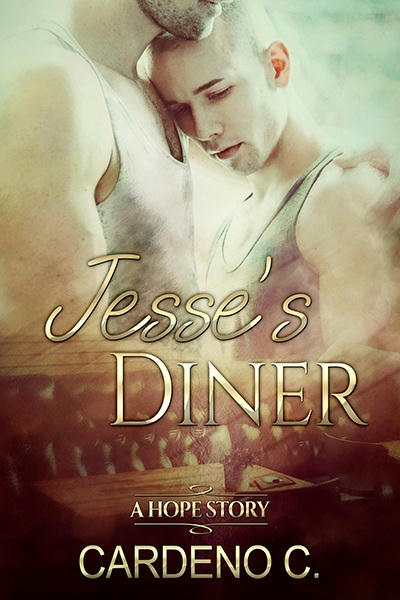 Jessie's Diner
Two men with a shared history and a mutual attraction must be honest with themselves and each other so both their dreams come true.
Quiet, unassuming Tanner Sellers spends his time running a diner in Hope, Arizona. Not particularly social, twenty-two-year-old Tanner keeps to himself and enjoys his simple life, but he longs for someone to call his own. In his most secret fantasy, that someone is sexy Steve Faus. But Steve is his friend's father and mentor's widower and therefore off-limits.
Despite some challenges, thirty-nine-year-old Steve Faus has had a good life. He's extremely successful at work, has a great relationship with his college-age son, and lives in a wonderful town. Eighteen months after losing his partner, the one thing Steve lacks is someone to share his life. If Steve is honest with himself, that someone is the young man he has known and cared about for years. Steve and Tanner want one another, all they need is a little push in the right direction to make both their dreams come true.
Read Today!
(Free in Kindle Unlimited)
Amazon | Amazon CA | Amazon UK | PayHip Audio: Amazon | Audible | iTunes

About Cardeno C.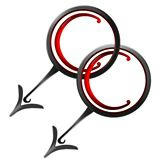 Cardeno C. – CC to friends – is a hopeless romantic who wants to add a lot of happiness and a few "awwws" into a reader's day. Writing is a nice break from real life as a corporate type and volunteer work with gay rights organizations. Cardeno's stories range from sweet to intense, contemporary to paranormal, long to short, but they always include strong relationships and walks into the happily-ever- after sunset.
Website | Facebook | Facebook Group | Twitter | Cafe Risqué ~ SharedBlog | Tumblr | Pinterest | Google+ | Youtube | Join the Romance Readers Club Today to stay up to date with Cardeno C. and get a free read every month: https://theromanceauthors.com/submissions.php