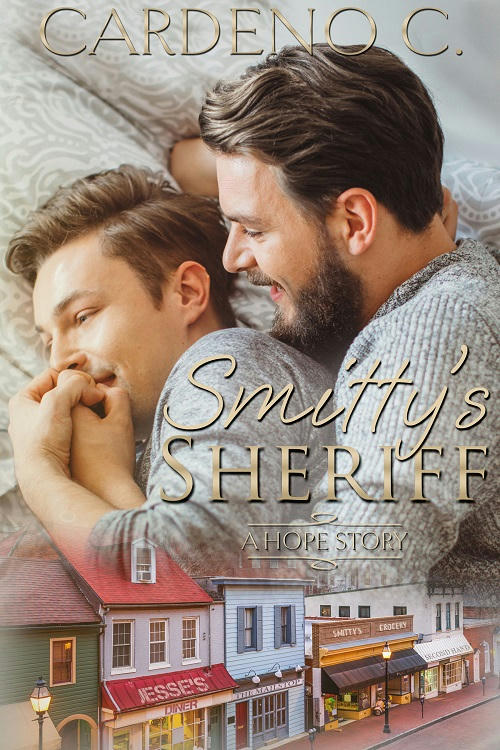 Title: Smitty's Sherriff
Series: Hope #3
Author:  Cardeno C.
Genre: Contemporary, May-December
Length: Novella (33K words)
Publisher: The Romance Authors LLC (17 July 2017)
Heat Level:  Explicit
Heart Rating: ♥♥♥ 3 Hearts
Blurb: Todd is too flakey. Richard is too stubborn. Together, they're perfect. A May-December couple get a second chance at love. 
Retired soldier Richard Davis wants a stable life in a quiet town with a forever man. Becoming the sheriff of Hope, Arizona, accomplishes two of his three goals, but instead of finding a serious partner, he falls for too-young-to-be-committed and too-flakey-to-be-serious Todd Smitty. Richard won't find the right man if he's obsessed with the wrong one, so he walks away from Todd. 
It's lust at first sight when Todd meets his sister's army friend. He sets his sights on the worldly, strong, stable older man, and the more time he spends with Richard, the harder he falls. But after three years together, Richard cuts off all contact with no explanation. 
When a mutual obligation requires Todd to move into Richard's house, he's thrilled at the opportunity to earn a second chance. Ignoring Todd from across town was hard enough. Can Richard resist temptation under his own roof?
ASIN: B073W51Q8Y
Product Link: Cardeno C. | Amazon UK | Amazon US
Reviewer:  Prime
Review: Cardeno C's Hope series is for those of us who don't mind reading a sweet May-December romance. I've read Cardeno C in the past, but is still one of those authors I judge by the books as they come. However, in saying that, I've read and thoroughly enjoyed the previous books in the Hope Series. Although I have read the series out of order, I recommend reading the series in its proper order to get a full feel on the characters. Between each book we get to meet our upcoming heroes as well as catch up with our old friends. Being that I actually read the third book last, it was nice that everything fell into place nicely.
The story is about Todd Smitty and Sheriff Richard Davis, who also happens to be a retired soldier. For three years Todd and Richard had a secret relationship. Richard thought that Todd was just there for fun, which was why he didn't want their relationship revealed. But when Todd's sister, also Richard's best friend, needs their help, the two are thrown back together and they need to do something they had not done before: communicate.
OK, so two things. 1) This is one of those books that seem to be based around the fact the guys didn't communicate the first time around. It's now up to them to get it right the second time. This kind of trope usually pisses me off, but I have to admit that I kinda just went with the flow for this book. 2) There is an element of BDSM in their relationship, I personally liked it and suited them very well. The only thing is that I thought that others, who may not like BDSM (the Dom is too controlling) or were not expecting it, may be turned from the book.