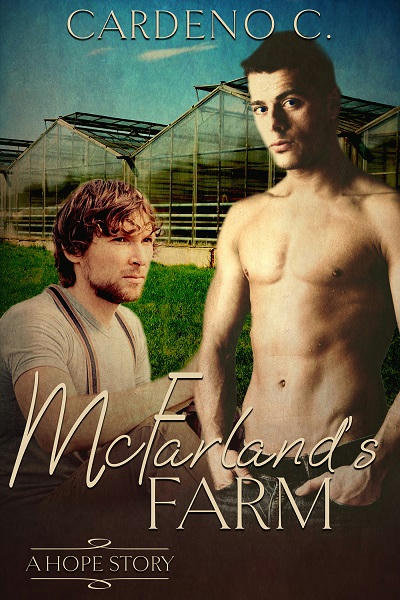 Title: MacFarland's Farm
Series: Hope #1
Author: Cardeno C
Genre: Contemporary, May-December
Length: Novella (26K words)
Publisher:  The Romance Authors LLC (10 Sept 2014)
Heat Level: Explicit
Heart Rating: ♥♥♥♥ 4 Hearts
Blurb: Wealthy, attractive Lucas Reika treats life like a party, moving from bar to bar and man to man. Thumbing his nose at his restaurateur father's demand that he earn his keep, Lucas instead seduces a valued employee in the kitchen of their flagship restaurant, earning himself an ultimatum: lose access to his father's money or stay in the middle of nowhere with a man he has secretly lusted over from afar. 
Quiet, hard-working Jared McFarland loves his farm on the outskirts of Hope, Arizona, but he aches to have someone to come home to at the end of the day. Jared agrees to take in his longtime crush as a favor. But when Lucas invades his heart in addition to his space, Jared has to decide how much of himself he's willing to risk and figure out if he can offer Lucas enough to keep him after his father's punishment is over.
ASIN: 978-1-942184-00-3
Product Link: Cardeno C. | Amazon UK | Amazon US
Reviewer: Prime
Review: Cardeno C's Hope series is for those of us who don't mind reading a sweet May-December romance. I love a book that doesn't make a big deal about an age gap, I mean after reading some May-December books it's laughable when some books make a big deal out of 5 years difference. But that's another rant for another time.
I've read Cardeno C in the past, but is still one of those authors I judge by the books as they come. However, in saying that, I've read the second book in the Hope Series, Jesse's Diner, when it was released a couple years ago and really enjoyed it. Although I have read the series out of order, I recommend reading the series in its proper order to get a full feel on the characters. Between each book we get to meet our upcoming heroes as well as catch up with our old friends.
MacFarland's Farm is about Jared and Lucas. Jared is a quiet guy who works hard on his land but is in real need of help, not that he is looking for any help. He's open about his sexuality, but does not advertise and is still close friends with ex-wife and deeply respects his ex-father-in-law.
Then there is Lucas, he has been spoiled his entire life by his father. His father, who was widowed, worked hard to make a lot of money to provide for his kids. The problem is, Lucas is 24, barely finished college over 5 years and thinks that life is party. He also assumes that his father's money is his. Things come to a head when Lucas is caught in a compromising situation. His father and sister decide that the best way for Lucas to learn responsibility is to go to the town of Hope in Arizona and work for his ex-brother-in-law.
The problem is that 1) Lucas needs a massive attitude adjustment before he can grow up, and, 2) they guys are attracted to each other.
Look, Lucas is unlikable in the beginning but Cardeno C weaves magic and Lucas becomes a relatable character. The guys work well together although I was disappointed that the chemistry wasn't exploding off the page. This is a sweet romance and part of me just wanted there to be more!