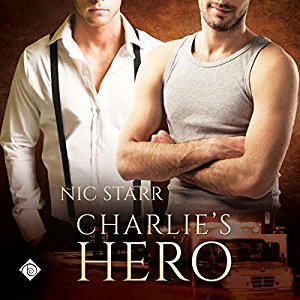 Title: Charlie's Hero
Series: Heroes Book 1
Author: Nic Starr
Narrator: Joel Leslie
Genre: Coming Out, Contemporary
Length: 5 hrs and 55 mins
Publisher: Dreamspinner Press
Heat Level: Moderate – Explicit
Narration: ♥♥♥♥ 4 Hearts
Heart Rating: ♥♥♥♥ 4 Hearts
Blurb: Schoolteacher Charlie Matthews returns to his hometown, looking to regain a sense of community, reconnect with friends, and settle down. It looks like his dreams have come true when paramedic Josh Campbell attends an accident at the school. It's love at first sight, and a romance begins.
But Josh's reluctance to come out to the brother who raised him puts pressure on their fledgling relationship. While Charlie understands Josh's concerns, he can't help growing impatient. After all, Charlie came out years ago.
It's not until Charlie confronts his own parents and realizes he hasn't come to terms with their rejection that he fully understands what Josh has to lose. But Josh is Charlie's hero, and Josh will do anything to prove to Charlie that to be part of a family, he doesn't need his parents.
Product Link: Audible US | Audible UK
Reviewer: Gigi
Review: Schoolteacher is hot for the EMT! It's a cute matchup, but takes a while to get there. The romance has a slow simmer, which can be very refreshing, but sometimes I wanted the story to pick up the pace a bit.
The narrator, Joel Leslie did a very fine job with the character variation, the passionate scenes may have been a bit flat, but still tastefully done.
My favorite thing about Charlie's Hero is the building of a community, friends, family and co-workers coming together to enjoy each other's company and build a strong community of support. I love to see this and in reality it isn't done enough.  
Most of the drama here occurs with Josh, and his fear over what his brother will do when he finds out Josh is gay. I can also feel Charlie's frustrations with Josh, and I'm just crushed over his idiotic family's reactions during the story. Plenty of sadness, frustration, anger and lusty moments abound in this contemporary love story. The drama builds and builds in a fun way with a definite twist at the end.
A warm fuzzy, sexy read.