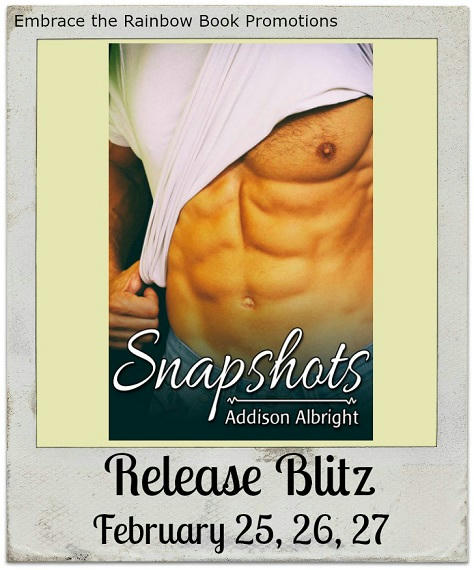 Hi guys, we have Addison Albright popping in today with her new release Snapshots, we have a great excerpt and a brilliant giveaway, so check out the post and click that giveaway link! <3 ~Pixie~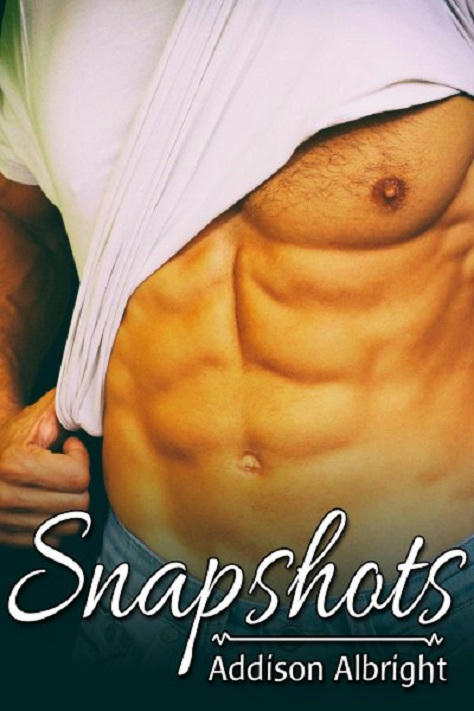 Snapshots
by
Addison Albright
Whatever your romance reading preference — gay virgin, opposites attract, friends to lovers, or simply fun how-they-met stories — this collection contains a variety of sweet, contemporary, short gay romances, sure to make you smile.
Rewritten and re-edited, these stories were previously published singly and are available now in one collection!
Contains the stories:
* Cow Pie Bingo
* King Kong vs. The Skinny Pirate
* Born to Be Wild
* The Straggler
* Now and Forever
* Moving On
* Moving Along
* Dropping Quarters
* Nevermore
* Photo Shoot
* Okay, Then
~ ~ ~ ~ ~
Preface:
I love short stories. Sometimes a brief "snapshot" taken from a couple's larger story is all that's wanted. The narrative of "how they met" is the focus of six of the shorts in this set—quirky tales ranging from meeting at a charity fundraiser, to college kids pranking each other, to a mishap at a XXX adult video arcade.
Also included is a story featuring a well-established couple's wedding dilemma, a friends-to-lovers tale, a coming-out-of-the-closet drama, and a continuation short that follows one of those how-we-mets. Rounding out this collection is an account revisiting the main characters from my full-length novel, 'Til Death Do Us Part.
All of these stories are contemporary, although one has a bit of paranormal flavor to it. Heat ratings range from "fairly sweet" to "rather steamy." Excepting the final story, all were originally written in 2008 and early 2009. One ("Photo Shoot") started out as a prompt word ficlet that I later fleshed out to a more complete story. Each has received a thorough overhaul, some more extensive than others. I hope you'll enjoy reading them as much as I did writing them.
**Please note King Kong vs. The Skinny Pirate is FREE as a separate ebook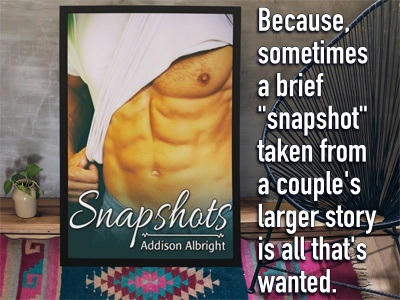 Excerpt
"Okay, then." That's what Sam had said. His leg had bounced like it always did when he was nervous. It was endearing, and one of the things that drew me to him. His grin was another. I melted a little each time he leveled it in my direction, which had made it incredibly hard to hide my attraction. That ship had now sailed. For better or for worse, Sam now knew of my interest, and had agreed to a date.
His words had come at the end of a conversation we'd had at breakfast yesterday morning after we'd cleared up a misunderstanding regarding my intentions when I'd previously asked him out. Well, I suppose technically I'd asked him back to my room for a drink, so I couldn't actually fault him for not understanding that I truly wanted to date him, not just have a fling while we were here in Honiara collecting research data.
"I'm sorry, Henry," Sam said now as we approached Mambo Juice's entry. "I wasn't thinking straight, obviously."
Perspiration dripped down my face. My pits felt more than a little damp, and sweat matted my chest hairs. The shower I'd taken right before we'd left the Solomon Kitano Mendana Hotel, where we were staying a few days before heading to the smaller islands in the chain, had been a complete waste of time. But even if I'd known Sam would suggest we walk a mile to the Mambo Juice, I probably would have bathed anyway. I wanted to impress the man, after all.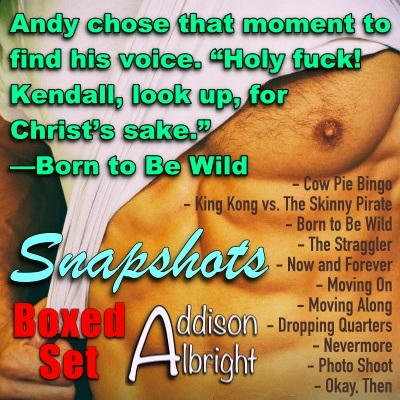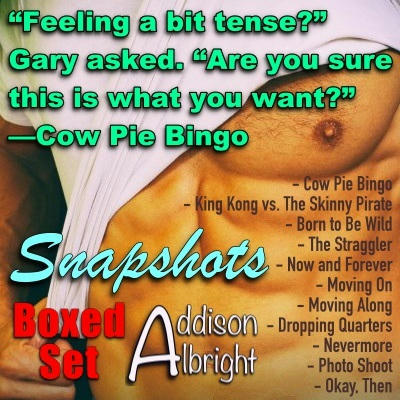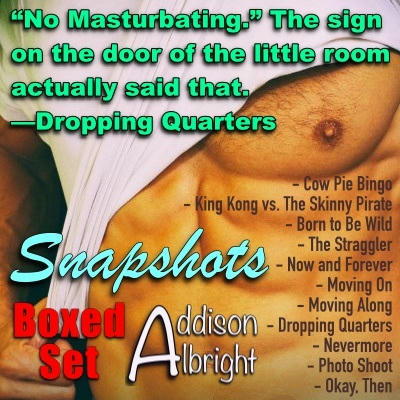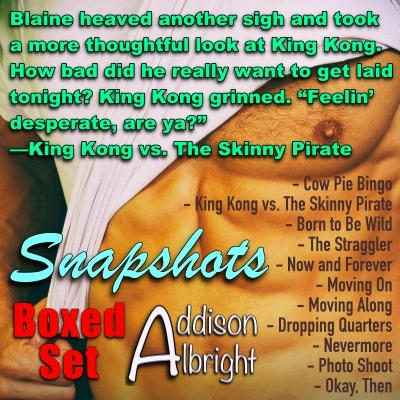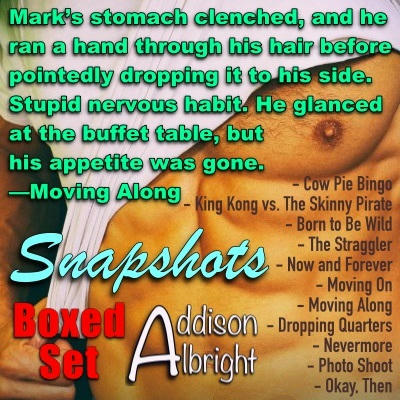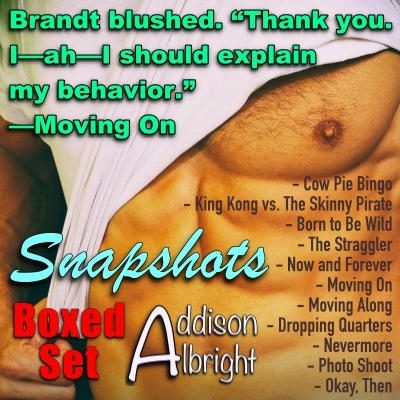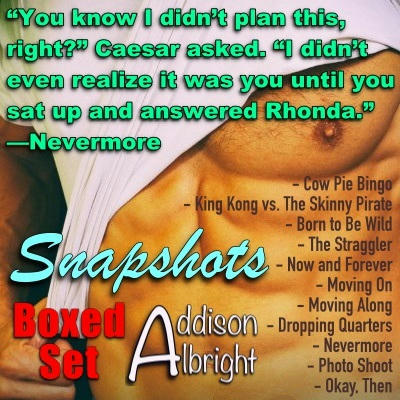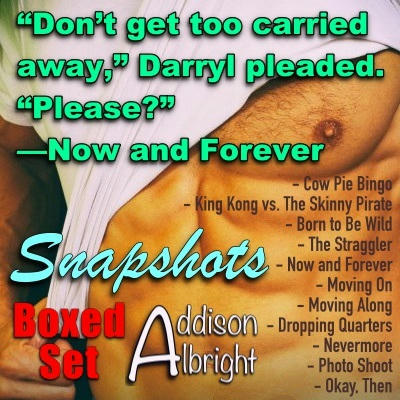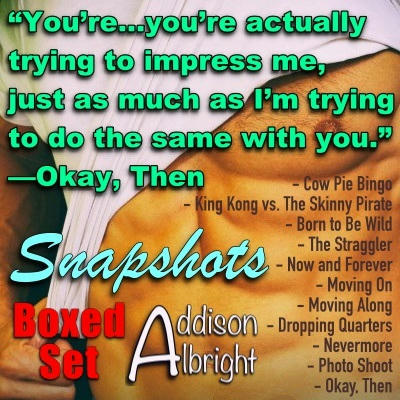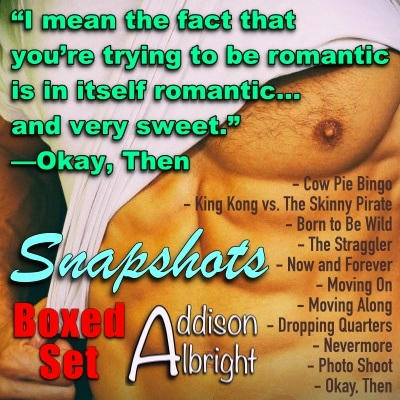 About Addison!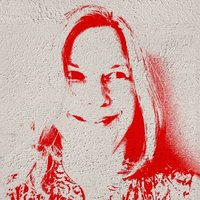 Addison Albright lives in the middle of the USA with three peculiar cats. Her stories are gay (sometimes erotic) romance, and tend to be sweet man-love in contemporary settings. Her education includes a BS in Education with a major in Mathematics and a minor in Chemistry. Addison loves spending time with her family, reading, popcorn, boating, french fries, "open window weather," cats, math, and anything chocolate. She loves to read pretty much anything and everything, anytime and anywhere.
Links: Website | Facebook | Twitter | Goodreads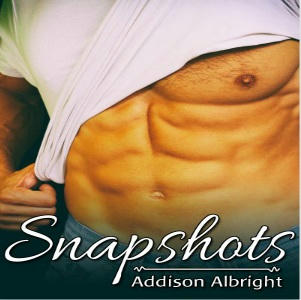 Giveaway!
Win an ecopy of Snapshot!
(Just click the link below)
(Ends 28th February 2017)