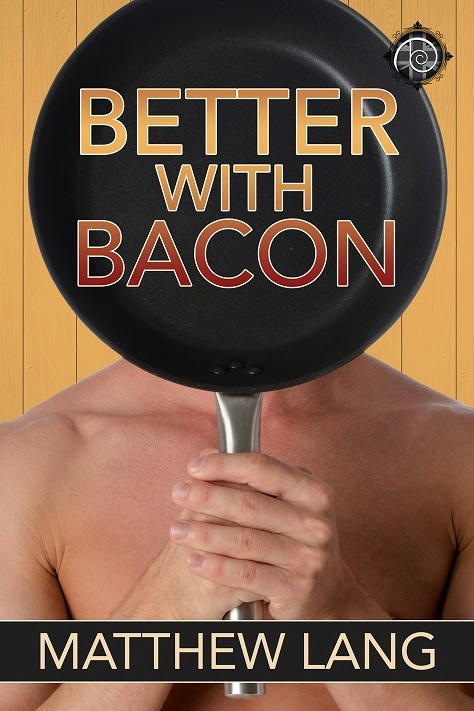 Title: Better With Bacon
Series: Perchance to Dream 06
Author: Matthew Lang
Genre: Contemporary
Length: Novella (95 Pages)
Publisher: Dreamspinner Press (February 22, 2017)
Heat Level: Moderate
Heart Rating: ♥♥♥♥ 4 Hearts
Blurb: When Patrick's long-term girlfriend Li Ling dumps him just as he's working up the nerve to propose, he ends up drunk on David's couch—and later in David's bed. Although initially reluctant to pursue anything beyond a one-time drunken tryst, David throws caution to the wind during an intimate dinner, where the two men also discuss Patrick's dream of entering the food industry. Just as the friends-turned-lovers are settling into their new romance, Li Ling calls Patrick—she's pregnant.
Convinced the announcement spells the end of their love affair and a return to their platonic friendship, David flees to Sydney to escape his heartbreak. But upon his return to Melbourne, David discovers the situation hasn't gone the way he'd expected. There might still be a chance for David and Patrick's dreams to come true if they can forgive each other's mistakes and move forward.
ISBN: 978-1-63477-812-1
Product Link: https://www.dreamspinnerpress.com/books/better-with-bacon-by-matthew-lang-8180-b
Reviewer: Lisa
Review:  Matthew Lang is a new author for me but when I first saw the title, I just knew I had to read it.  Let's face it everything is better with bacon, so how could this story go wrong.  The characters are very quirky and gave me a good surprise.  At first I wasn't too sure, because Patrick had been in a relationship since high school with a girl.  However it came to my attention that this guy is kinky.
Patrick's long term girlfriend Li dumped his ass, so he heads to his best friend's home to get over it.  However after a few drinks Patrick lets it slip that he has always wondered what it would be like to be with a guy.  Then around valentine's Li Ling calls to say she is pregnant.  Well poor David runs for the hills, well he actually went to Australia but close enough.  Then he comes home, and well you are just going to have to read the book to find out what happens.  
This story has a serious tone to it, but damn if there were not areas that had me laughing my ass off.  I didn't much care for a certain part of it, but I don't want to ruin the story or the surprise.  Trust me you are going to have a blast with this story. 
I definitely recommend this book to everyone.  It was fun to read and I can't wait to see what other books this author has out.